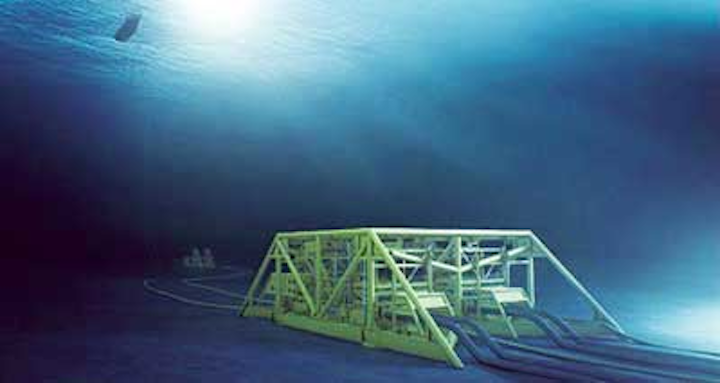 Gene Kliewer • Houston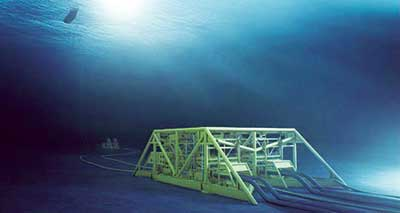 Åsgard subsea gas compression. (Illustration courtesy of Aker Solutions)
Statoil and Aker Solutions were recognized at the Offshore North Sea conference for the Åsgard subsea gas compression project on the Norwegian continental shelf in 300 m (984 ft) water depth. The compression station is scheduled to start in 2014.
Åsgard subsea gas compression is designed to sustain the production level for the Midgard and Mikkel gas reservoirs on the Åsgard field. The two reservoirs are developed with seabed installations, and the wellstream is sent in a joint pipeline to the Åsgard B platform, 50 and 70 km (31 and 44 mi) distant, respectively.
Toward the end of 2015, Statoil predicts the pressure in the reservoirs will be too low to maintain a stable flow and high production profile to Åsgard B. Compression provides the necessary force to ensure a higher recovery rate.
A structure with two compressors, pumps, scrubbers, and coolers will be placed on the seabed near the Midgard wellheads. Dry gas compressors will be used, requiring gas and liquids separation prior to compression.
"From Mikkel and Midgard on the Åsgard field, recovery is increased by 280 MMb/d," said Statoil technology director Siri Espedal Kindem. "Åsgard subsea gas compression brings us one step closer to realizing our goal of a subsea factory."
Record contract signed for subsea wellhead systems
Petrobras has signed a $1.1-billion contract for subsea wellheads with GE Oil & Gas. The contract calls for delivery of 380 wellhead systems and installation tools that will have more than 75% of the parts made in Brazil.
GE says this is world record size contract for subsea wellheads and installation tools.
Petrobras reportedly plans to install the subsea wellhead systems in various oil and gas fields offshore Brazil, including subsalt.
The equipment will be produced at the GE plant in Jandira (São Paulo), where GE has invested $30 million to expand production capacity.
"The Jandira facility has been crucial in allowing GE Oil & Gas to provide world-class technology and has prioritized Brazilian-based production, which is a critical component in local social and economic growth," said Fernando Martins, president of Subsea Systems for GE in Latin America.
Dril-Quip to supply subsea wellheads for Petrobras
Dril-Quip do Brasil Ltda. has a four-year, $650-million contract to supply subsea wellhead systems and associated tools to Petrobras. The equipment, which is to begin delivery in the second half of 2013, is destined for deepwater wells offshore Brazil. The contract is subject to customary terms and conditions for agreements of this type, including termination, extension, product inspection, local content requirements and price adjustment provisions.
FMC, Sulzer complete testing of multi-phase pump
FMC Technologies Inc. and Sulzer Pumps Ltd. are working together to develop a new multi-phase pump system for harsh subsea environments. Full qualification testing was completed successfully earlier this year at Sulzer's test facility in the United Kingdom. The helico-axial type pump is powered by a 3.2 MW permanent magnet motor and can handle pressures up to 5,000 psi (345 bar).
The pump consists of multiple stages of impellers (helico-axial-type rotor) and circles of guide vanes (diffuser-type stators). Compression is achieved by transfer of kinetic energy from the rotating impeller blades through the fixed diffuser vanes. The technology has been developed to handle hydrocarbon flow at high gas volume fraction. The pump can generate a differential pressure up to 200 bar (2,900 psi) depending on the GVF and suction conditions. It is the differential pressure that provides the benefit by working against the forces acting to slow flow.
Project announcements
GDF SUEZ and partners Centrica and Bayerngas have sanctioned the $2.2-billion Cygnus project in the UK southern North Sea. Cygnus will be developed with two drilling centers, four platforms, and an initial 10 development wells. The planned gas export route is through the ETS subsea pipeline system to the Bacton gas terminal on the Norfolk coast. Start-up is scheduled for late 2015. As for the subsea portion of the work, Saipem will install the subsea export line and Seaway Heavy Lifting Contractors will transport and install the platforms and subsea structure.
•••
Chevron Overseas Congo Ltd. has signed a $600-million contract with Subsea 7 SA for EPIC SURF (engineering, procurement, installation and commissioning of subsea umbilicals, risers, and flowlines) work on the Lianzi field offshore Congo and Angola. The technical specifications include a 12-in. wet insulated production flowline with direct electrical heating, which would set a record for the deepest electrically heated pipe. The offshore construction phase is scheduled to begin the second half of 2014. Estimated development cost is $2 billion and includes a subsea production system. Once completed, the project is expected to produce a maximum of 46,000 boe/d. Located 65 mi (105 km) offshore in approximately 3,000 ft (900 m) of water, Lianzi will be developed via a tieback to the existing Benguela Belize Lobito Tomboco (BBLT) platform in Angola block 14.
•••
UK has subsea sector growth opportunity
The subsea development tools and expertise invented and applied in the North Sea can help meet the challenges of safely recovering deepwater reserves elsewhere in the world, said Rod Christie, CEO Subsea Systems, GE Oil & Gas.
Christie was speaking at the Aberdeen Council and Shire Economic Future conference.
"The oil and gas industry is now developing extremely complex and advanced technical solutions here in Aberdeen and across the UK that will meet the challenges of safely recovering deep-sea oil and gas reserves across the globe," Christie explained. "Growth in the subsea industry is currently outstripping other energy sectors and we can expect this growth to continue into the medium to long term, delivering economic growth for the region and energy security for the UK."
Subsea oil and gas exploration and development in the North Sea has created demand for new subsea engineering solutions, and this experience should result in technology export to areas with similar offshore environments, he said.
This technology transfer could provide an economic benefit to the UK beyond that of the North Sea petroleum production.
"With the UK oil and gas export business currently estimated at more than £5 billion ($8 billion) a year, we have the potential to sustain the domestic industry well beyond the life of the UK continental shelf."