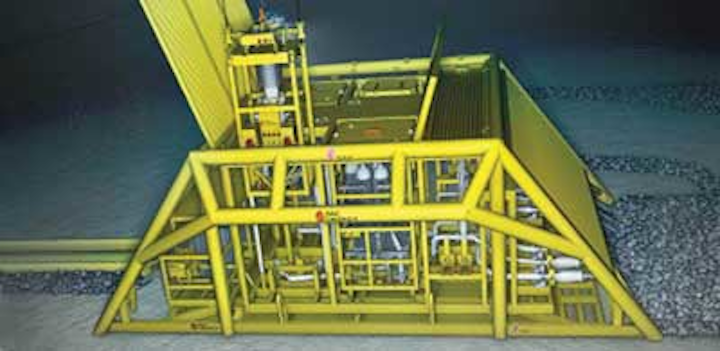 Gene Kliewer • Houston
Statoil to tieback North Sea Svalin structures to Grane. Statoil has submitted a $756-million development plan for the Svalin project in the North Sea to Norway's Ministry of Petroleum and Energy. The field is in 125 m (410 ft) water depth in block 25/11, 6 km (19.7 mi) southwest of the Grane platform. Svalin M will be produced through a well drilled from the Grane platform, while Svalin C will be a subsea development linked to the platform via a 6-km (3.7-mi) flowline. Svalin M start-up is scheduled for end-2013, while Svalin C is scheduled to flow the following summer. Aker Subsea will provide the subsea production system, with Subsea 7 responsible for the pipeline and marine operations.
Marathon wants to tieback Bøyla to Alvheim FPSO. Marathon Oil has submitted a plan to develop the Bøyla oil and gas field, also in the Norwegian North Sea. The plan calls for a subsea tieback to the Alvheim FPSO with two production wells and one water injector. Partner Lundin Petroleum estimates the total investment at $867 million. Production is scheduled to start in 4Q 2014. Bøyla's crude will be commingled with the Alvheim blend and exported via shuttle tankers. Its associated gas will be exported via the Alvheim-SAGE pipeline to the UK. Bøyla is in block 24/9 in license PL 340, 28 km (17.4 mi) south of the Marathon-operated Alvheim field.
Two oil tiebacks in prospect for North Sea Ninian complex. MPX Energy plans first oil from Orlando in 2013 via a tieback to Ninian for processing. GE Oil & Gas will supply the christmas trees for the development. Orlando is in the North Viking Graben area, close to the CNR-operated Ninian complex.
Last November, participant Iona also signed a sale and purchase agreement with Fairfield Cedrus for the 100% ownership and operatorship of UK northern block 3/8d containing the Kells (ex-Staffa) oil field. The company has submitted a field redevelopment plan and environmental statement. Kells is due south of Orlando, and 14 km (8.7 mi) southeast of the Ninian Central platform. Iona has issued contracts for drilling of the Kells development well and for project management, engineering, christmas trees, and procurement of other equipment.
Central North sea tieback goes to Subsea 7. A $95-million contract for a tieback in the UK Central North Sea for an unnamed international oil and gas operator goes to Subsea 7. The contract scope includes the project management, engineering, procurement, fabrication, and installation of a 7.5 km (4.7 mi) pipeline bundle containing an 8-in. production pipeline, 6-in. gas lift pipeline and controls systems. The pipeline system will tieback a single production well to an existing subsea manifold and platforms. Engineering and project management was scheduled to start in London in June, with offshore operations due to start in 2014.
Brynhild subsea instrumentation on order. The tieback from Brynhild to the Pierce field FPSO in the UK sector is a cross-border subsea tieback. Combining the Brynhild and Pierce's tieback flow will avoid the need for a dedicated riser for Brynhild. Key data for fiscal allocation and production measurement of the different production streams will be taken subsea using Roxar instrumentation from Emerson Process Management. Aker Solutions awarded the contract to Emerson for subsea multi-phase meters, subsea Sencorr pressure and temperature sensors, subsea chemical injection valves, and sand monitors. Emerson also is delivering a number of downhole pressure and temperature gauges directly to Lundin Petroleum.
Pemex taps Technip for GoM work
Petróleos Mexicanos (Pemex) has called on Technip for subsea work in the Bay of Campeche, Mexico, to the tune of €105 million ($131.5 million) for two projects. In one job, Technip will procure and construct two 16-in. rigid pipelines, one 9.2 km (5.7 mi) and the other 8.6 km (5.3 mi). The second job is to engineer, procure, and construct a rigid 24-in gas pipeline of 17 km (10.5 mi) length.
BP's Galapagos starts up in deepwater GoM
BP's Galapagos development includes three deepwater fields and increases the capability of a key BP offshore production hub. The Isabela, Santiago, and Santa Cruz fields are being produced using subsea equipment. A new production flowline loop has been added to carry output to the nearby Na Kika host facility in 6,500 ft (1,981 m) of water. Galapagos required the installation of new subsea infrastructure, production risers, topsides as well as other modifications.
Subsea market recovering from Macondo
The subsea hardware market is expected to recover this year, following the global economic crisis and the repercussions of theDeepwater Horizon accident in 2010, Douglas-Westwood (DW) forecasts.
"Expenditure of nearly $135 billion is forecast over the next five years on subsea hardware, an increase of 14% over the preceding five-year period," says Rod Westwood, research manager at DW. "The 'Golden Triangle' of subsea will continue to dominate upstream hardware expenditure; West Africa, GoM, and Brazil, with Africa remaining the largest market."
Deepwater hardware expenditure is forecast to grow considerably over the next five years. Developments in water depths greater than 500 m (1,640 ft) is forecast to account for more than half the total market spend, illustrating the increasing importance of harder-to-produce reserves.
The outlook for the subsea hardware market shows long-term growth potential, says the report. The technology deployed is unlocking reserves that would historically have been impossible to access, but at a price, and as a result DW's report shows the sector has become a very sizable opportunity for the oilfield service and equipment community. Subsea developments continue to account for an ever increasing share of offshore activity.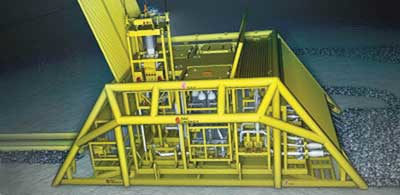 Subsea compression confirmed for Gullfaks in North Sea. Statoil and partner Petoro plan to use subsea gas compression at the Gullfaks South field in the Norwegian North Sea to boost recovery by as much as 22 MMboe. The $505-million project should be completed in the fall of 2015. The plan is for two 5 MW wet gas compressors installed in a subsea template at 135 m (43 ft) water depth. Both will be tied in to existing templates and pipeline systems 15 km (9.3 mi) from Gullfaks C. Framo Engineering has the engineering, procurement, and construction contract for the compressor station, including topside power and control systems for Gullfaks C. Nexans has the EPC contract for the 16-km (9.9-mi) power and control cable from Gullfaks C to the subsea compressor station.
More Offshore Issue Articles
Offshore Articles Archives
View Oil and Gas Articles on PennEnergy.com