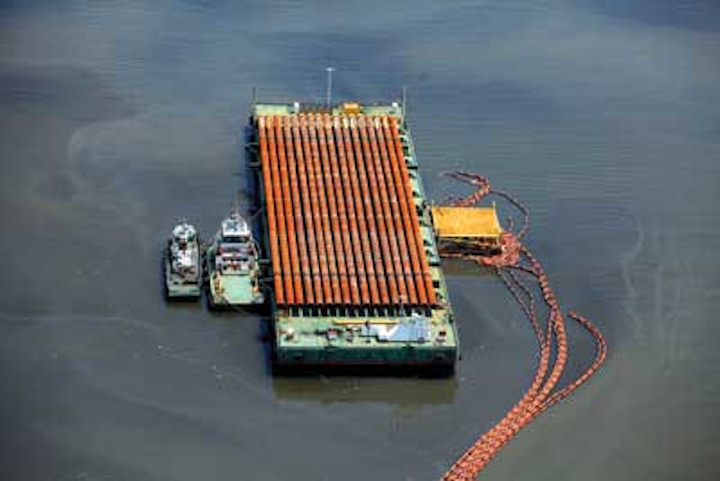 Gene Kliewer • Houston
The University of Houston has received state approval to offer the nation's first subsea engineering graduate program.
The Texas Higher Education Coordinating Board recently approved UH's proposal to provide a graduate subsea engineering program, which is expected to begin in fall 2013. UH currently has a subsea engineering certification program.
Formed in partnership with the world's leading energy engineering companies, the master's program will include classroom lectures and hands-on software education for subsea systems design. Courses will be taught by recognized industry experts.
UH's graduate program will include lectures on basic engineering sciences and best engineering practices in subsea engineering. There will be a major design project assigned and each course also will require a written project report, a technical presentation, and the use of state-of-the-art subsea engineering software.
Cameron, FMC Technologies, and GE Oil & Gas have all played a role in the development of the university's subsea programs.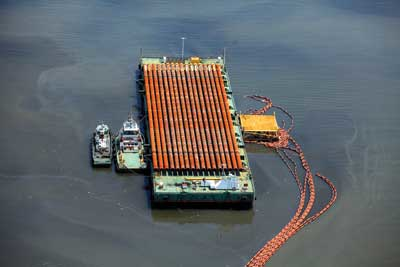 InterMoor says it has completed installation of the drilling and production conductors (shown here on the barge) for the Papa Terra FPSO in the Campos basin offshore Brazil. The conductors were installed in water depths of 3,937 ft (1,200 m). InterMoor chartered theSkandi Skolten, DOF Subsea's construction anchor handling vessel, and the installation barge with a custom conductor launch system. For conductor driving, InterMoor used MENCK's MHU-270T DWS which included a deepwater hydraulic hammer. Photo courtesy InterMoor.
Subsea news from offshore Australia
In recognition of the 2012 Deep Offshore Technology International Conference and Exhibition opening in Perth, Australia, this Nov. 27, here is some of the most recent subsea activity in the region.
Subsea 7 S.A. won a $100-million contract from Apache Australia Pty Ltd. for work at Julimar, offshore Western Australia. The project includes the transportation, installation, and pre-commissioning of subsea umbilicals, manifolds, and diver-less tie-in spools. Project management and engineering is under way at Subsea 7's office in Perth, with offshore operations scheduled to commence in late 2014.
Elsewhere offshore Australia, Apache Energy Ltd. has awarded Technip a $61.3-million subsea installation contract for Balnaves oil field in 135 m (443 ft) water depth in the Carnarvon basin offshore north Western Australia. The contract includes project management, design, engineering, and installation of 7 km (4.35 mi) of flexible flowline and risers, 3 km (1.86 mi) of umbilicals, manifolds, spools, flying leads and jumpers, and a mooring system with riser column.
The project is scheduled for completion sometime after mid-year 2013. Technip's newbuild multi-purpose installation and construction vesselDeep Orient will be used during the offshore campaign.
Meanwhile, Keppel Shipyard is modifying and upgrading Bumi Armada's FPSOArmada Claire for deployment on Balnaves. Work includes refurbishment and life extension plus installation and integration of topside modules. The program also should be completed late in 2013.
INPEX Corp. has awarded Technip a $275-million contract for offshore commissioning at the Ichthys LNG project offshore Western Australia in the Browse basin. The work centers on the FPSO and central processing facility.
Technip's operating center in Perth will execute the contract starting immediately, which is planned to be completed following the delivery of first gas from the Ichthys LNG project in 4Q 2016.
Technip already won contracts for engineering and procurement assistance on the FPSO topsides and also flexible pipe supply.
McDermott has awarded INTECSEA the design engineering for Ichthys. INTECSEA's work includes project management and design engineering of the flowlines, riser systems, subsea structures, umbilicals, and control systems.
The Ichthys LNG project is expected to produce 8.4 MM metric tons of LNG and 1.6 MM metric tons of LPG per year, along with approximately 100,000 b/d of condensate at peak flow.
Chevron Corp. has made another natural gas discovery in the Greater Gorgon Area of the Carnarvon basin.
The Satyr-2 exploration discovery well confirmed approximately 128 ft. (39 m) of net gas pay. The well is in the WA-374-P permit some 75 mi (120 km) northwest of Barrow Island off Western Australia.
The well was drilled in 3,570 ft. (1,088 m) of water to a TD of 12,454 ft. (3,796 m). Satyr-2 is the company's 15th discovery in Australia since mid-2009.
Melody Meyer, president, Chevron Asia Pacific Exploration and Production Co., said: "The continued exploration success in the Carnarvon basin could help underpin expansion opportunities at our LNG projects in Australia and support our drive to become a leading supplier of liquefied natural gas to world markets and domestic gas to Western Australia."
Chevron Australia is the operator of WA-374-P with a 50% interest while Shell and Exxon Mobil each hold 25%.
For more information about projects offshore Australia, see the feature article in this magazine starting on page 44.
Deepwater operations drive subsea vessel growth
From 2012 to 2016, $77 billion will be spent worldwide on subsea vessel operations predicts a new research report from Douglas-Westwood. The report covers vessels used in field development, inspection/repair/maintenance, and subsea well intervention. This total would be almost twice the annual spending in 2016 as this year, going from $11.3 billion to $20.3 billion.
One significant factor behind this increase is the volume of work in deepwater offshore underdeveloped regions and in ultra-deepwater in the developed world. This pushes the demand for high-specification vessels which drives up the day rates, says Joseph Corrigan, author of the report.
DW also expects the deepwater projects to be more complex by 2016, adding to the subsea vessel spend.
Latin America, mostly Brazil, is expected to account for 34% of global spending on subsea vessels over the five-year period, going to about $14 billion. West Africa and Gulf of Mexico are the other two areas of highest demand. The GoM will be second to Latin America, and will reach $13 billion total for the five years.
The growth in this market over the past five years has pushed the expansion of fleets, too. From 2006 to 2012, DW says 169 vessels entered the market, raising the capacity by 60% to 446 total vessels operated by 83 contractors. It is not extreme to expect an important number of vessels will be added to the market in the next five years, too.