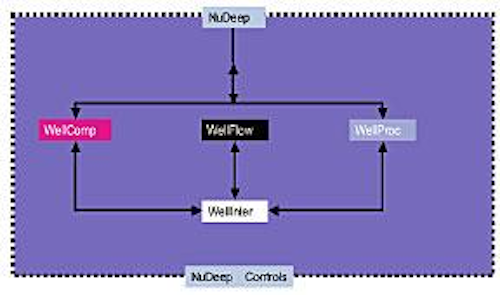 ABB Offshore Systems has gone back to basics in developing NuDeep, its next generation deepwater subsea production system. Taking its cue from customers, the company has investigated all aspects of development and operation to reduce times and costs and boost revenue. Systems engineering was recently completed, and R&D projects are currently under way to plug technology gaps. Market launch of the NuDeep deepwater production system is scheduled for 2003, according to Ole Berg, senior vice president at ABB Offshore Systems.
NuDeep is intended for use in waters down to 3,000 m, though the radical rethink it brings to subsea production also offers benefits in more conventional water depths, says Berg.
The two-year development project has been carried out by ABB's Houston-based deep-water development team, a multi-disciplinary group bringing together expertise in all relevant areas, including drilling and completion, intervention and structures, pressure-containing equipment and manifolds, processing and flow assurance, power, controls, and system integration.
A big effort has been made to ensure that the project addresses the needs of the market, says Berg. Customers were consulted to identify areas for improvement over existing subsea production technology.
Basic systems design and verification are complete, Berg says. In mid-summer, a major customer was benchmarking NuDeep's capabilities against a large subsea facility delivered by ABB. Though the process was not complete, the results were looking good, says Berg.
ABB now plans to introduce some parts of the system to the market late this year, though verification of other parts is expected to continue into 2003. The company expects to launch the system as a whole by end 2003.
Among the key imp-rovement areas identified at the start were drilling and completion, installation, and operations. Some fundamental decisions were taken that provided direction for the further work. It was decided, for example, that the system should enable second- and third-generation drilling rigs to be used, thus avoiding problems of access to specialized deepwater units and the high dayrates they command. Rig-time itself should be reduced by building in the flexibility to carry out installation, drilling, and production operations at the same time.
Time to first oil and production plateau were also identified as key drivers. Improvements here were to be achieved by reducing installation times and the number of trips, and allowing more operations to be performed in parallel.
Another important issue was total recovery, which is closely linked to the cost of well intervention and the feasibility of performing such operations subsea. Two means of achieving improvement were identified - the system should make possible a reduction in intervention costs, and it should embody a true integration of subsea processing functionality and equipment.
Having defined what the system should achieve, the following targets were set:
10% reduction in time to first oil
10-20% reduction in time to plateau production
5-10% improvement in production rate
15% improvement in total recovery
20% improvement in overall development efficiency
20% improvement in overall operational efficiency.
NuDeep comprises five subsystems. The first of these is WellComp, its completions system. At the core of WellComp lies the use of slim and slender well technology. This not only means fewer casing strings and smaller diameter casing, but also opens the way to other advantages, such as the use of a slender riser and a reduction in the amount of steel in the total system. In benign environments, the BOP can, as a consequence, be suspended at surface or near-surface from the rig. This greatly reduces the rig's payload and decreases running times.
The christmas tree has been radically redes-igned, with parts of the pressure-containing equipment being moved from the tree into the well-flow system. The tree itself has been stripped down almost wholly to its primary function as a barrier system. The result is a lightweight (70% weight reduction) piece of kit that can be installed by wire. The flow path through the tree is vertical, and the actual barrier system is not a valve, but a plug.
The WellProc subsystem offers a new design of compact subsea processing package. It consists of a pipe representing the separator tank, which opens the way to a reduction in diameter and wall thickness. It is fitted with an inlet device similar to the type used for ABB's Troll pilot and incorporates newly developed coalescer technology to achieve efficient liquids separation. Gas separation can also be included for high gas-to- oil ratio reservoirs, and sand removal if required. One process unit is required for each well.
The WellFlow subsystem takes the wellstream from the tree to the pipeline. It includes an off-well pressure containment system and a jumper that incorporates smart features and controls to assist with flow assurance. The jumper can be manufactured with either metal or composites. Though rigid, it can be bent in an S-shape and is installed by a single ROV using the Lazy Wave JAS technique, instead of the two ROVs required to install flexible jumpers.
WellInter, the intervention subsystem, is based on the use of an umbilical-less system - the various components of the NuDeep system are small enough to allow the use of an ROV and wires, Berg says. It incorporates the use of Rictis, ABB's coiled tubing intervention system for subsea wells that is under development under the Demo 2000 R&D program in Norway.
The final subsystem is the NuDeep Control System. Here a rethink was necessary, as the use of a large conventional control pod installed on the tree would have reduced the benefits of the tree's light weight, Berg says. In its place a distributed control system has been developed, with the functions located where they actually take place. A field-bus system is used, as the distributed system requires a larger bandwidth and bit-rate capacity than the centralized system. The control module itself weighs only 80 kg and can be retrieved by ROV without special tooling.
The basic technology for NuDeep is largely in place, Berg says. Some parts will require further verification, and some are likely to need regulatory approval. All are expected to be in place by late 2003.