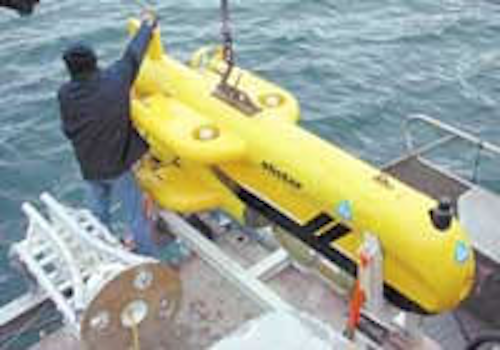 Engineering contractors are looking to autonomous underwater vehicles (AUV) to overcome the limitations of remotely operated vehicles (ROV) in ultra-deepwater operations. The key area of concern is the extra payload created by tethers up to 10,000 ft long - not just on the submerged ROV, but also the attendant surface vessel.
A secondary concern is the soft mud on the seabed. The soft seafloor may hamper the movements of 'crawler' type vehicles engaged in monitoring the pipeline trenching or pipelay touchdown.
Engineers with robotics specialist ECA, based in Toulon, France, say they are addressing these two difficulties with the use of programmed AUV units, which are free-swimming and free of umbilicals. The firm is building an AUV unit, known as Alistar, for monitoring purposes. ECA has built nearly 500 unmanned underwater vehicles currently in service, and previously built the world's first AUV, the Epaulard, in 1984, in association with the French oceanology research institute, Ifremer. This original vehicle was capable of diving to 6,000 meters water depth and was operated remotely by an acoustic link.
AUV configuration
The new AUV design has two cylindrical bodies in a vertical plane. The upper body houses electronic equipment, including sensors and signal and data processing systems. The lower section contains the power source - in the Alistar's case, these are Lithium/Ion (Li/ION) secondary battery packs, which are designed to provide up to 40-hr operational autonomy. This is ten times the range provided by equivalent lead acid batteries, according to ECA's Commercial Director Jean-Pierre Hainsselin. The batteries were developed jointly by ECA and SAFT. The principle was based on a pressure-control system.
The Alistar is being designed in two versions, one for shallow water (300 meters) and the other, known as Alistar 3000, for ultra-deepwater operations (3,000 meters). Features of the 3000 version include:
Weight: 1,000 kg, depending on payload
Length: 3.5 meters
Height: 1.4 meters
Width: 1.35 meters
Speed: 0-9 knots, operable in currents above 3 knots.
Maneuvering
Maneuvering is provided by four horizontal and two vertical thrusters, with the potential for adding transversal thrusters to counter specific side current conditions. ECA aims to adapt the vehicle's high-speed maneuvering, hovering, and transverse running capabilities for complex connection and inspection tasks in ultra-deepwater.
The conventional torpedo-shaped AUV design, ECA engineers say, does not provide hovering capability - something they sought for the Alistar unit. They contend that the torpedo shape plus the use of only one or two thrusters makes it difficult for an AUV to hover, which limits the vehicle only to survey duty.
Hainsselin said ECA sought more versatility, particularly for inspection functions. The Alistar unit was designed to survey a christmas tree, but also stop and take close-up video images and transmit them in real time to the following ship.
In time, Hainsselin said, the Alistar could also undertake maintenance, although that would require additional power. This could be provided by a fuel cell source fixed to the seabed. ECA is participating in a program with financial help from French state research institute, CEPM, to develop a 2kW fuel cell for a water injection christmas tree.
This would be housed on the seabed at a water depth of 6,000 ft, or configured in a format enabling direct integration into the Alistar. Initial laboratory tests are scheduled to start early in 2002. The Li/Ion battery project, however, is likely to achieve commercial realization sooner. Research into the fuel cell will continue for several more years.
AUV transport
The new AUV is designed for transportation to its offshore location by aircraft and for launching from most available support vessels by using a standard recovery winch, even in sea states of Force 6-8. This suggests it could operate in any deepwater environment.
A version with an umbilical was tested early this year, and a first software-controlled presentation is due to take place early in 2002, with a demonstration also planned at the Ultra-Deepwater Engineering Technology conference, scheduled to be held in Brest, France, in June 2002. Assuming trials are successful, the next goal will be to find a live field application.