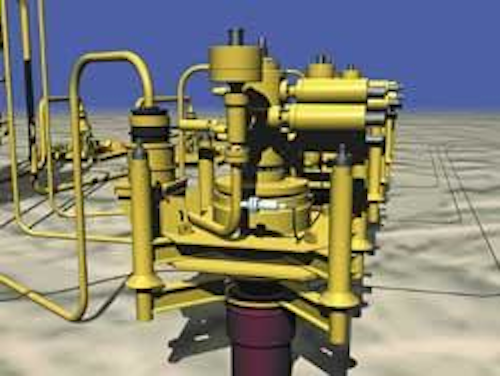 CorrOcean has launched a subsea sand/ erosion probe with an integrated pressure/temperature sensor. The prod- uct, SenCorr SEPT, is a unique combi-nation of two existing sensors, high-pressure/high-temperature (HP/HT), sand-erosion probe, the sand detection/sand erosion sensor, SenCorr SE; and the pressure and temperature sensor SenCorr PT. Use of the tool allows the customer to avoid the high cost of additional jumpers, connections, and ports which are incurred when using separate prod-ucts for these functions, says product manager Nils Braaten.
The company sees advantages in offering the market multi-function tools incorporating several of its established, single-function products. "We're moving towards offering a range of subsea sensor technologies which will increase control over all the parameters and provide flow assurance," Braaten says.
The SenCorr SEPT is currently rated for pressures up to 10,000 psi and temperatures of 120°C. It is now being qualified for HP/HT applications, meaning 15,000 psi and 180°C. The process should be completed this spring, according to Braaten. The tool incorporates improved robustness, and can cope with pressure spikes.
Developed as a means of supporting multiphase flow programs, the PT sensor has various applications, including pressure testing of barriers on subsea trees, determining flow characteristics and providing input for a well allocation system. An accuracy of +/- 0.2 bar and +/- 0.2°C is claimed for the product. A test of its accuracy and consistency has been carried out on a North Sea field where two sensors are installed within a few meters of each other. Readings have been consistently within 0.1 bar and 0.1°C of each other, and there has been no evidence of drift, according to CorrOcean.
The PT sensor is based on standard piezo-resistive technology, using a single silicon crystal as the active pressure-measuring device. Both pressure and temperature are measured through a standard bridge coupling, thus avoiding the independent variation between pressure and temperature readings to which traditional sensors are often subjected.
The sand probe monitors sand production, responding rapidly to changes in sand volumes, and measures erosion with high accuracy. It can be used to optimize choke valve settings to enhance production, and to predict the location and extent of maximum erosion in the system. As an intrusive tool, the probe represents a divergence from the non-intrusive FSM corrosion monitoring technology for which CorrOcean is also known.
Though it is early days yet, Braaten is optimistic about the market response to the SenCorr SEPT. The PT sensor, however, has gained a firm footing in the market, and has been acquired for many projects, notably in the Gulf of Mexico and the North Sea.
Other offerings in the SenCorr range of corrosion monitoring products include SenCorr PTPT, a dual-redundant PT sensor, and SenCorr CMPT, which combines the PT sensor with a subsea corrosion-monitoring sensor.