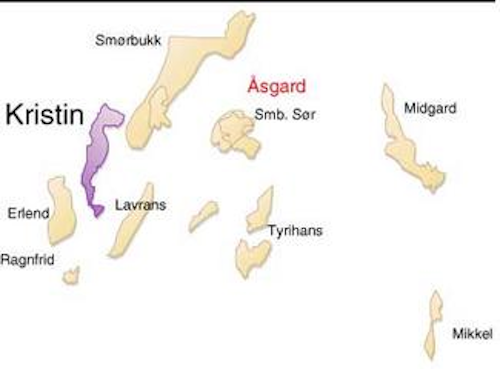 By Nick Terdre, Contributing Editor
Statoil is in the hectic early phases of implementing the Kristin project. Kristin is the hottest and most highly pressured field yet to be developed by the company. The field is due on stream in October 2005, and will subsequently provide a hub for future developments in the Halten Bank West region off mid-Norway.
The NKr 17 billion project was approved by the Storting (Norwegian Parliament) in December. The main contractors will be selected over the first six months of this year. In January the main EPCH contract for the platform was awarded to Aker Maritime, with a scope of work encompassing engineering of the whole platform, fabrication of the deck, process and utilities modules, mating of the deck and hull, and hook-up.
In February, Kværner Oilfield Products was awarded a letter of intent for the supply of subsea equipment, including four templates, wellheads, trees, and controls systems. The destination of contracts for the hull, living quarters, riser balcony, and flowlines are all due to be decided by mid-year, as is the first of two development drilling contracts.
The investment breaks down approximately as Aker Maritime's platform contract, NKr 5 billion; platform hull and other topsides structures, NKr 5 billion; subsea equipment and pipelines, NKr 3 billion; and drilling and well completions, NKr 4 billion.
The platform, which will be installed in 315 meters water depth, will be a semisubmersible built to the Kværner GVA50 design. It will be a smaller version of the same team's Åsgard B platform. Production capacity will be 18 MMcm/d of gas and 125,000 b/d of condensate.
The platform will have full processing capability, though consideration was given to developing the field with an FPSO, a wellhead platform, or solely with subsea facilities tied back to Åsgard. Relying on Åsgard for processing however, would have delayed start-up as Kristin would have had to wait for the Åsgard fields to come off plateau. This situation is not expected for several years, according to Nina Udnes Tronstad, vice president, E&P, for Halten Bank West. The final evaluation was between a platform and subsea solution. The subsea case would have been strengthened had seabed processing been qualified, but there was no guarantee the technology would be proven in time for a 2005 start. A platform solution was also considered more appropriate given the existence of other reserves in the area.
155°C sour gas
Kristin presents a more high-pressure/high-temperature (HP/HT) reservoir than Åsgard B. It is probably the hottest and most highly pressured to be developed with subsea wells in the world to date. The inlet pressure of the wellstream fluids at the seabed templates will be around 740 bar, twice that on Åsgard, and the temperature reaches 155°C. The reservoir contents are also relatively sour, with high proportions of both carbon dioxide and hydrogen sulfide.
Åsgard is an important reference for Kristin, not only for its achievements but also the problems which have arisen. These include defective subsea hub welds and teething problems with the topsides process systems. "We're still gathering experience from Åsgard B," says Udnes Tronstad. "It's important that we learn from the major findings. There's been a lot of focus on issues such as welding materials and procedures. We're mainly aiming to simplify things on Kristin, and to reduce the chances of problems such as leaks."
Åsgard has provided valuable experience on matters such as equipment design and choice of materials. The aim is to achieve robust equipment, which will prove capable of problem-free operation, Udnes Tronstad said. The challenges are not only technical, but extend to safety and environmental issues. This is another important focus for the planning process.
The field, which contains estimated reserves of 35 bcm of gas, 220 MMbbl of condensate and 53 MMbbl of natural gas liquids, is to be developed with 12 production wells. These will be distributed between four, four-slot templates. Two of the templates will house four wells, and the others two wells each. Intensive efforts are going into planning of the wells, with the close involvement of Statoil's HP/HT network and liaison with teams on two other HP/HT developments, Huldra, which came on stream in November, and Kvitebjørn, due on stream in 2004. These, however, are both conventional platform developments.
There will be two contracts for drilling. The first, to be awarded in June, will be for a rig to drill eight wells, starting work in July 2003. The second rig will carry out the remaining drilling and all completion work. Eight wells should be available at start-up.
Engineering of both in-field and export pipelines is being carried out by Reinertsen Engineering. The four templates will be linked to the platform by 6-7 km-long flowlines. This distance will allow a natural cooling of the well stream. However, in case of shut-down, a heating system will be required to prevent hydrate formation.
Wet gas will be exported through an 18-in. pipeline to a "T" connection already installed on the Åsgard Transport System where it passes some 12 km from Kristin. From there it will be delivered to the Kårstø terminal where new processing facilities will be constructed. Condensate will be exported through a 20-km, 12-in. line to the Åsgard C floating storage unit.
Gas will be exported at a plateau rate of 5 bcm a year, up to a total of 35 bcm in the period to 2016. Kristin was one of the last fields to be given a gas export allocation by the Gas Supply Committee (GFU), part of the centralized marketing apparatus which has now been wound up to bring Norway into line with the European Union's gas liberalization directive. However, the export volume has not yet been allocated to specific supply contracts, and Udnes Tronstad admits there is some uncertainty over how to deal with this issue in light of the EU regulations.
Kristin will serve as the tie-back point for other fields in the Halten Bank West area. These fields include Erlend, Lavrans, Morvin, and Ragnfrid. It is too early to say when the first tieback will be needed, said Udnes Tronstad. Nor has it been decided which field will be developed first, although the choice appears to be between Lavrans and Morvin, both of which have substantial reserves. While the other fields contain gas and condensate, Morvin proved to have light oil when Statoil drilled it for the first time last year.
The Halten Bank West fields lie on three production licenses: PL 134B (6506/11), PL 199 (6406/2), and PL 257 (6505/1 & 5). Interests have been unitized as follows: Statoil 46.6%, Norsk Agip 9%, ExxonMobil 10.5%, Norsk Hydro 12%, Petoro 18.9% and TotalFinaElf 3%.