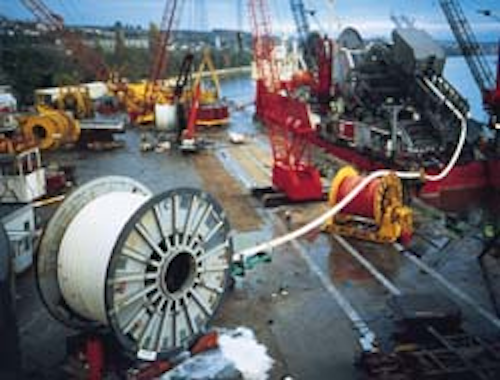 G. Cameron & D. Brooks
Coflexip Stena Offshore Norge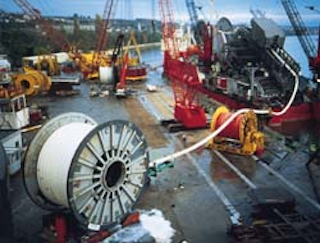 CSO Apache loading flexible riser in Le Trait, France.
By using an innovative and cost-efficient approach, Coflexip Stena Offshore's reelship Apache has made it possible to complete the Tordis and Vigdis subsea developments for Saga Petroleum in the Norwegian sector.
The solution offered consists in installing in a single, continuous operation a complete flowline transport system, comprising a flexible riser, a rigid steel flowline and a flexible tail. Saga's field designs took into account the CSO Apache's unique capabilities for laying a hybrid systems in order to rationalize the installation and completion operations.
This approach presents significant cost savings in equipment, where standard components are used. In addition, a single installation vessel and single contractor are able to complete the entire flowline system, using proven topside connection technology. Provided the field development design incorporates a hybrid flowline system, the operator may benefit from the combination effect of using proven technology, while reducing the spread of installation vessels at sea.
Coflexip Stena Offshore's philosophy is to offer an installation method that makes maximum use of the standard pipeline components and maximizes topside work on the vessel. In turn, ROV intervention tasks are reduced, while a single contractor using a single vessel is able to undertake the whole operation. This means the contractor must provide a special installation tool capable of tackling the challenges offered by a hybrid flowline operation.
CSO Apache, which features very specialized tension systems, is a unique tool able to respond to the requirements imposed by hybrid flowline system installation. Continuity of installation of both the flexible and rigid steel lines is possible, using relatively low installation tension for the flexible component in order to prevent buckling.
In addition, all standard steel pipelay equipment is stored onboard and is available as an integrated part of a total service package that includes storage, handling and deployment systems for flexible pipe and/or umbilical. Combining these various requirements has presented many technical challenges. The result, however, is increased operational efficiency and significant cost saving.
Multi-vessel completion
Under a conventional approach, satellite fields are tied back into existing infrastructure, which has excess production capacity or which can be upgraded to suit the demands of a new field. A typical system would consist of one or multiple subsea wellhead templates tied back to a manifold system. Control and power are provided by a cable link from the host production facility.
Export of the product from the manifold is achieved by means of a flexible tie-in spool and rigid steel flowline. Connection to the existing processing facility is made by a flexible or rigid riser system. Such a system requires expensive and complex subsea connection systems, allowing separate contractors and vessels to install the rigid steel flowline component and the flexible riser and flexible tail components.
On the Tordis and Vigdis subsea developments, it was decided to reduce the initial capital expenditure that a conventional approach would suggest. In particular, the development, testing and manufacture of specialist riser and flexible tail subsea connector systems, and the use of several contractors for flexible and rigid flowline installation deploying a large spread of separate vessels, were all seen as possible areas for improvement.
In addition, the conventional approach implied an extension of the offshore installation schedule. A lengthy operation would then expose the riser pulldown and connection operations to weather sensitivity, while requiring an extensive subsea ROV intervention program to complete connections.
Using a hybrid flowline system to tie back the two fields has resulted in a major achievement, with the number of subsea connections reduced to one on each field instead of three, under the conventional approach. This impacts the cost of installation, which is simpler and faster, but translates also as a large percentage of the cost reduction achieved on the hardware supply, since the riser base and two subsea connectors are made superfluous.
The tie-in of the tails to the templates still requires one subsea ROV connection on each field. However, the Vigdis design only required Short-Flex tails as the connector was fitted to the tail on theCSO Apache.
The Tordis Field was developed using a direct rigid steel pipe J-tune pull-in to Gullfaks C, followed by lay away around an expansion curve built into the pipe route. The rigid pipeline was laid towards the subsea template location and cut to length.
Conventional topside pipe welding techniques were used to attach 300 meter long flexible tails to the two production flowlines and the water injection flowline. The whole installation, including the subsea ROV connection to the template, was completed using a single contractor and a single vessel, withCSO Apache running all the operations.
On the Vigdis Field, development consists of using 500 meters of flexible risers to the Snorre TLP, with the steel flowlines being connected to the risers by conventional topside welding, then laid away towards the template location and cut to length.
Conventional topside pipe welding techniques have been used to attach the flexible tails to the four production flowlines and the water injection flowline. The connection to the template was further simplified, using Short Flex Tails, with the subsea connector fitted to the tail onboardCSO Apache.
The hybrid approach was further optimized on the Vigdis Field whereCSO Apache also installed a system combining a methanol injection steel pipe, with flexible riser and tail, in a single bundle together with an electrohydraulic control umbilical.
These two satellite developments highlight how the contracting industry is able to respond to operators' demands to rationalize operations and cut cost.CSO Apache's hybrid approach has proven to offer measurable economic improvement in recent tie-back projects and is likely to be an important element in encouraging new satellite and marginal field developments, particularly in high-cost areas and in challenging environments.
In this context, CSO says that water depth is no limitation, asCSO Apache is capable of laying a hybrid flowline system down to 1,000 meters of water, which covers most of today's field development requirements. However, beyond 1,000 meters, vertical pipelaying using J-lay technology is needed. This will be considered in time for the CSO Apache.
Copyright 1996 Offshore. All Rights Reserved.