Bill Hunter, Lindsay Clark
Reading & Bates
The Liuhua 11-1 Field development consists of the Nanhai Tiao Zhan linked to an FPSO and transport tanker.
The semisubmersible FPS Nanhai Tiao Zhan is a major component of the Liuhua 11-1 development system. The unit is a modified drilling semisubmersible, specially converted to support the subsea production well cluster over which it is permanently moored. The design and conversion was a major project entailing specialized engineering and procurement efforts. Final design and conversion of the Nanhai Tiao Zhan was accomplished in about two years.
The first year entailed a major engineering effort which produced plans and specifications for converting a Sedco 700 series mobile offshore drilling unit to an FPS which could maintain station in a severe typhoon environment, supply electrical power to artificially lift crude from the Liuhua 11-1 reservoir, and support the installation and maintenance of the unique subsea production system. The final year of the project entailed the actual procurement and conversion activities associated with the unit's conversion. The project was accomplished on schedule and within its original budget.
The Nanhai Tiao Zhan is a subsea production support vessel designed to meet the unique technical and commercial challenges of the Liuhua 11-1 Field. The unit is permanently moored over a subsea production system. The subsea system and semisubmersible vessel are teamed with a floating production, storage and offloading (FPSO) system permanently moored nearby.
Vessel mission
The mission of the Nanhai Tiao Zhan includes power generation for artificial lift, subsea well drilling and completion, and subsea production system support. Each Liuhua well has a downhole electrical submersible pump. The Nanhai Tiao Zhan's power generation system produces and conditions electrical power for these pumps, along with power for meeting simultaneous drilling, hotel, and utility loads. Liuhua Field pre-drilling was conducted by the Reading & Bates semisubmersible rig Jim Cunningham. However, the Nanhai Tiao Zhan has full horizontal well drilling and well completion capability, as it must complete all wells and drill ten or more new production wells after field startup. The Tiao Zhan's subsea system support mission spawned many of its unusual design features. Remotely operated vehicles (ROV) play a critical role in the installation and maintenance of the Liuhua subsea production system. Therefore, two full-time resident ROV suites are supported aboard the Tiao Zhan.
Specialized tool packages for measuring and installing short seabed pipe jumpers are also run and retrieved from the Tiao Zhan, while other drilling and completion activities take place through the central moonpool. The subsea system's central head-pipe manifold is the first subsea equipment item to be installed by the Tiao Zhan.
The pipe jumpers which interconnect the manifold and well flow bases are fabricated on the Tiao Zhan's deck. Also, unique subsea tree running and retrieval tools are routinely handled and run through the main moonpool. Risers for supply of electrical power to seabed completed wells must also be run, retrieved, and supported by the Tiao Zhan.
Work scope
In June 1993, the Liuhua partners chose Reading & Bates Development (R&B) to be the general contractor for the semisubmersible conversion project. The scope of this project included final vessel selection, engineering, procurement and the conversion program. R&B subcontracted the conversion work to Far East Levingston Shipbuilding (FELS) in Singapore.
After the EPS general contract was awarded, a Reading & Bates led team performed more extensive inspections and conversion cost evaluations focused on the short-listed rigs. By August, 1993, the West Stradrill, a Sedco 700 series design mobile offshore drilling unit, was identified as the most desirable candidate. The unit was purchased in November of that year.
After purchase, the rig was stacked in Cromarty Firth, Scotland and a detailed structural, piping, equipment, coatings, electrical and accommodation, HVAC inspection was performed. The results of this detailed inspection program were used to develop equipment repair and life extension plans and shipyard specifications. The inspection indicated that steel replacement due to corrosion would be minimal and the rig's structure was in good condition considering its 18-year age.
The West Stradrill entered Fels Pioneer Yard in June of 1994. In June of 1995, the converted semisubmersible FPS Nanhai Tiao Zhan was delivered for tow to the Liuhua Field, slightly ahead of schedule and essentially on budget.
Engineering, design
The Liuhua 11-1 location is in 1,000 ft water depth in an area frequented by South China Sea typhoons. The resulting maximum design wave heights, wind speeds, and associated currents present challenging combinations for offshore facility designs.
Shortly before the general contract was awarded, Reading & Bates began to assemble the Liuhua FPS sub-project team. A large component of the initial group was the engineering team, composed of Reading & Bates and owner personnel, and a large contingent of sub-contracted specialists.
Engineering roughly proceeded along two fronts. One focused on defining the global changes to the semisubmersible's hull, deck, superstructure, and mooring system necessary to enable the converted vessel to perform its new mission. The other front focused on the new equipment additions and existing equipment repairs and modifications required for the new mission.
To meet mission requirements, substantial payload and deck space increases were necessary. Global structural analysis revealed a need for major modifications to the hull and deck structure. Hull fatigue studies also pointed toward major hull modifications and special attention to existing repair, life extension, and re-detailing to achieve the target 10-year continuous service life. Cross pontoons were added to the lower hull structure, primarily to increase its resistance to squeeze-pry loads. Stability analysis indicated a need for the addition of large sponsons to the hull's four corner columns to allow the converted vessel to support the required deck payload and maintain stability. These sponsons were also designed to support much of the new mooring system's foundation structures.
Deck extension
New deck extension sections were added to the main deck fore and aft, port and starboard. This new deck space was required to support additional quarters, power generation, ROV systems, subsea chemical injection equipment, and well service equipment and to provide working space for subsea equipment handling and preparation. These deck space additions, and significant deck payload increases, made major reinforcement of existing primary deck structures necessary. Other significant topsides structure modifications included:
Adding a new accommodations block to bring manning capacity to 130.
An engine room extension to accommodate a new power generation system and its auxiliaries.
A new electrical equipment room to house variable speed drives for electrical submersible downhole pumps.
A new warehouse and subsea BOP controls house with riser rack roof.
Two new ROV maintenance and operations shelters associated cursor systems.
Four new auxiliary moonpools for running subsea system tools and risers.
Mooring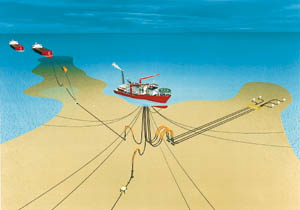 The converted semisubmersible Nanhai Tiao Zhan provides drilling and subsea support for the Liuhua 11-1 field offshore China.
The converted semisubmersible design amounted to a much larger vessel than the original West Stadrill. Global performance analysis of the modified vessel in the Liuhua design environment indicated a need for a large, high-capacity mooring system. The drilling, completion, and subsea equipment installation and maintenance missions of the Tiao Zhan called for frequent rig re-positioning and good stationkeeping ability in operating environments. A directional bias of the severe environment events led to potential use of a non-symmetric mooring system. The resulting mooring system design is an eleven-leg, chain-wire chain system with 40 metric ton drag imbedment anchors.
Platform-end equipment includes bending shoe type fairleaders that direct the 4-3/4-in. platform chains up to deck-mounted chain stoppers and windlass type winches. All winches can be controlled locally or from the central control room where vessel position, line tensions, and line excursion data is monitored.
FPS systems
System engineering efforts yielded significant equipment changes. Four new 3.3 MW engine-generator sets capable of burning marine diesel or conditioned Liuhua crude were found to offer the best solution to meet requirements to supply artificial lift power for downhole, electrical submersible pumps while carrying normal drilling and hotel loads. Variable speed drives for the electrical submersible pumps and associated power conditioning equipment also proved to be major additions to the rig's power system. Increased loads on the emergency power bus resulted in the need to install a new, larger emergency generator.
Required redundancy of firewater supply called for the installation of a new diesel engine driven fire pump set. New deck areas required major expansion of the firefighting systems. A new fire and gas detection and alarm system was also installed along with a new data monitoring, communication and control system designed to interface with the systems aboard the Liuhua FPSO tanker. A new ballast control system was also installed.
Major drilling equipment changes planned in the engineering phase included the addition of a top drive system to facilitate drilling of horizontal wells and re-unitization of the blowout preventer and lower marine riser package assembly handling. No major mud system equipment changes were planned in the engineering phase. Many conversion scopes were developed in conjunction with the subsea system design team to enable support of the subsea systems. The most visible changes were:
The addition of electrical and control umbilical riser hangoff structures and associated running equipment under deck port and starboard of the main moon pool.
The new ROV systems.
Additional moon pools with associated running and retrieving equipment for a specialized subsea measurement and installation equipment package.
Conclusion
The successful completion of the Liuhua FPS sub-project was the result of innovative engineering, good teamwork and win-win contracting strategies on the part of the major contractors, suppliers, and the owner's project team. The results were delivered through the perseverence and hard work on the part of the many suppliers and contractors staff who teamed with the Liuhua 11-1 partners.
The prevailing cooperative and motivated spirit of a project team squarely focused on the project mission was a key factor in overcoming the numerous technical and commercial challenges. The Nanhai Tiao Zhan conversion project is an important example of success and an sound starting point for continued improvement in floating production system project execution.
AUTHORS
Bill Hunter is the technical director of Reading & Bates Development. In 1990, he helped establish the Reading & Bates floating production group. He holds an MS degree in petroleum engineering from Heriot-Watt University (Scotland).
Lindsay Clark is the construction manager for Reading & Dates Development. He joined Reading & Bates in 1978 and has served in numerous operations, engineering, and project management roles. He was directly responsible for the daily construction supervision of the Liuhua FPS project.
Copyright 1996 Offshore. All Rights Reserved.