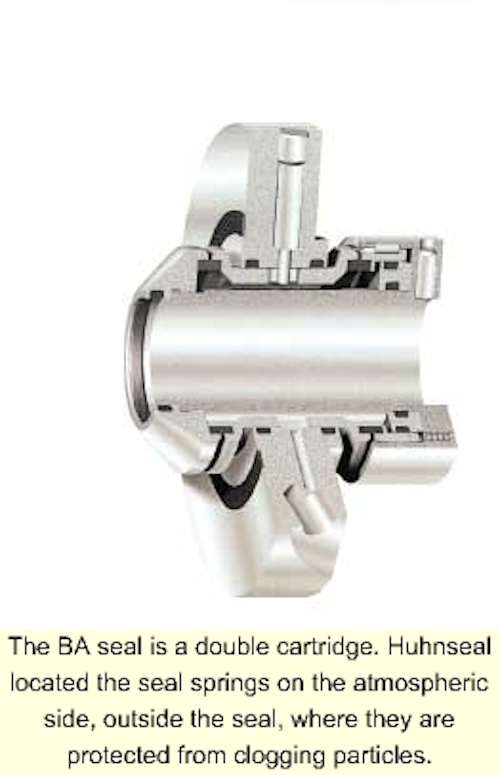 Pumps are basic elements of many industrial plants and processes. They also incur major maint-enance, service, and replace- ment costs due to their widespread use and rapid wear. Since 75% of pump failures are due to the failure of seals and bearings, any advancement that improves seal life and reliability will flow directly to the users bottom line through reduced service and replacement costs.
Huhnseal seals are used on submersible pumps and supplied seals for Framo pumps installed in Statoil's Lufeng Field offshore China. Five of the pumps are installed at the seabed at 320 meters water depth. They move produced crude oil up to the floating production system. The 2 MW pumps operate at 3,700 rpm with a pressure of 40 bar and have been in service over three and a half years (22,000 hr) without the need for service.
"The seal casing is made of titanium, which normally withstands pressures up to 225 bar, which the seal is exposed to when a pump is stopped. This is due, for instance, to disconnection of the vessel caused by approaching storms," explains Goran Anderberg, Huhnseal's Man- aging Director. "The seal faces are also made with a special silicon carbide."
Huhnseal has been a leader in seal technology and has been expanding the usefulness of different materials to improve seal reliability for many different applications. It has worked with Saint-Gobain Advanced Ceramics (formerly AC Cer-ama) to deve- lop composite ceramic materials to improve the pressure and speed performance for mechanical seal rings. Both tungsten carbide and silicon carbide seal face rings break between 10-25 bar while the SGAC ceramic seal face rings can withstand pressures up to 45 bar. Some materials can withstand levels up to 75 bar.
Diamond coating
While these are impressive improvements, Huhnseal has made a major ad-vance with the development of diamond coatings for seal faces. Diamond coatings dramatically improve performance by red- ucing the friction coefficient by 90% over standard materials. The harder surface can withstand higher pressures, corrosive fluids, and run longer than tungsten carbide under similar conditions. This means that diamond-coated seals will provide up to ten times the service life over conventional seals.
Silicon carbide is the most commonly used facing material, but diamond facing is far superior in both hardness and friction reduction. Even in dry running tests the coefficient of friction is 0.1, against 0.8 for silicon carbide. Diamond coatings can be run dry longer with less damage because the thermal conductivity of diamond is about five times better than copper.
Smoother surface
According to Anderberg, the major problem with diamond coatings has been getting them smooth enough. A competitor spent over $100 million in development costs over 10 years before shutting down its project because it could not get the coatings right.
Huhnseal has worked with partners Angstrom Laboratoriet and IVF-FEM over the past few years to perfect the diamond coating and manufacturing process. Huhnseal's coating process uses a silicon carbide seal body over which a mixture of methane and other gases is passed. In a patented process carbon is condensed onto the surface to produce a uniform crystalline diamond coating.
Ten customers tested the diamond coated seals this spring along with standard seals for control. Initial results are said to be very encouraging. Huhnseal has developed the coating machinery in anticipation of continuous production of diamond coated seals. Series production is expected to begin at the end of this summer.
For more information contact Göran Anderberg, Huhnseal. Tel: +46 418 449940, Fax: +46 418 449942, E-mail: goran.anderberg@huhnseal.se.