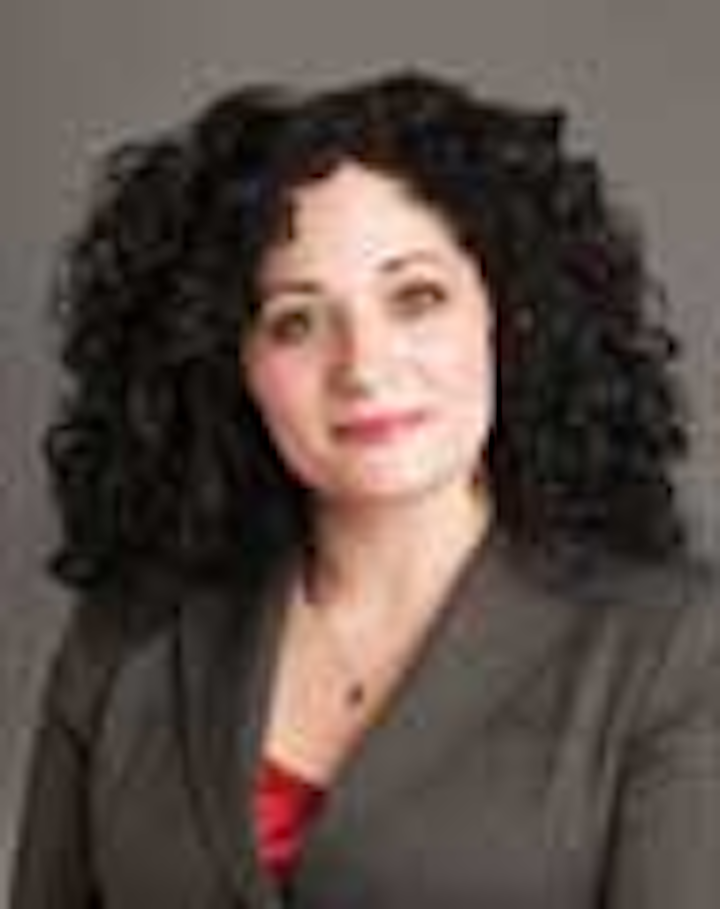 | | | |
| --- | --- | --- |
| | | Sarah Parker Musarra • Houston |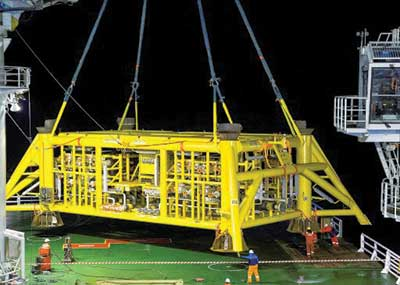 Manifold for the Bøyla field. (Photo courtesy Det norske)
Production has commenced from the Det norske oljeselskap-operated Bøyla field. Located in production license 340 in the northern North Sea, the field is tied back to the existing infrastructure at the Alvheim field.
Discovered in 2009, Bøyla was developed through a subsea solution comprised of two horizontal production wells and one water injection well. The expected peak production rate is more than 20,000 boe/d when both wells are in production. It is the fourth producing field tied back to Alvheim and itsAlvheim FPSO, which was achieved through a 28-km (17-mi) pipeline. Recoverable reserves from the field are estimated at 23 MMboe, with Alvheim capable of processing 150,000 b/d.
Oceaneering snags Stampede contract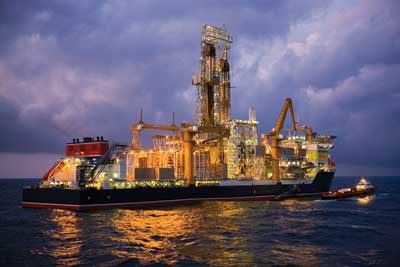 A rendering of the Stampede project. (Photo courtesy Hess Corp.)
Oceaneering International Inc. has secured a contract to supply the umbilicals and umbilical distribution hardware for the Hess Corp.-operated Stampede project in the Green Canyon area of the Gulf of Mexico.
The order is for electro-hydraulic, steel tube umbilicals, totaling around 14.3 km (8.9 mi) in length, umbilical termination assemblies, hydraulic and chemical distribution units, electrical distribution units, flying leads, and junction plates. Oceaneering plans to manufacture the umbilicals at its plant in Panama City, Florida, and to manufacture the distribution hardware at its facilities in Houston. Umbilical production is expected to commence in 2Q 2014, with delivery scheduled for mid-2016.
Hess sanctioned Stampede, located in about 3,500 ft (1066 m) of water, in October 2014. First production is slated for 2018.
2H Offshore spins off subsea integrity unit to form Clarus
Clarus Subsea Integrity Inc., a subsea engineering firm created from 2H Offshore's subsea integrity business segment, has started operations. Headquartered in Houston, Clarus' service offerings will include data management, risk-based integrity assessment, anomaly management, fitness for service, subsea condition monitoring, key performance indicators, and corrosion analysis. The initial subsea equipment specialty focus will grow to include integrity of all in-water equipment, including hull and moorings.
Aker Solutions wins again at Johan Sverdrup
Aker Solutions will provide engineering, procurement, and management assistance (EPMA) services for five years at the Statoil-operated Johan Sverdrup development in the Norwegian North Sea.
Valued at NOK 4.5 billion ($5.8 million), the EPMA work is part of a 10-year framework accord announced in December 2013 and comes after Statoil decided to exercise an option. The assignment will last through 2019 and covers work in the development's first phase. Aker Solutions delivered the front-end engineering and design work for the development's first phase in 2014, consisting of four platforms linked by bridges.
The field, the largest offshore oil find in Norway in 30 years, is estimated to hold 1.8 to 2.9 Bboe.
Bourbon grows ROV fleet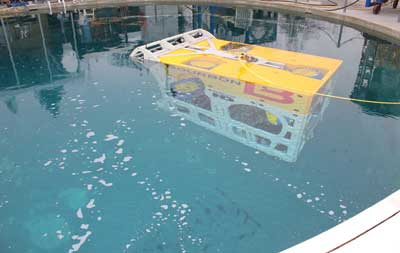 Shown is the Bourbon HS vehicle, which just completed factory testing. (Photo courtesy Meagan Douglas / FMC Technologies)
Bourbon has commissioned three Heavy Duty Work (HD Work) ROVs from FMC Technologies Schilling Robotics. Capable of operating at depths of up to 3,000 m (9,842 ft), these HD Work ROVs will be fitted with manipulator arms, dynamic positioning, high-definition camera, sonar, and software. Additionally, the 150-hp units can carry up to 3,000 kg (6,614 lb) of special measurement or intervention tools. Bourbon says three more ROVs will be added to its fleet by the end of 2015.
OneSubsea announces Jack/St. Malo involvement
OneSubsea, a Cameron and Schlumberger company, supplied the subsea production and processing systems for Chevron Corp.'s Jack and St. Malo fields.
The Jack and St. Malo fields are located about 280 mi (450 km) south of New Orleans in the deepwater Gulf of Mexico within 25 mi (40 km) of each other in water around 7,000 ft (2,100 m) deep. The project is comprised of three subsea centers tied back to a floating hub production facility with a capacity of 170,000 b/d of oil and 42.4 MMcf/d of natural gas.
OneSubsea, through one of its predecessors, was awarded the subsea production systems contract in 2010. The scope included the delivery of 12 15,000-psi subsea wellhead trees, production controls, four manifolds and associated connection systems, engineering and project management.
First oil was achieved from Jack/St. Malo in December 2014, with combined production expected to peak at 23,000 boe.