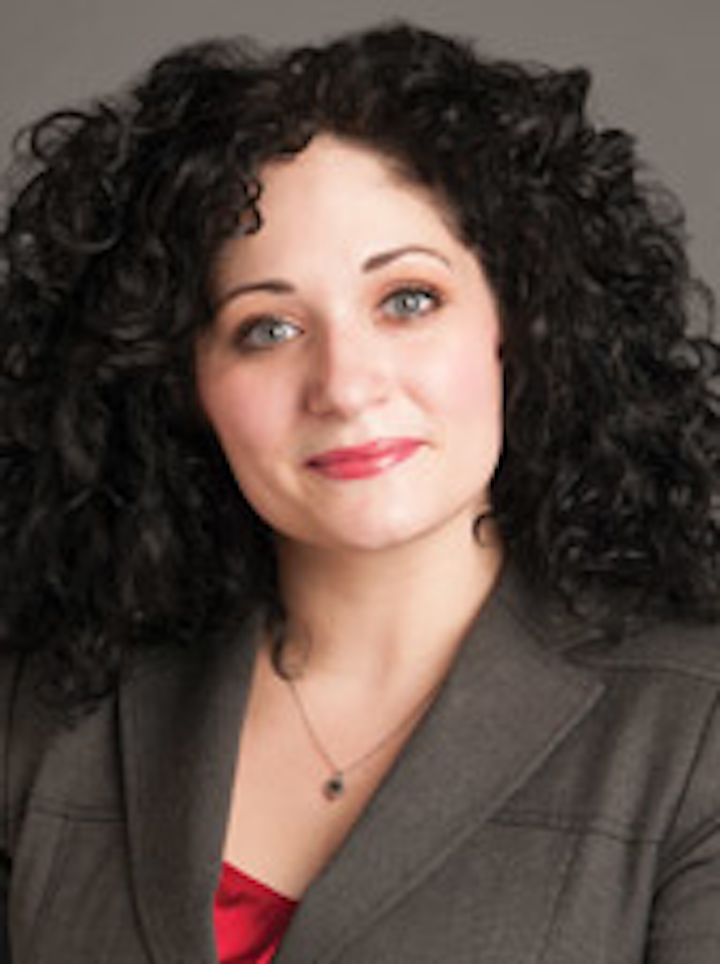 | | | |
| --- | --- | --- |
| | | Sarah Parker Musarra • Houston |
Solitaire starts work on Polarled pipelay
Allseas'Solitaire has started laying Polarled, the first pipeline to extend Norway's gas infrastructure into the Arctic Circle.
The 482-km (300-mi) long, 36-in. pipeline, due to be completed by the end of August, will transport gas from the Aasta Hansteen field in the Norwegian Sea to the terminal at Nyhamna in western Norway.
Statoil is the operator of the Polarled development phase, while Shell is responsible for preparing the Nyhamna processing plant to receive the extra gas supplies. Gassco will become operator of the pipeline and the plant at Nyhamna after Aasta Hansteen comes onstream.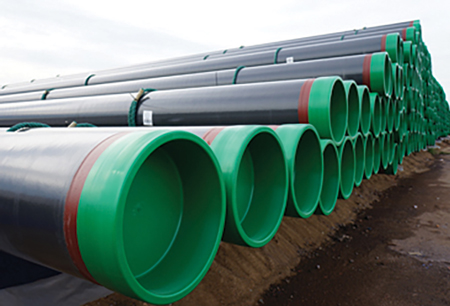 The Polarled pipeline will be installed in water depths reaching 1,265 m (4,150 ft) to transport gas from the Aasta Hansteen spar to the Nyhamna terminal. (Photo courtesy Wasco)
Pipelay will extend to water depths of up to 1,265 m (4,150 ft), a record for a pipeline of this diameter, Statoil claims.
"We will install an end manifold with connection points for Aasta Hansteen and any future fields," added Alfred øijord, Polarled project manager. "Six T-joints on the pipeline for any further connections are also a unique feature."
Statoil says it has achieved cost reductions over its initial estimate through lower prices from the suppliers. This is due to synergy effects with other pipeline projects and rigorous change/cost control measures.
The company is developing Aasta Hansteen via the world's largest, and Norway's first, spar platform.
FMC Technologies and Technip to launch Forsys Subsea
FMC Technologies Inc. and Technip will launch Forsys Subsea, a 50/50 joint venture that will address the way subsea fields are designed, delivered, and maintained. Forsys Subsea aims to combine the experience of its parent companies to reduce the cost of subsea field development and provide the technology to maximize well performance over the life of the field.
By combining its parent companies' technologies, the company aims to reduce the interfaces of the subsea umbilical, riser, and flowline systems (SURF) and subsea production and processing systems (SPS). It also plans to simplify the seabed layout, to reduce complexity, accelerate time to first oil, and maximize sustainable peak production.
According to the new company, it will focus on early involvement in the concept selection phase of front-end engineering and design; integrated life-of-field well surveillance, monitoring, data interpretation, and advisory services; and joint research and development to drive technological innovations that will boost efficiency and further reduce development costs.
In addition, the alliance says it will be positioned to deliver and install subsea infrastructure from seabed to topsides by eliminating interfaces and by integrating SPS with SURF.
The transaction is subject to regulatory approvals and other customary closing conditions.
2H Offshore to provide analysis for Johan Sverdrup
Statoil has contracted 2H Offshore to provide tieback conductor, platform conductor, and surface riser engineering analysis on the Johan Sverdrup field in the Norwegian sector of the North Sea.
This contract is in addition to a previously awarded engineering study for Statoil that 2H carried out to support wellhead specifications on the Johan Sverdrup development.
The field extends more than 200 km (124 mi) on the Utsira High in a water depth of 110-120 m (361-394 ft). Phase 1 of the development includes four bridge-linked platforms, as well as three subsea water injection templates.
Partner Det norske oljeselskap says the resource estimate for the Johan Sverdrup field is between 1.7 to 3 Bboe. It is planned to be a phased development.
FES completes Kizomba Satellites umbilical project
FES International has delivered two automatic diverless bend stiffener connector units to Oceaneering International Inc. The units were installed successfully at Esso Exploration Angola (Block 15) Ltd.'s Kizomba Satellites Phase 2 development off Angola. The automatic DBSCs are being used to connect the umbilical bend stiffener to theKizomba FPSO unit. Manufacturing of the DBSCs was completed at FES International's UK headquarters in Northumberland earlier this year.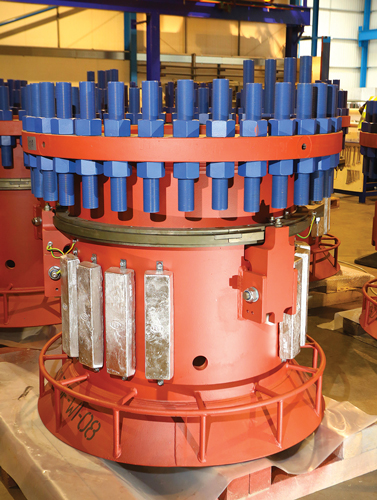 FES International's automatic diverless bend stiffener connector units will connect the umbilical bend stiffener to the Kizomba Satellites field's FPSO unit. (Photo courtesy FES International)
The Kizomba Satellites initial phase is expected to ultimately produce 100,000 b/d and recover a total of approximately 250 MMbbl from the Mavacola and Clochas fields, located 95 mi (152 km) off the coast of Angola in water depths of approximately 4,500 ft (1,371 m).
Chevron chooses McDermott for Jack/St. Malo subsea expansion
McDermott will transport and install subsea umbilicals, manifolds, jumpers, and flying leads for Chevron to support the brownfield expansion of the Jack and St. Malo fields in the Gulf of Mexico.
McDermott's subsea construction vessel,North Ocean 102, is expected to transport and install 30 mi (48 km) of umbilicals and associated flying leads. North Ocean 102 is a DP vessel with a 330-ton (299-metric ton) vertical lay system. The final jumper assembly is scheduled to be completed at McDermott's Gulfport Spoolbase in Mississippi. Installation will be performed by the company's heavy-lift DP-2 Derrick Barge 5, which is capable of lifting surface loads up to 4,400 tons (3,991 metric tons) and lowering up to 480 tons (435 metric tons) to water depths of 11,500 ft (3,505 m).
The installation campaign is expected to commence in 2Q 2016.
The Jack and St. Malo fields are located 25 mi (40 km) apart in the Walker Ridge area of the GoM, approximately 280 mi (450 km) south of New Orleans. First oil and natural gas production was achieved in December 2014. •