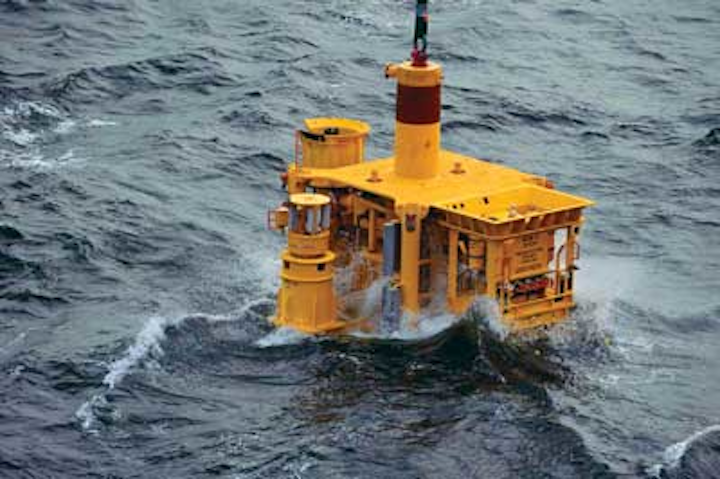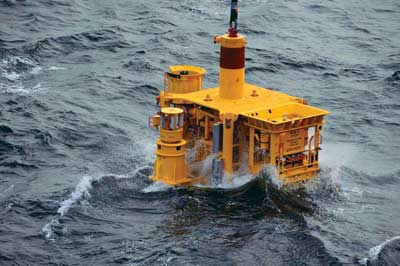 OneSubsea has more than 50 years of subsea tree innovation, including the first subsea tree, the first horizontal SpoolTree, and the first 15k psi subsea tree. (Photos courtesy OneSubsea)

HP/HT solutions are a key focus, says OneSubsea CEO
Bruce Beaubouef
Managing Editor
In May 2013, Cameron and Schlumberger announced the creation of OneSubsea, a company that specializes in the manufacture and development of products, systems, and services for the subsea oil and gas market.
The new company was designed to offer a step change in reservoir recovery for the subsea oil and gas industry through integration and optimization of the entire production system over the life of the field.
Under the terms of the formation agreement, Cameron contributed its existing subsea division and Schlumberger contributed Framo Engineering, as well as its surveillance, flow assurance, and power/controls businesses.
In September 2014, Mike Garding was appointed CEO for OneSubsea. Prior to joining the new joint venture, he had served as president of completions for Schlumberger. Garding began his career with Schlumberger in 1984 as a wireline field engineer in the Gulf of Mexico.
Mike Garding
He has held various management positions since then, including vice president and general manager of engineering, manufacturing and sustaining; director of human resources for North America; and vice president of wireline, North and South America.
Recently,Offshore met with Garding to discuss the company's achievements to date, the challenges he sees for the industry going forward, and the ways in which the new venture can help the offshore oil and gas industry address those challenges.
•••
Offshore: What led to the creation of OneSubsea? Can you elaborate on the market forces, or conditions, that led to the creation of this new company?
Garding: Schlumberger and Cameron have had an excellent working relationship for many years, collaborating on various projects and having sold products to each other. The creation of OneSubsea began with discussions as to how we might work together to optimize the various components of a subsea production system, incorporating critical information from the reservoir and the well in order to improve production and enhance recovery for our clients. We had many ideas and could see a number of opportunities to do this. We discussed various options in order to develop and deliver these ideas. It did not take very long before we came to the realization that the creation of a new company, which brought together the necessary expertise from both Cameron and Schlumberger, would be the best approach and would be unique within our industry.
Offshore: How does the combination of Schlumberger and Cameron offer the subsea market a unique service or capability? What advantages does this type of venture offer subsea operators?
Garding: OneSubsea provides Pore to Process solutions, which are based on our unique approach for optimizing production and enhancing recovery. The Pore to Process approach delivers advantages by integrating expertise, knowledge, and technologies from the reservoir pore space all the way through the well, through the completion, through the production system, and up to a host facility. By collaborating with clients, OneSubsea aims to help them achieve their production, recovery, and financial goals over the life of the field.
Offshore: What has been the biggest technological advantage of the combination?
Garding: The combined expertise, knowledge, and wealth of experience of both parent companies is our distinct advantage. We are able to leverage Cameron's long history of innovation and industry firsts in the subsea market, as well as their industry-leading design capability and manufacturing and aftermarket capabilities. Couple that with Schlumberger's deep understanding of the reservoir, petrotechnical leadership, reservoir and production technology, leading well completions, boosting leadership, and R&D capabilities, and OneSubsea is strongly poised to offer best-in-class subsea solutions for our customers.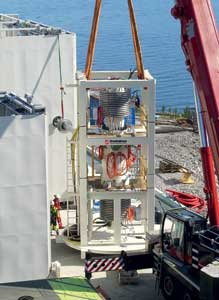 The OneSubsea Multiphase Compressor enables a very compact and cost-effective subsea infrastructure.
Offshore: Where does OneSubsea stand in developing equipment for HP/HT service, i.e. 20,000 psi+ and 350°F+?
Garding: One of the main technology initiatives at OneSubsea is to develop HP/HT solutions. Our parent company Cameron has already developed solutions for drilling and surface wellhead applications for 20,000 psi, 25,000 psi and 30,000 psi, as well as some applications to 450°F. We are using a great deal of what was learned in those developments within the scope of new industry standards to design and qualify these new subsea solutions. The technology effort began in 2013 and is ongoing, with several interested operators that seek this technology in the next five years.
Offshore: How do your subsea tree offerings figure into the HP/HT environment, and where do you see subsea tree development going in the future?
Garding: We have already delivered several 15,000 psi and 250°F+ subsea trees to the market, and we expect to be a leader in delivering some of the early 20,000 psi trees to the industry. We also have unique offerings in boosting and metering, as well as intervention given our alliance with Schlumberger and Helix. They are engaged with us in our new technology development to create a new level of tree features that will reduce rig time and cost, as well as improve functionality for lifting and metering capability.
Displaying 1/4 Page 1,2, 3, 4Next>
View Article as Single page