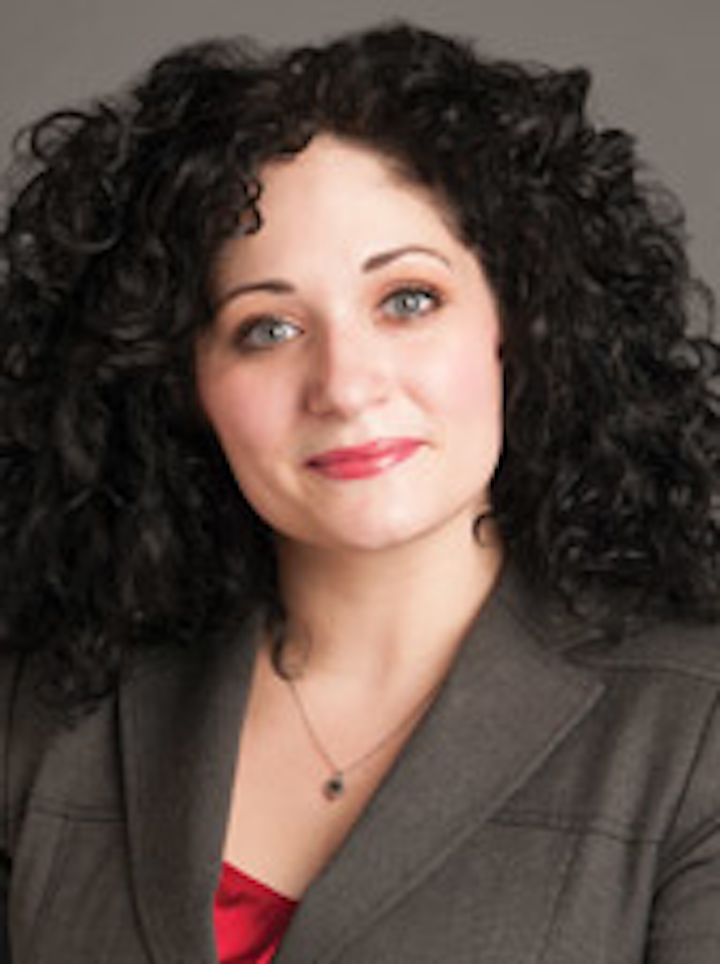 | | | |
| --- | --- | --- |
| | | Sarah Parker Musarra • Houston |
Days into 2015, Helix Energy Solutions Group, Schlumberger, and OneSubsea executed agreements to create a non-incorporated alliance focusing on subsea well intervention.
In August 2014, the three intervention leaders announced an informal, non-binding letter of intent, saying that the agreement would leverage the trio's capabilities to provide a more holistic offering to customers, combining marine support with well access and control technologies.
In its statement on the signing, OneSubsea, a Schlumberger and Cameron company, said that the group will focus on the expansion of applications enabled by subsea well access technology. Additionally, it will concentrate on specific solutions for deep and ultra-deepwater basins and higher well pressure.
NPD processes plan for subsea development near Gullfaks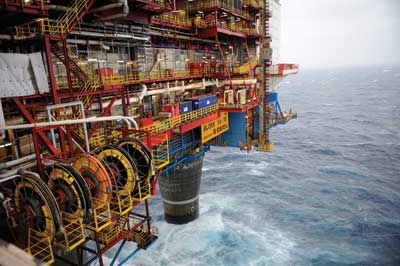 The new well stream from the Rutil development will be tied-in to the existing Gullfaks A platform. (Photo courtesy Harald Pettersen - Statoil ASA)
The Norwegian Petroleum Directorate (NPD) is reviewing the plan for the 34/10-53 S (Rutil) development in the Gullfaks Rimfaks Valley area in the Norwegian North Sea.
The regulator said that the licensees plan for a subsea development comprised of two simple gas production wells, with the potential to connect two more wells. The Norwegian operator placed development costs at NOK 4.6 billion ($603 million).
Located in the western part of Gullfaks South, the well stream will be tied-in to the Gullfaks A platform, extending production from the asset, which was brought online in 1986. Two other platforms, Gullfaks B and Gullfaks C, comprise the Gullfaks field, located in block 34/10 of the Norwegian North Sea.
Operator Statoil estimates Rutil's recoverable reserves at 80 MMboe. It will be located in a water depth of around 135 m ( 443 ft), 3,200 m (10,496 ft) below the seabed, with an estimated life span of 15 years. Production is scheduled to begin in 1Q 2017.
Ezra Holdings to provide Libra turrets
London Marine Consultants (LMC), Ezra Holding's FPSO turret design unit, was awarded a contract by Sembcorp Marine-subsidiary Jurong Shipyard to supply an external turret mooring system for the Libra field's extended well test FPSO.
LMC's scope of work includes engineering, procurement, and construction of the complete external turret. The company will also design the mooring lines, analyze the risers, and provide engineering support for integration of the turret and swivel stack onto the FPSO at Jurong Shipyard.
The Libra oil field is a large, ultra-deepwater oil prospect located in the Santos basin off the coast of Rio de Janeiro.
Under a sub-contract from LMC, OneSubsea will manufacture an advanced swivel stack in Norway with six swivels, including two high-pressure gas injection swivels, in time for integration of the complete turret onto the FPSO in early 2016.
Chevron joins Viper Subsea JIP
Chevron is the latest major operator to join Portishead, UK-based Viper Subsea's joint industry project (JIP) to develop subsea integrity monitoring system V-IR. The system is used to identify and locate faults in remote subsea electrical distribution systems.
The project began in October 2013, through the Industry Technology Facilitator. In March 2014, BP and Total joined the project, with Shell coming onboard months later in May.
Under the agreement, Viper Subsea will carry out the research and development for the V-IR system, while the JIP partners will contribute funding and ensure the products are optimized for field use. Viper Subsea anticipates the system will be ready for a field trial later this year.
EMAS grabs Julimar contract
Apache Energy's Australian subsidiary has awarded EMAS AMC a $105-million subsea construction contract for the Julimar project development, located 112 mi (180 km) west-northwest of Dampier in Western Australia.
The Julimar development, consisting of the Julimar and Brunello fields, is expected to supply gas to Chevron's giant Wheatstone LNG project. The scope of work includes project management, engineering, transportation, and subsea installation of an electro-hydraulic steel tube umbilical, two heavy-lift subsea manifolds, flying leads and jumpers as well as the procurement, fabrication, transportation, and installation of diverless tie-in spools.
The Julimar development project is expected to house more than 2.1 tcf (60 bcm) of sales gas from the Julimar and Brunello fields.The development project will consist of subsea gas production wells drilled from three drill centers and two satellite locations. Each well will be tied into a subsea manifold. The manifolds will be connected with flowlines and linked to the offshore Wheatstone platform through twin raw gas production lines.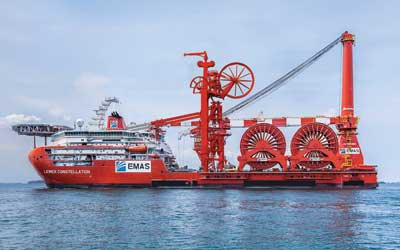 Lewek Constellation,which will head to Julimar. (Photo courtesy EMAS)
Project management and engineering will begin immediately, with offshore execution scheduled to start in early 2016. EMAS AMC will use its flagship Lewek Constellation, a DP-3 heavy-lift and multi-lay deepwater offshore construction vessel.
In December 2014, Apache Energy announced that it was exiting the Wheatstone LNG project as part of a year-long divestment campaign. It agreed to sell its 65% interest in the WA-49-L block, which includes the Julimar/Brunello offshore gas fields, to Australia's Woodside Petroleum. The transaction is expected to close in 1Q 2015.