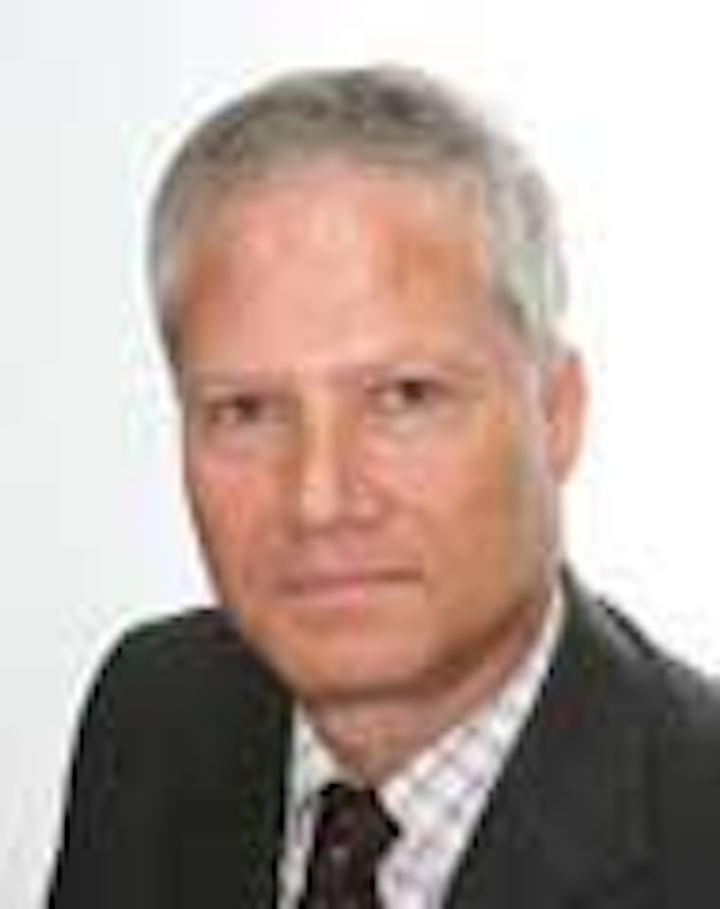 | | | |
| --- | --- | --- |
| | | Jeremy Beckman • London |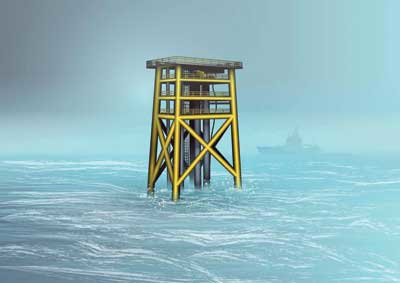 Schematic of unmanned platform for Oseberg. (Courtesy Statoil)
Statoil and its partners are considering an unmanned, remotely controlled platform for the next development phase of the Oseberg field in the North Sea. Although the concept is established in the Danish and Dutch sectors, it would be a first for Norway.
The installation, which would have no living quarters, helideck or lifeboat, would be managed from the Oseberg field center. Statoil said the conventional alternative of a subsea tieback would have cost more when factoring in construction, drilling, equipment, and maintenance. The company plans to use service vessels to perform maintenance linked to the platform via gangways after development drilling has been completed. The partners will take a final decision on the Oseberg Future development Phase 1 next winter.
Earlier this year production started from Oseberg Delta 2, another of Statoil's fasttrack subsea projects which Norway's parliament sanctioned in late 2013. This is a further development on the Delta terrace where two wells have produced oil from a subsea template since 2008. The new facilities, comprising two templates with slots for eight wells, are 14 km (8.7 mi) south of Oseberg. Statoil estimates the cost of the project at around $920 million, below the figure at the time the project was approved. The initial phase calls for three oil and two gas producer wells, and the partners plan exploration drilling targeting further reserves in the southern part of the terrace.
Goliat platform sails to Barents Sea
The Sevan Marine-designed cylindrical Goliat FPSO left the Hyundai Heavy Industries yard in South Korea in February onboard the Dockwise Vanguard, and is due to reach Hammerfest in northern Norway in mid-April. There the platform is due to make a brief stop before beginning the tow-out to the Eni-operated Goliat field in the Barents Sea. Tie-in operations and preparations for production will follow, and Eni predicts a mid-year start-up. The facility will be the northernmost oil production center in the Norwegian sector to date, and will be supplied with electrical power directly from the mainland via what is claimed to be the world's longest submarine cable of its type.
Shell preparing for first Brent removal
Shell was due to finish a 30-day public consultation last month on its plans to decommission the first of the four giant platforms serving the Brent oil and gas field in the UK northern North Sea. Since coming onstream in 1976, the field has produced around 10% of all UK North Sea oil and gas production, the company claims. However, Shell has been preparing for cessation of activity for some time, with the Brent D platform shutting down for good in 2011, followed last November by Brent Alpha and Bravo. Only Brent Charlie remains in operation.
Brent D is the first installation scheduled for removal. Shell plans to use Allseas' new giant heavy-lift/decommissioning vessel Pioneering Spirit (ex-Pieter Schelte) this summer to withdraw the platform's 23,500-metric ton (25,904-ton) topsides in one piece. It has made preparations to strengthen the topsides in anticipation of the lift, which would be one of the heaviest in the North Sea to date. Shell says the single-lift operation offers advantages including lessened risk, cost, and environmental impact. Assuming approval from the UK government, the removed structure would be towed to Able UK's decommissioning yard on England's northeast coast.
Trio to examine concrete mattress removal options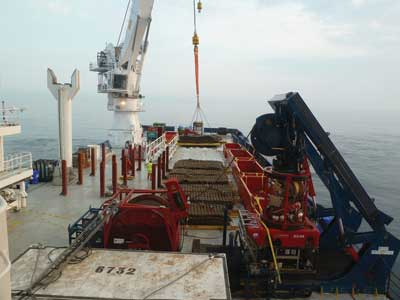 Mattress recovery operation offshore. (Photo courtesy Decom North Sea)
Decom North Sea has formed an initiative with Zero Waste Scotland and subsea engineering group Jee to develop new solutions for recovery and subsequent re-use of concrete subsea mattresses in the North Sea. The mattresses protect pipelines, cables, and umbilicals against dropped objects, also providing added weight and stabilization. However, they were not designed to be removed and can degrade underwater over time. Jee is investigating efficient, lower-cost removal methods that would allow the mattress materials to be retained for productive use elsewhere. Additionally, the company will develop guidance on best practice for recovery and on derogation cases that require leaving the facilities in situ on the seafloor.
North Sea deal in doubt
Britain's government has reportedly blocked a deal by LetterOne to purchase RWE Dea's UK North Sea interests. The Russian oil company, which recently appointed ex-BP CEO John Browne to spearhead expansion overseas, had agreed to a deal with Germany's RWE to acquire its Dea division for $5.6 billion. However, the Department of Energy & Climate Change was said to view the arrangement as contravening European and US sanctions against Russia because of its policy toward Ukraine.
Providence agrees to farm-in for Barryroe
In the southern Irish sector, Providence Resources says it has agreed on commercial terms with a potential partner on a farm-in to the Barryroe oil field in the North Celtic Sea basin. Providence has been looking to develop the field in which it has an 80% operated stake. Additionally, it has agreed to acquire Chrysaor's Irish E&P subsidiary, a partner to Providence in the Spanish Point gas/condensate field off western Ireland.
UK operating costs reach new high
Oil & Gas UK expects Britain's offshore oil and gas output to increase this year to 1.43 MMboe/d, as up to 15 new fields enter production. However, forward UK activity continues to suffer from the lower oil price and higher operating costs, which soared last year to a new high of $28.56/boe.
At the same time, total revenues fell to just over $37 billion, the lowest for the sector since 1998, resulting in a negative cash flow for the basin of $8.18 billion. This is the worst result, the association says, since the early days of North Sea investments in the 1970s.
Capex on sanctioned UK offshore projects looks set to drop to around $14.6-17.4 billion this year, the association adds, potentially tailing off to just $3.86 billion by 2018. The outlook for reserves replacement too remains bleak. Only 14 exploration and appraisal wells out of the anticipated 25 were drilled in UK waters last year, and the association forecasts no more than eight to 13 this year as explorers continue to struggle to attract capital for drilling.