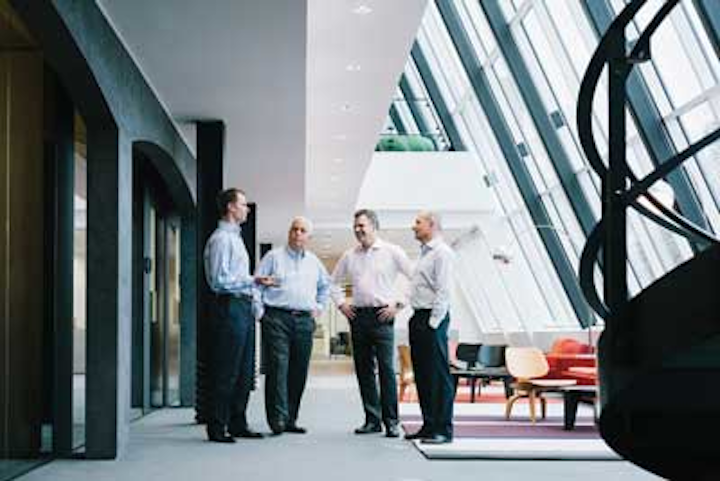 Heritage expertise allows io oil & gas to treat the field as one system
Sarah Parker Musarra
Editor
In January, McDermott International and GE Oil and Gas formed io oil & gas consulting, a joint venture that looks to offer a holistic approach in developing front-end solutions for offshore fields.
The London-based venture, which plans to expand into the US and Asia, says it will approach the full-field development as one system. That business tenet is immediately evident in glancing through the scope of work the company offers: Services range from portfolio evaluation all the way to the final investment decision: including exploration and planning support, appraisal and feasibility, conceptual engineering and front- end engineering and design.
io oil & gas said it expects to "overhaul" the operator and contractor relationship through leveraging the broad range of expertise offered by its parent companies. However, even with the two company's products, expertise, resources, and technology at io's behest, the new company said it will operate independently of its heritage companies.
The leadership team of io oil & gas consulting.
Strong parenting
Engineering, procurement, construction and installation (EPCI) company McDermott is involved with some of the most high-profile projects in the offshore industry. The company is currently undertaking EPCI services for the complex subsea development offshore Australia for the INPEX Ichthys Gas Condensate SURF project. In the Gulf of Mexico, McDermott is providing EPC services for the Julia Phase I development, including the development's subsea tieback.
It was also granted contracts for the subsea systems in the Jack and St. Malo complex, and provided subsea systems on the Macedon and Gorgon projects, among others. Last year, McDermott delivered the first TLP offshore Brazil for Petrobras, with its joint venture company FloaTEC and Keppel FELS. The project will enter the record books as the first use of dry-tree floating technology offshore Brazil and the first TLP installation offshore South America.
As of late, McDermott seems to be gradually ramping up its subsea offerings, beginning in January 2015 when it announced the io oil & gas consulting venture with GE Oil & Gas.
In February, McDermott announced an alliance with Petrofac to enable the joint pursuit of deepwater SURF projects, bolstering its efforts to expand its subsea offering.
To that end, the depth of GE Oil & Gas' expertise in the area has made the company nearly synonymous with subsea technology. Drawing on its previous industry experience in related fields such as space and aeronautics, GE has rapidly increased its oil and gas market share.
Through the io oil & gas consulting joint venture, McDermott and GE Oil & Gas stand to provide each other with complementary service offerings – all to the benefit of the operators and customers, who, io CEO Dan Jackson said, will receive greater certainty of costs and schedule along with the enhanced service offerings.
| | | |
| --- | --- | --- |
| | | Dan Jackson, CEO of the newly formed io oil & gas consulting. Photos courtesy io oil & gas consulting. (Photos courtesy io oil & gas) |
The io approach
Increasingly complex projects residing farther off coastlines and in deeper waters are redefining what operators and contractors consider technically and monetarily feasible. As easy oil becomes played out, such remote, technically-challenging projects are gradually shifting from rarities to the next frontier in development. As a result, contractors' areas of specialty are becoming more segmented and more specialized from discovery to sanction and everything in between.
At the same time that companies are trying to establish market share hold in specialized areas, interestingly, io oil & gas' business model calls for it to offer expertise and technology in as many areas as possible. It intends to become a "one-stop shop." It does not purport to offer one solution, but many; operating as intended, customers could ostensibly be shuttled along each stage of the process in-house, with io oil & gas offering the closest thing to a turnkey solution possible in dealing with such a long and complex series of phases.
According to its mission statement, the young joint venture aims "to deliver greater certainty into the design and planning of offshore oil and gas developments."
Offshore recently had the opportunity to talk with Jackson, who has been with McDermott since the Houston-based company acquired his 13-year-old consultancy business in 2013. Previously, Jackson served as a project manager and offshore construction manager for Saipem and its joint venture enterprise European Marine Contractors before setting up his global specialist subsea engineering consultancy. He has worked in Europe, the Middle East, Asia, North and South America.
Displaying 1/2 Page 1,2Next>
View Article as Single page