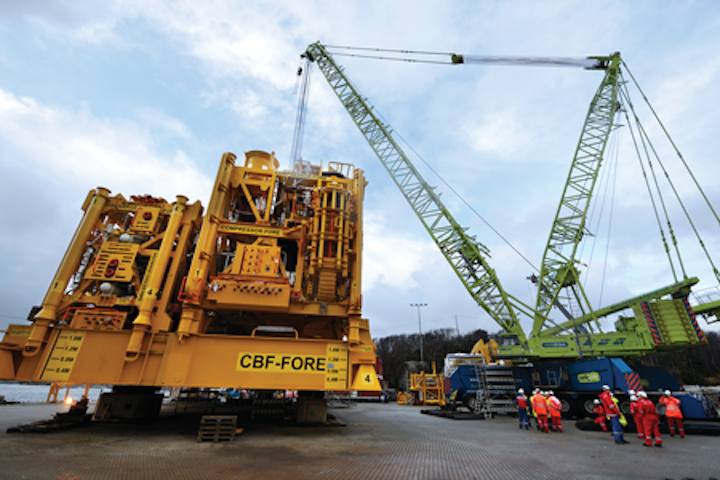 Sarah Parker Musarra • Houston
DNV GL discusses new JIPs
Following an August report issued by the US Bureau of Safety and Environmental Enforcement (BSEE) entitled the "Quality Control-Failure Incident Team (QC-FIT) Evaluation of Connector and Bolt Failures," DNV GL Oil & Gas is now working with the US regulator on a joint industry program (JIP) addressing subsea bolt integrity. Prior to kick-off, Offshore spoke with DNV GL Oil & Gas' Eric Allen, business development leader-deepwater technology, to get more details on the project.
The report references a Dec. 18, 2012 incident where the lower marine riser package (LMRP) of an ultra-deepwater drillship working in the Gulf of Mexico separated from the BOP. As a result, 432 bbl of synthetic-based drilling fluids were spilled.
The operator reported to the BSEE that "the incident was the result of the failure of H4 connector bolts on the LMRP." Analysis conducted after the incident prompted the bolt manufacturer to send replacement bolts to its customers around the globe for all known H4 bolts - more than 10,000 bolts overall.
The report concluded that the bolt failure was primarily caused by hydrogen-induced stress corrosion cracking due to hydrogen embrittlement, which led to the fracturing of the installed bolts. It was also found that a subcontractor employed to work on the BOP was relying on an outdated American Society for Testing and Materials bolting standard, and that the H4 connector bolts did not receive post electroplating treatment. At the time, the operator only audited first-tier suppliers, a practice which complied with safety standards of the time, the report said. A third-tier supplier performed the electroplating coating of the bolts, so the bolt manufacturer was unable to detect the issue.
Allen has been developing this JIP, which aims to enhance reliability and integrity for subsea bolts, over the past year. Although subsea bolt failure was not common, he explained, it was not rare, and as an engineer, he felt it needed to be addressed.
Although subsea bolting failure due to the issues described in the QC-FIT have been widely documented, other failure modes and mechanisms have also been experienced. Allen said that the JIP is unique because it hopes to address all aspects of the subsea bolting lifecycle, starting from design.
The JIP is also placing a priority on providing BSEE with an industry code review and survey to identify state-of-the-art requirements for bolts, and identify parts for clarification and improvement. BSEE can then define how standards or regulations should be changed to best address these issues accordingly.
The QC-FIT report also noted that "existing standards do not adequately address bolting/connector performance in subsea marine application." One key issue with these different standards is consistency, and the JIP is looking to evaluate industry standards to make its own determinations and recommendations to BSEE.
In addition to there being several different existing standards specifying materials for subsea high-strength fasteners applications, Allen explained that these standards are not necessarily focused on subsea applications. In this context, "this JIP is about code harmonization, and trying to create the proper methodology" he said. In order to develop a comprehensive standard that addresses specification for the subsea fasteners, Allen said that it is important to quantify the effect of mechanical properties and other critical parameters, in accordance with the subsea bolt application and operating environment.
The JIP aims to begin its work in 4Q 2015, and will launch into the industry code review and gap study. It also plans to examine past failures, performing root cause analysis on these incidents.
Allen discussed this development withOffshore days after DNV GL released news of other JIPs it was forming. The advisor/classifier is also launching a JIP to investigate affordable composite components for the subsea sector.
The DNV GL affordable composites for the oil and gas industry JIP aims to reduce the cost of qualifying composite components for subsea use by replacing large-scale tests with certification by simulation. Statoil, Petrobras, Petronas, Nexans, Airborne, and the Norwegian University of Science and Technology (NTNU) in Trondheim are participating in the project, which is partly funded by the Research Council of Norway.
The project, which DNV GL says could potentially deliver a 40 to 50% cost saving for certification and qualification of subsea composite components, will seek to validate new advanced material models by experimentation, with the main focus on predicting chemical aging.
"On a general basis, we would say that during these cost-challenging times it is also a great time for collaboration," Bjørn Søgård, Segment Director Subsea and Floaters in DNV GL Oil & Gas, explained to Offshore when asked about its recent JIPs. "We urge the industry to join forces on innovation and smart standardization to lower costs and enable rapid and efficient technology implementation. Our JIPs have shown that collaboration actually works and we are now seeing the powerful results they can make. The proof comes now when they are put into real projects."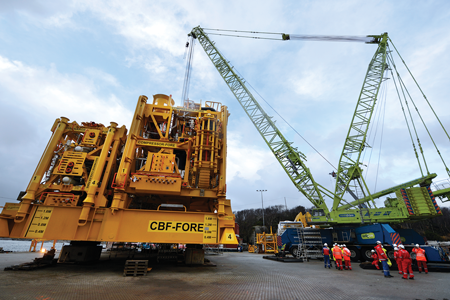 The Åsgard subsea compressor, shown here prior to installation in December 2014, is now the first plant to operate on the seafloor, rather than onshore or on a platform. (Courtesy Harald Pettersen, Statoil)
Subsea compression online at Åsgard
Statoil says the world's first subsea gas compression plant has begun operating at the Åsgard production complex in the Norwegian Sea. Located in about 300 m (984 ft) of water, the plant should add around 306 MMboe to total output over the field's life, the operator added.
Work started on the program in 2005, and the plan for development an operation was approved in 2012. Overall, project costs totaled just above $2.3 billion.
The Midgard and Mikkel gas reservoirs, both connected to the Åsgard complex, were originally developed using subsea installations. The two gas compressors now installed on the seabed are both close to the wellheads. Prior to gas compression, gas and liquids are separated out, and after pressure boosting are recombined and sent through a pipeline 40 km (25 mi) to the Åsgard B platform.
Statoil estimates that subsea compression should boost recovery from the Midgard reservoir from 67% to 87%, while recovery from the Mikkel reservoir should increase from 59% to 84%. Both reservoirs' productive lives should therefore be extended through 2032.
Statoil says that over the course of the project, more than 40 new technologies have been developed and deployed following testing and verification. •