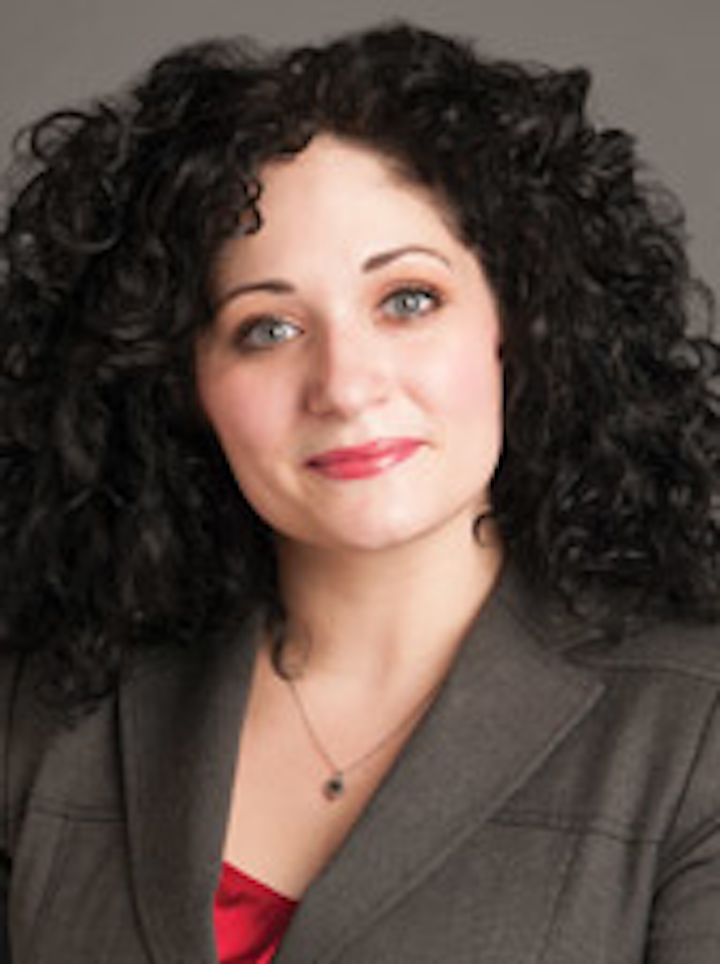 | | | |
| --- | --- | --- |
| | | Sarah Parker Musarra • Houston |
Chevron's Big Foot suffers further tendon damage
After having to move itsBig Foot platform to sheltered waters from its current location 225 mi (362 km) south of New Orleans in the US Gulf of Mexico in May due to subsea installation tendon damage, Chevron Corp. reported damage to additional units. The incident will likely represent another setback for first production, originally planned in late 2015.
TheBig Foot platform is a dry-tree extended tension leg platform with an on-board drilling rig and production capacity of 75,000 b/d and 25 MMcf/d of natural gas. The Big Foot field is located in the Walker Ridge area in water depths of around 5,200 ft (1,585 m). Discovered in 2006, the $4-billion project was sanctioned by Chevron in 2011.
The mile-long (1.6-km-long) tendons were pre-installed in preparation for connection to the TLP, which was not in the vicinity of the Big Foot field at the time of the incident, Chevron confirmed via statement toOffshore. Over the course of the two incidents, nine tendons have lost buoyancy and sunk to the ocean floor.
"We are monitoring the remaining seven tendons," a Chevron official said, noting that a command center has been established in Houston with approximately 40 employees engaged in the response. A representative of the US Coast Guard is present at the center to serve as a liaison.
Four ROVs have been deployed to assist with monitoring and assessment activities for as long as they may be required, and 13 marine vessels are supporting response operations.
TheBig Foot TLP was not connected to any subsea wells or tendons at the time, and was not damaged. Currently, there are no producing wells; the tendons themselves do not contain any hydrocarbons, so there was no fluid release to the environment.
LewekConstellation claims pipelay record
EMAS AMC says theLewek Constellation has set an industry pipelay record in the US Gulf of Mexico in 7,368 ft (2,246 m) of water during sea trials.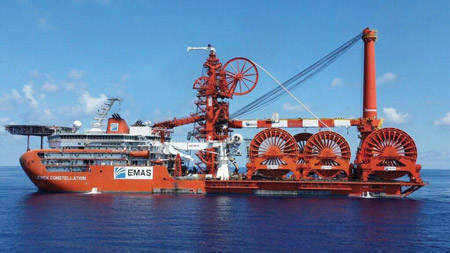 Pictured is EMAS AMC'sLewek Constellation during lay trails, where the company said the newbuild claimed an industry record. (Photo courtesy EMAS AMC)
EMAS AMC's flagship subsea construction vessel was in preparation to execute multiple subsea tieback projects for Noble Energy when it performed its final pipelay trial in the US GoM. During the deployment of the 1.9-mi (3.2-km), 16-in. diameter, 28-mm wall thickness pipeline, complete with the second pipeline end termination, the tension recorded was 632 metric tons (696 tons), rendering this as the highest tension ever experienced in the history of rigid reeled-lay operations, the company said.
Forsys Subsea becomes operational
FMC Technologies and Technip's 50/50 joint venture, Forsys Subsea, has received all regulatory approvals and is now operational.
Forsys Subsea looks to reduce the interfaces of the subsea umbilical, riser, and flowline systems, and subsea production and processing systems. It also intends to simplify the seabed layout to reduce complexity, accelerate time to first oil, and enable higher sustainable field production.
The company is headquartered in London, with regional hubs in Houston, Oslo, Paris, Rio de Janeiro, and Singapore.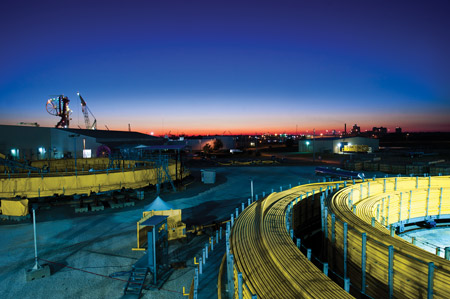 Aker Solutions' Mobile, Alabama facility will manufacture about 73 km (45 mi) of umbilicals to be used in the company's first project offshore Mexico. (Photo courtesy Aker Solutions)
Aker Solutions enters offshore Mexico
Aker Solutions has secured a contract from Saipem to supply umbilicals for the PEMEX-operated Lakach deepwater natural gas development. This is the company's first order for a project offshore Mexico, and it will represent the first umbilical to be deployed in the Mexican GoM.
Aker Solutions will deliver about 73 km (45 mi) of electro-hydraulic steel tube umbilicals that will help connect Mexico's first subsea gas development to onshore processing facilities. The field is located about 98 km (60 mi) southeast of Veracruz at depths of between 900 and 1,200 m (2,952 and 3,937 ft) in the Gulf of Mexico. It is targeted to supply 400 MMcf/d.
The umbilicals will be manufactured in Mobile, Alabama, and the order will be completed in 3Q 2016.
Analyst: Backlog keeps subsea spending high
Douglas-Westwood (DW) forecasts global subsea hardware capex will total $145 billion between 2015 and 2019, representing a growth of more than 27% compared with the preceding five-year period. The 350 subsea tree installations in 2014 represent the highest volume of installed units on record. This trend is expected to continue until 2018, when lower orders in the current commercial environment will drive a decline in trees installed for that year.
Despite near-term cancellations and concerns related primarily to the decline in oil price, DW says that the long-term fundamentals of the subsea hardware industry are strong and represent a growth story as they benefit from continued hydrocarbon demand growth, declining conventional reserves, and technological improvements. Over the next five years, development activity in the established deepwater provinces, coupled with the start of field development in frontier areas, such as the Eastern Mediterranean and East Africa, will support expenditure.
It sees that subsea hardware spend will be the highest in Africa, Asia and Latin America, with the three regions combining to form almost half of the global total. Expenditure continues trending toward deeper waters with around 42% of total spend in the next five years targeting projects in water depths greater than 1,000 m (3,280 ft).
The development of remote fields, the addition of new project phases, and the tieback of satellite fields into subsea hubs continue to support SURF expenditure over the forecast period. •