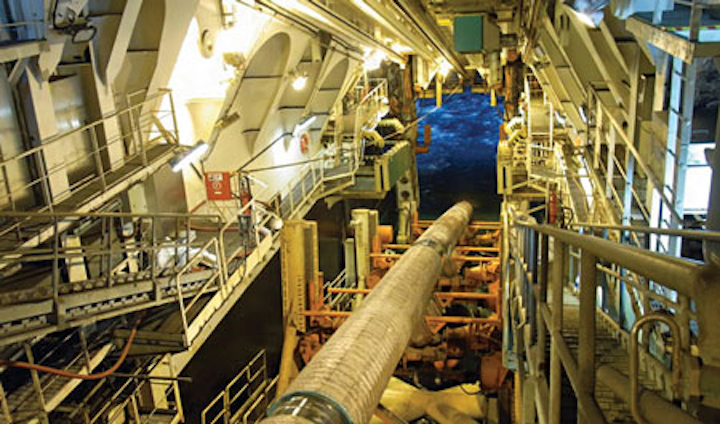 Sarah Parker Musarra • Houston
DW examines subsea industry
Douglas-Westwood (DW) has offered new insights into the subsea oil and gas market with two new reports focusing on the global subsea vessel operations market and the global ROV operations market, respectively.
DW estimates global subsea vessel operations expenditure will total $97.7 billion between 2016 and 2020. Mark Adeosun, author of the fifth edition of the "World Subsea Vessel Operations Market Forecast," said: "Low hydrocarbon prices coupled with vessel oversupply will result in low utilization, impacting expenditure over the forecast period. Despite these near-term concerns, subsea vessel demand is set to recover towards the end of the forecast period.
"As a result of the continued challenging market conditions, subsea vessel providers have been taking additional measures to help strengthen their financial position and stem oversupply in the market by deferring the delivery program of newly built vessels. We believe that it is unlikely that day rates have bottomed out."
Across the global subsea vessel fleet, he notes that a 2014-15 decline of at least 30% in day rates is "not unlikely before prices stabilize. However, many tier one contractors are joining forces to ensure utilization and maintain track record."
In another recently released analysis, the seventh edition of the "World ROV Operations Market Forecast," the firm reported that it foresaw lower day rates and utilization for work-class ROVs. The market for work-class ROVs could total $14.2 billion over the period to 2019.
Author Antoine Paillat said: "This represents a 19% increase on the previous five-year period, however, near term we see some difficult conditions with weaker day rates and lower levels of utilization for the work-class fleet.
"We expect the global ROV market to significantly contract in value terms in 2016 (-6.3%) and then plateau in 2017, due to the current oil price downturn."
Saipem completes Ichthys pipelay
Saipem has completed laying the 890-km (553-mi), 42-in. gas export pipe- line serving the Ichthys LNG project offshore northern Australia.
This is the longest subsea pipeline in the Southern Hemisphere and the third longest subsea pipeline in the world, according to operator INPEX. The pipeline will take gas from the offshore Ichthys gas/condensate field to onshore facilities at Bladin Point near Darwin for processing.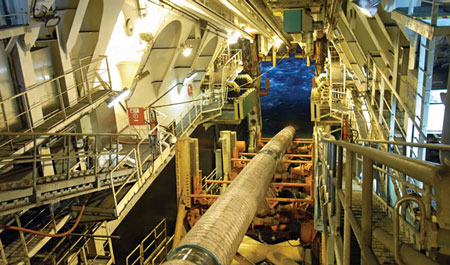 Saipem's deepwater pipelay vesselCastorone laid more than 700 km (435 mi) of the Ichthys LNG project's 890-km (553-mi) gas export pipeline. (Courtesy INPEX)
Louis Bon, managing director Ichthys Project, said: "It means we are one step closer to physically connecting our onshore plant near Darwin to the Ichthys field where our offshore facilities will be permanently moored for the 40-year life of the project."
Saipem started the program in mid-2014, using its lay barges SEMAC and Castorone. INPEX will conduct other work on the pipeline in preparation for operational start-up.
Subsea 7 to work with Premier Oil
Subsea 7 has signed a long-term partnership frame agreement with Premier Oil.
The subsea contractor will provide the London-based operator with concept engineering, front-end engineering and design (FEED), subsea, umbilicals, risers and flowlines (SURF) project execution and life of field operations, on a preferred supplier basis. Additionally, Subsea 7 may participate in Premier's decommissioning programs.
The agreement covers Premier's activities offshore the UK, Norway, and the Falkland Islands and runs for five years, with options for an extension.
Through early engagement on Premier's projects Subsea 7 aims to develop technical solutions with realistic cost evaluations. Currently the contractor is supporting the operator's Catcher development in the UK central North Sea. At Catcher, this year's subsea installation schedule has been completed with the pipeline end manifold and tow templates in place at the Burgman and Varadero accumulations. The 60-km (37-mi) gas export pipeline was laid during July.
Fabrication of the subsea flowline bundles and associate towheads, the buoy and the mid water arches (riser buoyancy aids) is on schedule and these will be installed next summer.
In July, the Ensco 100 started development drilling, and has to date drilled two wells. Operations on the first Catcher water injection well (CTI1) were completed with good reservoir results. The second water injector, (CCI2), has reached TD and is in the final phase of completion. Catcher remains on schedule for first oil in 2017.
Cardona well tieback complete
At the Cardona field in Mississippi Canyon block 29, the Cardona #6 well has been tied into the existing Cardona subsea infrastructure which flows into the company's Pompano platform. Gross production from the Cardona field is about 15,000 boe/d. Drilling of the Cardona well #7 with the ENSCO 8503 is expected to begin once completion of the Amethyst prospect is finished. Drilling is expected to take about two months.
In neighboring MC block 26, ENSCO 8503 is performing completion operations at the Amethyst discovery, where Stone holds 100% working interest. The well will be prepared for an initial production test prior to final flowline and umbilical hook up. First production is expected by 1Q 2016 to the Pompano platform, located less than 5 mi (8 km) from the discovery.
GE strengthens intervention capability
GE Oil & Gas has agreed to acquire subsea intervention specialist Advantec. The acquisition is part of GE's strategy to address issues affecting the growing number of mature subsea fields, and to strengthen its position as a provider of subsea production equipment and solutions for full life-of-field management.
Advantec, formed in 2005, will operate under the existing name and management team as part of GE's Subsea Services & Offshore division, continuing to supply products and services directly to existing and new clients.
Advantec supplies and rents Installation WorkOver Control Systems for subsea intervention tasks.
Wood Group wins BP contract
BP has contracted Wood Group to provide engineering services to existing subsea infrastructure in the Gulf of Mexico, UK and Norwegian continental shelves, and offshore Azerbaijan.
Wood Group Kenny will deliver program, project and integrity management and operational support for subsea projects under the five-year contract, which is effective immediately. The contract will be delivered from WGK's offices in Aberdeen, London, Norway, Houston, and Baku.