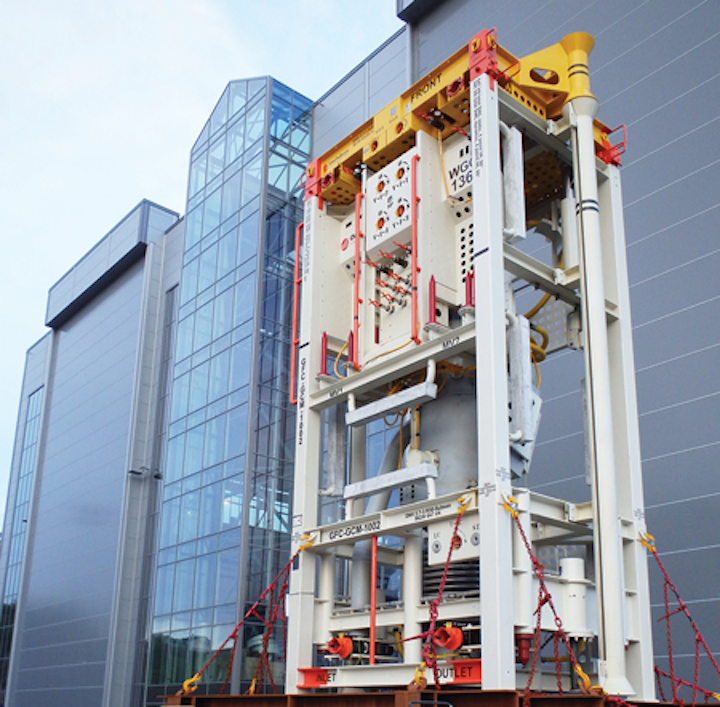 Sarah Parker Musarra • Houston
Gullfaks' first subsea wet gas compressor starts up
Statoil and partners Petoro and OMV have brought onstream the world's first subsea wet gas compression system on the seafloor of the Gullfaks field in the North Sea. The technology, designed and supplied by OneSubsea, is expected to increase recovery by 22 MMboe and extend plateau production from the Gullfaks South Brent reservoir by around two years.
Last month Statoil started up the world's first subsea gas compression system at its Åsgard complex in the Norwegian Sea. Both technologies serve to maintain production when reservoir pressure drops after a certain time.
According to Statoil, subsea compression has a stronger impact than conventional platform-based compression, and avoids the extra weight and space that would be taken up by fitting a compression module on the platform. Also, a wet gas compressor does not require gas and liquid separation before compression, allowing use of smaller modules and a simpler structure on the seabed.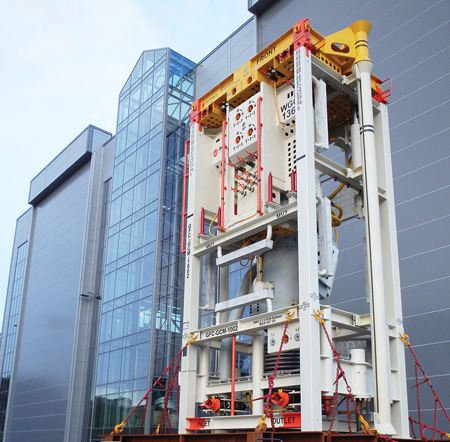 Shown here is one of the subsea wet gas compressor units at OneSubsea's facility in Horsøy, Norway. (Image courtesy OneSubsea)
The system comprises a 420-metric ton (463-ton) protective structure, a compressor station with two 5-MW compressors with a total weight of 650 metric tons (716 tons), and all equipment needed for power supply and system control on the Gullfaks C platform.
"The recovery rate from the Gullfaks South Brent reservoir may be increased from 62% to 74% by applying this solution in combination with other measures," said Kjetil Hove, senior vice president with Statoil.
The Norwegian company may also look to tie in other subsea wells to the wet gas compressor via existing pipelines - the station has been prepared for this eventuality.
2H Offshore to perform Chevron riser testing
Chevron has contracted 2H Offshore to manage a production riser weld qualification testing program.
The aim of the development of 20,000 psi technology is to qualify the equipment required to develop future offshore fields with design pressures above 15,000 psi and temperatures above 250°F (121°C). These design pressure and temperature requirements result in line pipe wall thickness requirements as much as 1.9-in. for 8- to 10-in. diameter risers. This is beyond what the industry has already qualified and installed to date for fatigue sensitive deepwater risers.
The scope of the program will incorporate test pipe specifications, procurement, and qualification of new welding and AUT procedures and comprehensive fatigue testing that will include the effects of sour service conditions. In addition, the project scope includes the development of feasible marine riser system configurations for a number of different host vessels.
EMAS completes tiebacks for Noble
EMAS AMC has completed the first two of three Noble Energy-operated subsea tieback projects in the US Gulf of Mexico. The scope of work included project management, fabrication, and installation of 8-in. steel catenary risers and 40 mi (64 km) of 8-in. and 12-in. pipe-in-pipe for the Big Bend and Dantzler field development projects in 7,000 ft (2,100 m) of water depth. It also included the design, fabrication, and installation of eight subsea structures weighing up to 100 metric tons (110 tons) each.
Lewek Constellation and Lewek Connector are now mobilized to lay the pipeline and umbilicals on the Noble Energy-operated Gunflint development project.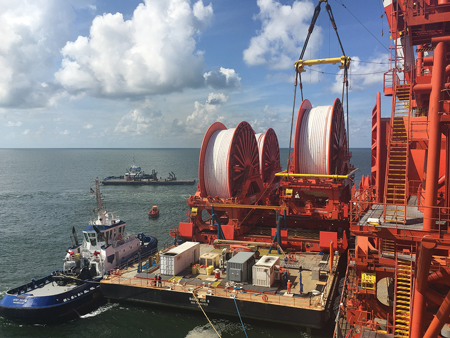 Since May,Lewek Constellation, pictured here at work for Noble Energy, has conducted more than 30 heavy lifts between 900 and 2,200 metric tons (992 and 2,425 tons) transferring rigid pipe reels for the Big Bend and Dantzler projects. (Image courtesy EMAS AMC)
EMAS AMC is the subsea division of Ezra Holdings Ltd., which inked an MoU with Chiyoda Corp. in August to form a joint venture: EMAS CHIYODA Subsea, which will focus on subsea services.
In early October, the two companies announced that they will be moving forward with their joint venture plans. The proposal is subject to approval of current shareholders.
Subsea contract briefs
Murphy Sabah Oilhas contracted Aker Solutions to supply the subsea production system for the deepwater Rotan gas field development offshore Malaysia. The scope includes equipment for four subsea wells, a hub manifold, in-line tees, a connection system, and a production control system. First deliveries are scheduled for 2Q 2016.
Pulse Structural Monitoring has won a contract with National Oilwell Varco Arendal in Norway to provide an acoustic mooring line subsea monitoring system to measure mooring line inclination and tension. The contract is for 12 mooring line subsea monitoring sensors and ancillary topsides equipment, which have been enhanced to meet specific client requirements.
Statoilhas awarded contracts for two more platform jackets for the Johan Sverdrup complex in the central Norwegian North Sea to Kvaerner Verdal and Dragados Offshore. All four first-phase platforms will be bridge-linked, and connected to three subsea water injection templates.
Saipemhas tallied more than €600 million ($680.87 million) in offshore engineering and construction contracts. Saudi Aramco has awarded Saipem an engineering, procurement, construction, installation (EPIC) project for offshore structures including an observation platform, wellhead production deck module, auxiliary platforms, 20-in. internally cladded flowline, and composite power cable, all for offshore Saudi Arabia. Saipem also has an EPIC contract from Eni for the offshore Angola East Hub development in block 15/06. The project includes five flexible risers and 20 km (12 mi) of rigid flowlines, as well as installing SURF facilities which include umbilical sections, rigid spools, well jumpers, and 14 PLETs to be fabricated in Angola. The project is scheduled to be completed by the end of 2016.
Ocean Installer has received a regional framework agreement with BPfor subsea work in the Gulf of Mexico. The agreement covers subsea fabrication, transportation, and installation of offshore facilities, as well as hook up and commissioning, and is valid for three years. Ocean Installer recently collected a contract from Totalfor deepwater installations at the Moho Nord field offshore Republic of Congo, its first major job off West Africa.