Eni going green on Goliat
In June, the ground-breaking NKr 28 billion ($4.4 billion) Goliat project – the first oil development in the Norwegian sector of the Barents Sea – gained approval of the Norwegian parliament (Storting).
Aug 1st, 2009

Far north project to limit air and sea emissions
Nick Terdre
Contributing Editor
In June, the ground-breaking NKr 28 billion ($4.4 billion) Goliat project – the first oil development in the Norwegian sector of the Barents Sea – gained approval of the Norwegian parliament (Storting). Operator Eni Norge now is in an important phase of contract tendering and award as it prepares to move towards start-up in late 2013.
According to Norway's Minister of Petroleum and Energy Terje Riis-Johansen, Goliat also represents one of the largest industrial projects ever in the High North. It will bring spin-off benefits for industry in the region, he adds, creating about 500 jobs in the county of Finnmark over 15 years.
Early this year, Eni selected a Sevan 1000 FPSO as the production facility. This followed a lengthy process of concept evaluation in which Eni concluded that a production facility with processing capacity that exports oil by offshore loading was preferable to other options such as a direct subsea tieback to shore. Since the water depth of 380 m (1,247 ft) is too deep for a fixed platform, the facility had to be a floater, and the choice was an FPSO with onboard storage.
However, the power solution involves importing some electricity from the shore. Geostationary FPSOs are circular platforms moored directly to the seabed. As such, that design scored higher than conventional turret-moored FPSOs because the rotation of the vessel around the turret creates problems for the dynamic part of the power cable.
Sevan won a design competition between two geostationary concepts: the steel-hulled Sevan platform and Aker Solutions' concrete-hulled Condeep MonoFloater. Sevan won in part because steel offers cost benefits, according to Arild Glæserud, Eni Norge general technical manager. The concept is also more versatile in meeting Goliat's requirements and better suited to the field's size, he adds.
The FPSO will have 950,000 bbl of oil storage and production capacity of 100,000 b/d of oil and 3.9 MMcm/d (137.7 MMcf/d) of gas.
Eni, which has a 65% stake in Goliat, will own the unit along with its partner StatoilHydro, which holds the remaining 35%. For this purpose the partners entered into a technology license agreement with Sevan in April.
Eni also preferred Sevan Marine's plan to winterize the platform for the arctic environment. The platform will be enclosed, but where the process area is concerned, a compromise has been reached to use a partial enclosure which allows sufficient ventilation in case of an explosion.
In line with the regulatory framework in the Norwegian Barents Sea, production operations will be subject to zero emissions to sea. Produced water will be reinjected while air emissions will be minimized by combining power from shore with a single on-board turbine fitted with the latest low-NOx technology, says Odd Vårdal, deputy project manager.

The production facility for the Goliat field will be a geostationary Sevan 1000 FPSO.
Eni intended to award an EPC contract to the winner of the platform design competition, but decided to delay that award to take advantage of falling costs in the market. Instead it awarded post-FEED engineering to Sevan, which will continue to provide engineering support to the project but will not bid for the EPC contract.
The latter will be issued for tender as soon as possible. Following a pre-qualification exercise, a shortlist of potential contractors has drawn up, with contract award scheduled for late-2009.
Other main contracts, including supply and installation of subsea equipment, flowlines, and risers, are due to be awarded by the fall. These have been tendered and bids submitted. Heading the queue is the contract for subsea equipment, including eight four-slot subsea templates for development well drilling. These need to be in place by 2011 when drilling is due to begin, Glæserud says.
Another long lead-time item is the 100-km (62.13-mi) power cable. The decision to power production operations partly by electricity imported from shore, and partly by on-board power generation, also is governed by circumstances, says Glæserud.
The Goliat reservoir is relatively shallow, so the temperature of the crude is cool, at around 30º C (86º F). It will need to be heated before being processed, and the best way is to take heat from the onboard turbine. This should help achieve energy efficiency for the turbine around 75%, according to Vårdal.
Moreover, the limited capacity of the power grid in northern Norway means it would not be sufficient to provide for all of Goliat's needs. Under Eni's solution, 20-40 MW will be supplied from shore and 60 MW onboard – 30 MW in the form of heat and 30 MW in the form of power.
The Norwegian authorities, pressing for maximum use of power from shore to limit gas emissions, plan to expand the grid in northern Norway so that by 2019 it will be possible to increase the proportion of power imported from shore.
Eni's base case for the power cable capacity is 60 MW, but it has been asked to consider 100 MW in view of its ambition to expand power transfer from shore. This could be achieved by increasing the cable capacity to 100 MW or by installing a second cable at a later stage, Glæserud explains.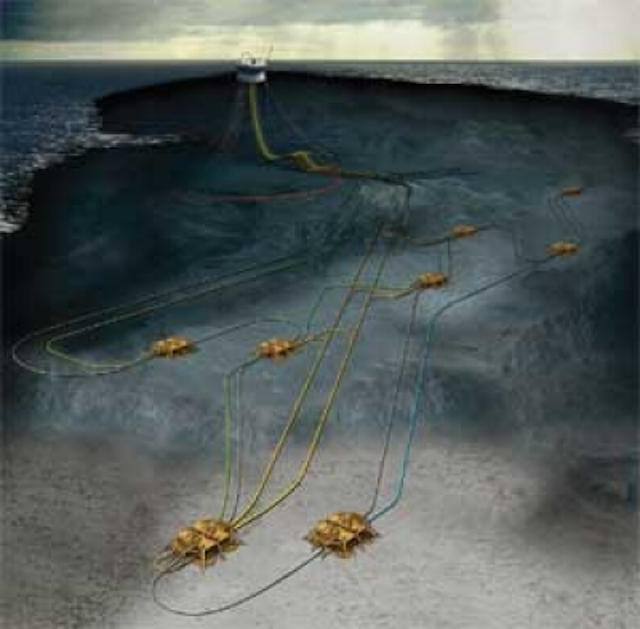 Eight templates housing 22 subsea wells will tieback to the FPSO.
For development drilling, Eni has secured Saipem's sixth-generation semisubmersibleScarabeo 8, under construction at the Fincantieri yard in Palermo, Sicily. The program encompasses 22 wells – 11 producers, nine water injectors and two gas injectors – and will last four to five years.
Goliat's reservoir contains two pay-zones, one at around 700 m (2,296 ft) and the other at 1,200-1,300 m (3,937-4,265 ft) below the seabed. The shallower pay-zone will be a challenge to build the angle to drill the horizontal sections that are planned for some of the wells, says Vårdal. The production wells will be housed on four of the eight templates, the water injectors on three templates, and the gas injectors on one. Gas-lift will be provided to the producers.
Connecting the templates to the FPSO will be 16.4 km (10.2 mi) of in-field production pipelines, five 10-in. (25.4-cm) injection water lines totaling 15.2 km (9.4 mi); a 6.8-km (4.2-mi), 10-in. injection gas line; and four 6-in. (15.2-cm) lift-gas lines totaling 8.5 km (5.3 mi). The gas-lift and water lines will be flexible. For flow assurance, the production lines will have a direct electrical heating system (DES). There also will be some 20 km (12.4 mi) of control umbilicals with chemical injection lines, hydraulic lines, and fiber-optic cables for well monitoring. All the lines and cables will be buried along most of their length and rock-dumped where they connect with the templates. Rock also will create a foundation for the six riser bases.
Oil will be offloaded directly from the FPSO. Initially, gas will be reinjected. This will have some benefit in increasing oil recovery, though the quality of sections of the reservoir could limit this effect, says Vårdal. Eventually the gas could be exported to StatoilHydro's LNG plant on Melkøya Island. In this case, it likely will go via a 10-km (6.2-mi), 10-in. (25.4-cm) pipeline to link into the line carrying gas from the Snøhvit field to Melkøya; a hot-tap operation will be needed to install the tee.
Gas export timing
The timing of gas export is uncertain. The LNG plant currently is well supplied with gas from Snøhvit. Dialogue is under way between the Goliat and Snøhvit partners on technical and commercial issues related to the sale of Goliat's gas. StatoilHydro plans to build a second LNG train, but has yet to secure sufficient additional gas supplies for the scheme.
According to Eni, Goliat contains oil reserves of about 175 MMbbl and some 8 bcm (282.5 bcf) of gas. Given the remoteness, harsh environment, and lack of infrastructure, the field is considered marginal. It was important, therefore, to identify the most cost-effective approach, even though the company was under pressure from local communities and politicians to choose a solution involving an onshore terminal, which they saw as maximizing local job creation.
However, Eni says the project will entail significant job creation. It will employ 150-200 personnel on the project locally, two-thirds being offshore and the remainder at the operations office and supply and helicopter bases to be established in the Hammerfest area. A total of 450-600 direct and indirect jobs are expected to be created, according to government figures.
The company is working with NOFO, the Norwegian operators' oil spill preparedness association, to build an oil spill response organization for Goliat, says Jone Stangeland, communications manager. The plan is to use the existing NOFO bases in Hammerfest for barriers 1 and 2, which cover emergency spill preparedness around the offshore installation and along the spill drift, respectively.
Barriers 3 and 4, covering coastal and beach response, also are under discussion. Eni is collaborating with local and regional fishing associations, the local authorities and the coastal directorate to identify the best oil spill approach for Goliat, says Stangeland. R&D also is under way to evaluate new equipment and to develop means of monitoring oil spills. The high latitude has challenges such as lengthy periods of darkness for much of the year.
Eni sees the Goliat as a hub to develop additional reserves. Late this year it plans to drill the Alke North-East structure, about 40 km (24.8 mi) west of Goliat, where gas already has been discovered. With this well, oil is the primary target. Some small prospects also have been identified in Goliat North.
In Norway's recent 20th licensing round awards, Eni secured a partnership in production license PL 532, covering an area north of Snøhvit. This was the most fiercely contested Barents acreage in the round. Eni also won operatorship of PL 533 just to the south of this license, and of PL 529, in the southwestern Barents Sea.