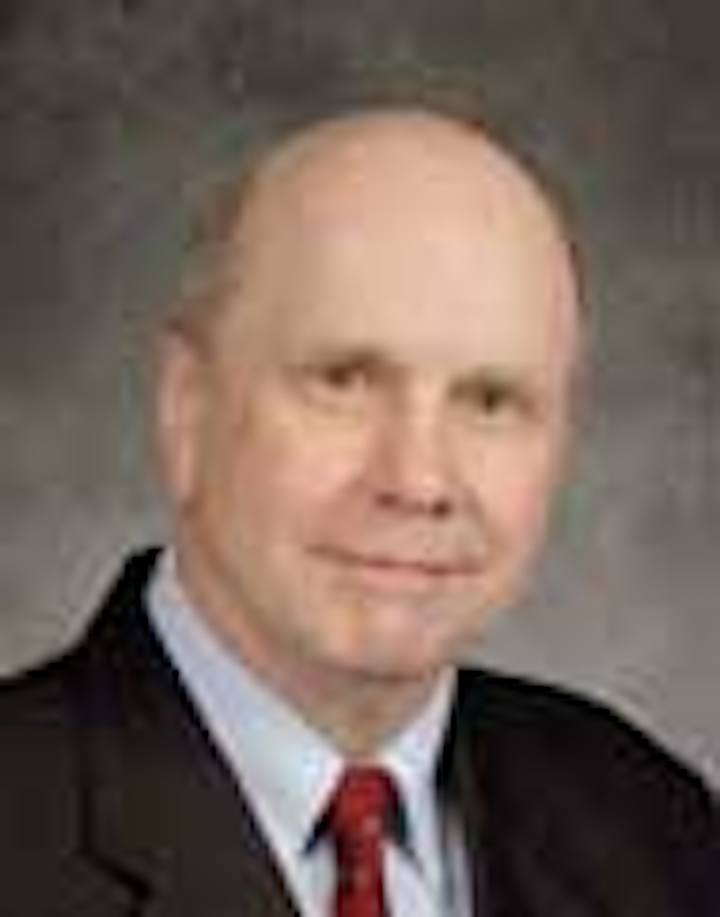 | | | |
| --- | --- | --- |
| | | Gene Kliewer • Houston |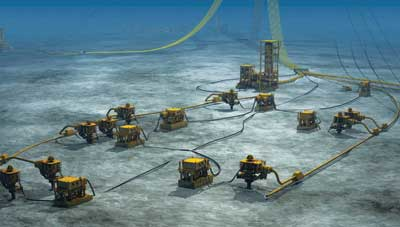 This rendering of a subsea production installation shows the number of tubing bends and connections required for such a facility. (Image courtesy FMC Technologies, Inc.)
Manufacture of the one-off tubes that connect subsea tree valves and other hydraulic components can be an expensive and time-consuming task. FMC Technologies and Unison have joined forces to reduce the time and waste inherent in fabricating the custom tubular part shapes particular to a specific installation.
After engineering the routes needed to run the hydraulic tubing and components in a subsea tree, the supplier would then fabricate those custom shapes while the trees were under construction. FMC says this process slows the build and limits the amount of equipment that could be assembled at any one time. It also could result in scrapping of expensive tubular alloy materials and Super-Duplex and Inconel 625.
FMC and Unison have worked together to develop a system able to design and bend the unique tubing shapes in advance for delivery to manufacturing for immediate assembly. By using a Unison servomotor-based actuation all-electric tube bending machine, more precision and repeatability resulted which means successful first-try bending with less scrap, the companies say.
Unison and FMC developed and streamlined the tubular part manufacturing process including automating the transfer of CAD data and simplifying of the part shape programming. Unison supplies benders with application-specific tube washing machines to deliver clean and ready to weld hardware to FMC.
Using the new process, the time required for tubing assembly at FMC has fallen by around two-thirds, with the additional advantage of introducing a standardized process, says Unison.
GE Oil & Gas expands Batam facility
GE Oil & Gas has opened an expandedsubsea equipment manufacturing facility in Batam Island, Indonesia. The new plant will enable GE to manufacture its first vertical subsea production trees in the Asia/Pacific region. The facility can produce horizontal subsea production trees as well.
The $15-million facility expansion, with its technology upgrades and high-bay workshop will enable GE to meet the growing demand for production equipment in the region, said Handry Satriago, CEO of GE in Indonesia.
"Increasing our country's oil and gas production and transportation infrastructure is a top priority for supporting Indonesia's economic growth," said Vice Minister of Energy and Mineral Resources of the Republic of Indonesia Susilo Siswoutomo at the opening. "The expansion of GE's subsea equipment facility will be a significant contribution for expanding our country's manufacturing base, creating employment, and developing human resources in the oil and gas industry."
MWCC boosts temperature limit on capping stack
Marine Well Containment Co. (MWCC) has rerated the temperature capability of its single ram capping stack, part of the company's interim containment system. The stack can now cap a well that has fluids with temperatures up to 350ºF (177ºC). The pressure limit for the stack remains at 15,000 psi.
Increasing the rating to 350ºF required upgrading multiple pieces of equipment to ensure higher temperatures could be tolerated while still maintaining safe operation of the capping stack.
MWCC worked closely with regulators to confirm that all regulatory requirements for the equipment were met.
"The rerate of the single ram capping stack is another step in MWCC's commitment to keep pace with member needs as they explore at greater depths, pressures and temperatures," said Marty Massey, CEO of Marine Well Containment Co.
Subsea project roundup
EMAS AMC has selected DeltaSubSea (DSS) to supply ROV services in support of EMAS's current Gulf of Mexico deepwater repair campaign.
DSS will deploy a Schilling HDTM 150-hp ROV, along with ROV tooling, including Class 1-4 torque tools, water blaster, and hotstabs. DSS has also fabricated a customized ROV subframe assembly in support of this scope of work.
•••
Petronas has awarded a 13-package, five-year offshore hook-up, commissioning, and maintenance contract to six local service providers at a total cost of around $3.1 billion. The Pan Malaysia Integrated Hook-Up & Commissioning and Topside Major Maintenance contract went to Kencana, Dayang Enterprise, Petra Resources, PBJV, Carimin Engineering Services, and Sigur Ros. It includes supply of manpower services, marine spread services, tools, and equipment required for execution of the various work scopes. Services will be provided to nine of Petronas' production-sharing contractors: Petronas Carigali; Sarawak Shell Berhad & Sabah Shell Petroleum; ExxonMobil Exploration and Production Malaysia; Murphy Sarawak; Hess; Talisman (Malaysia); Newfield Peninsula Malaysia; and JX Nippon Oil & Gas Exploration (Malaysia).
•••
Vallourec is to provide a range of connection devices for Total's CLOV deepwater oil and gas development offshore Angola. CLOV comprises the oil and gas fields Cravo, Lirio, Orquidea, and Violeta in block 17, in water depths ranging from 1,100-1,400 m (3,609-4,593 ft). Production is due to start in 2Q 2014.
Vallourec will equip the 34 subsea wells with around 15,000 tons of OCTG products.The subsea wells will tieback to theCLOV FPSO.
To secure transportation of hydrocarbons to the FPSO, Vallourec has delivered 28,500 tons of coated seamless line pipe and bends to installation contractor Subsea 7. The company supplied an additional 2,400 tons of seamless pipe for construction of the riser towers. Vallourec is also supplying around 150 km (93 mi) of anticorrosion coating on the pipes and roughly 700 hot induction bends. The production flowlines, which include a pipe-in-pipe solution, will be assembled in Angola.
Serimax, Vallourec's welding specialist, operated its Saturnax 09 welding equipment during seven months onboard Subsea 7's pipelay vessel Seven Borealis. It delivered around 5,500 welds on pipes, including corrosion- and fatigue-sensitive sections.