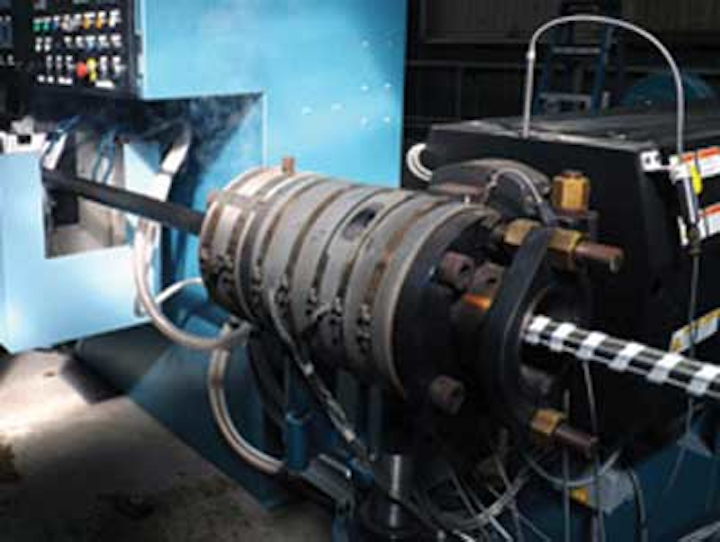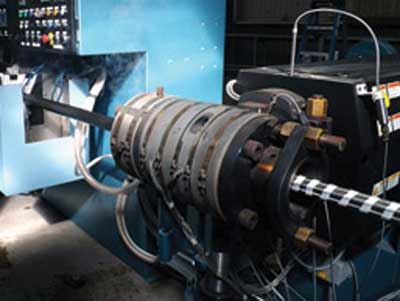 The non-helical umbilical mechanism can be used for infield umbilicals up to 10 mi long.
Deep Down's patented non-helical umbilical (NHU) manufacturing process is portable and easily transported for setup anywhere in the world where full-sized steel tube infield umbilicals can be manufactured up to 10 mi (16 km) in length. The company says it incorporates appropriate percentages of local content and can be installed from smaller vessels located near subsea fields using compact Deep Down equipment.
Multiple tubes on either reels or sticks are fed into the patented Deep Down manufacturing mechanism, bundled, and then the umbilical is extruded with a HDPE jacket. Umbilicals are not torque balanced on their own, so rather than expending resources to balance them and the incredible stresses to helically wind them, the Deep Down NHU uses the imbalance to its advantage, resulting in a standard bundle. The umbilicals are super-duplex of standard number and size, equipped with electrical and optical components, and intended for either static or short-term dynamic service applications.
The result is a steel infield umbilical in any standard configuration of electrical, optical, or hydraulic up to 10 mi long that can be fabricated anywhere in the world more economically and in less time.