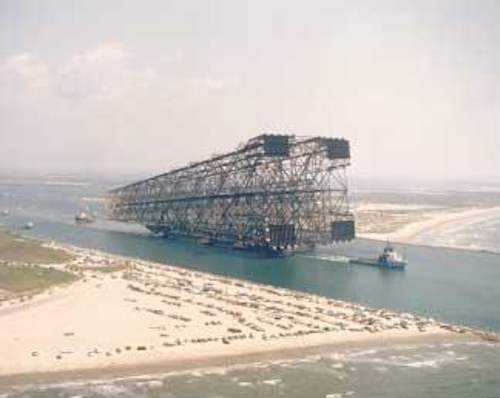 William Furlow • Houston
Rigless intervention comes to North Sea
Statoil has successfully applied FMC's new Riserless Light Well Intervention technology on the Norwegian continental shelf. FMC Kongsberg Subsea developed RLWI in cooperation with Statoil and Prosafe and tested it on Prosafe MSV Regalia. Intervention was performed on subsea wells on the Statfjord Nord, Visund, and Åsgard fields. The first intervention campaign was completed in November.
Statoil's acceptance of the new subsea technology from FMC Kongsberg Subsea gives cause to believe in increased activity for Norwegian industries, says FMC Kongsberg Subsea AS Managing Director Tore Halvorsen.
The new RLWI technology requires a special handling solution onboard the vessel. This is an area where Norwegian engineering companies and shipyards traditionally hold their competence. Only the Prosafe MSV Regalia is currently equipped to undertake such operations; however, other companies are expected to follow.
This solution allows downhole tools to be deployed under pressure directly from the seabed, without the need for a drilling rig and a riser.
The technology was developed on the basis of a research project that formed part of Norway's Demo 2000 program to help enhance the profitability of Norwegian offshore operations.
Operations on the Statfjord satellites and Visund in the North Sea, and on Åsgard in the Norwegian Sea, confirmed that the technology is viable.
Statoil hopes to improve the average recovery factor on Norwegian subsea fields from 43% to 55%, representing over 1 Bbbl of oil overall. Cutting the cost of drilling and production is a component of this goal, and adopting light well intervention will contribute to boosting subsea profitability.
Subsea fields that are not considered economically viable to develop can benefit from the new technology.
Sea trials for Alive
Following a series of tank and shallow water tests last summer, sea trials of the Autonomous Light Intervention Vehicle (Alive) were performed offshore the French Riviera.
Alive docked on a subsea structure (ROV panel) autonomously. Once there, it carried out pre-programmed operations, opening and closing valves with its hydraulic manipulating arm.
Target approach, docking on the subsea structure, and manipulation are controlled via sophisticated onboard video and sonar image processing, matched with a CAD (computer-aided design) image of the environment.
Three dives were carried out, and they validated the functionalities of each sub-system.
The robot proved its reliability in coping with difficult sea conditions. Alive was designed for light intervention work on offshore oil and gas fields in water depths to 3,000 m. The unit can operate without either long and heavy umbilicals or dedicated surface support vessels. Considering that 90% of any offshore intervention's cost is the support vessel itself, one can understand the intense industry interest in the project.
Cybernétix said the success of its sea trials is a major step toward carrying out auto-nomous intervention in deepwater. The feasibility of inspection, maintenance, and repair operations using AUVs has been proven, particularly operations involving ROV panels. These results should please the major oper-ators that are monitoring developments, notably Statoil and BP. Alive is now closer to production and commercialization.
The European Commission supports the Alive project. Cybernétix is the project coordinator and cooperates with Ifremer in France, Hitec Framnaes in Norway, Ocean Systems Laboratory of Edinburgh University in the UK, and the European Joint Research Centre in Italy.
GE provides PT sensors on Dalia
GE Druck has received an order from Kværner Oilfield Products to supply customized PTTX400 Series Subsea Wellhead Transmitters. These will be installed on Aker Kværner control systems in support of Total's Dalia project, 100 mi offshore Angola, West Africa. The transmitters were designed to provide high levels of performance while withstanding the extremely severe operating conditions and subsea environment, with an operational life of up to 25 years.
External case pressure is up to 300 bar/3,000 m water depth and containment pressure in excess of 1,000 bar. In addition, various mechanical configurations are being produced and feature high grade NACE approved body/process wetted materials including Inconel 625 and Stainless Steel UNS 31803.
Time capsule MAY.1998
Shell launches Bullwinkle -
World's tallest pile-supported, fixed steel platform at 1,365 ft
null
In the summer of 1988, the Bullwinkle jacket made its three-day journey from Gulf Marine Fabricators' yard in Corpus Christi, Texas, to Green Canyon block 65 in the Gulf of Mexico. Edging out the Sears Tower in Chicago for world's tallest structure, the installed platform measures 1,615 ft from the seabed to the top of the derrick.
This 50,000-ton jacket represents the ultimate application of conventional water depth technology. Never surpassed in size or depth, Bullwinkle remains a landmark in step-change technology. Reaching peak production of 56,600 b/d in 1993, the platform got a new lease on life in January 1996, when production from the Rocky subsea completion on Green Canyon block 110 was tied back to Bullwinkle. To accommodate the tieback, the production capacity of the platform was expanded to handle 200,000 b/d of oil and 306 MMcf/d of gas. Later, BP's Troika subsea production also was tied back to Bullwinkle. Ironically, these tiebacks converted a landmark of 1980s technology into a centerpiece in the modern hub-and-spoke approach that has revolutionized deepwater development.
"Installation of the Bullwinkle platform in the deepwater Gulf of Mexico is a major technological accomplishment," Shell Offshore President R.L. Howard. – Offshore, July 1988.