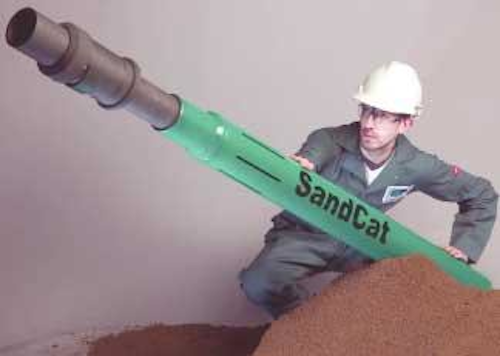 Frank Hartley • Houston
Record measurements
New measurement-while-drilling (MWD) and logging-while-drilling (LWD) depth and pressure records have been set for the Gulf of Mexico. Schlumberger Oilfield Services ran and recorded the results at the ChevronTex- aco deepwater Tonga 1 exploratory prospect in 4,695 ft of water in Green Canyon block 727.
The Tonga 1 well reached true vertical depth of 31,824 ft, exceeding the previous depth record by 700 ft, with a maximum-recorded downhole pressure of 26,138 psi. Real-time surveys allowed the well trajectory to be kept on target during the entire drilling and logging process. The real time data was captured and without lost time or trips, a capability considered critical to the success of the ultra-deep well.
The TransoceanDiscoverer Deep Seas drilled the well 150 mi southwest of New Orleans.
Optimizing oil production
In production operations, sand control is important to optimize reservoir exposure and ensure operational excellence and wellbore stability. The industry currently uses screen systems to ensure that plugging or sand intrusion does not occur during production, as these can cause downhole problems that in turn affect production. Robert Gordon University in Aberdeen has begun new developments that it expects will have benefits for the industry by controlling sand production in reservoirs.
A typical screen design allows reservoir fluids to flow through it while restraining the sand. The screen slot gauge, based on knowledge of the formation grain size distribution, is a key factor, as grain size can change within a producing well, resulting in the screen becoming blocked or sand coming through in the produced fluids. Either way, the results impair the reliability of long-term productivity.
RGU is developing a prototype screen system to automatically respond to solids loading and corresponding screen drawdown. Screen technology that automatically adjusts slot size would have major implications for the optimization of reservoir production.
Sand management system
A new sand management system has been developed to reduce damage to downhole electrical submersible pumps. Increasingly, high-volume and mature wells are produced using ESPs, which offer advantages over some methods of artificial lift. When sand production exists in the well, however, it can severely compromise the life of the ESP.
SandCat, a sand management system from Pumptools of Aberdeen separates sand from produced fluid and prevents it from entering the ESP, reducing its destructive consequences. SandCat is a downhole centrifugal sand separator that is connected below the ESP and separates the sand from the produced fluid, allowing non-abrasive fluid to the ESP.
null
The premature failure of electrical submersible pumps caused by sand erosion is costly in terms of capital cost operational cost and lost production through downtime. This system includes calculation software to predict separation efficiency on a well-by-well basis, determining the appropriate specifications to be used. Current limiting flow rate is 10,000 b/d for casing sizes from 5 1/2-in. to 9 5/8-in. The software calculates the efficiency required on a well-by-well basis, predicts how much sand is being separated. and allows the operator to decide on the best option to choose.
The system separates the sand before it enters the ESP, leaving the sand downhole and collected either in a tailpipe, dumped into a rat hole and retrieved at the next workover, or retrieved in situ using bailers. Each well's geometry will differ so four different deployment methods can be used to optimize sand separation management.
New liner hanger
A new liner hanger system, the LS-15TM, by Dril-Quip Inc. has been designed to provide up to 40,000 ft/lb rotational torque to the liner that facilitates liner drill-down and pump-down operations. The liner hanger and running tool design eliminate hanger body "ports" that are normally required for slip actuation. All hydraulic setting mechanisms are in the running tool, not on the hanger body. The system features high-pressure, high-temperature, and metal-to-metal sealing technology found in the SS-15 subsea wellhead system.
The LS-15 liner hanger system includes a hanger slip design that reduces the stress placed on the liner hanger body and the supporting casing. The hanger is designed to perform under a wide range of conditions and is suited for long reach, high angle, horizontal, and heavy liner completions.
Longest subsea pipeline intervention
A world record for the longest single continuous subsea pipeline intervention has been set by Superior Energy Services. The new CoilTAC Thruster was used to clean a 14,800-foot stretch of flowline in 1,200 ft of water from Oceaneering's DP-2 MSVOcean Intervention II. One end of the 4-in. flowline was brought to the surface and retrieved through the vessel's working tool moonpool.
The thruster was then used with a coiled tubing unit and thermal pumping unit to clean out sand, scale and asphaltenes in the pipeline. Diesel and specially designed solvents were used to achieve an average washing speed of 10 ft per minute during the operations.