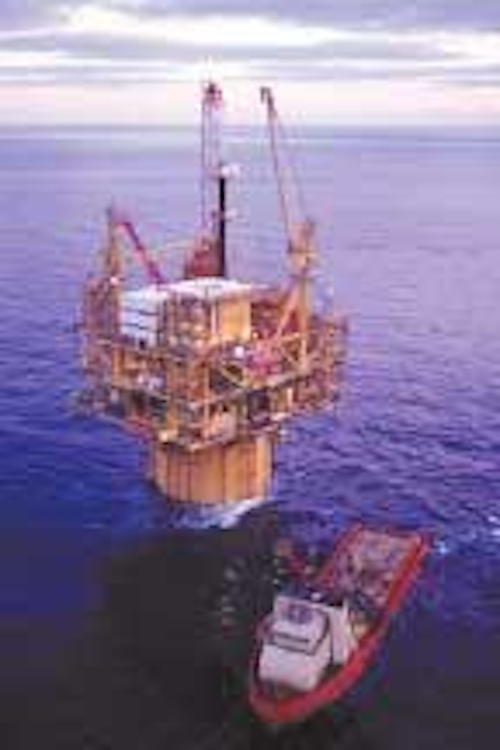 William Furlow • Houston
Increased recovery from subsea wells
The main challenge on the North Sea shelf is increased recovery from subsea wells, Director General Gunnar Berge of the Norwegian Petroleum Directorate (NPD) said at the opening of a recent subsea technology conference in Bergen. Approximately 40% of the production from the shelf derives from subsea wells. This percentage is increasing. He predicts that, in the next few years, more than half of the production on the shelf will come from subsea completions.
Berge said, approximately 380 subsea wells are in operation in the Norwegian sector of the North Sea and more are underway. Both Snøhvit and Kristin will be developed using subsea wells. The development plan for the Ormen Lange field is also based on subsea completions.
The latest estimates from the NPD show that the total resources on the Norwegian continental shelf are 12.9 bcm oil equivalents.
29% has been produced
32% remains in fields as reserves
10% is considered as contingent resources in both fields and discoveries
3% is related to possible future measures for increased recovery
26% is in undiscovered resources.
A large portion of the remaining, undeveloped discoveries lie close to existing infrastructure. Several of these will be developed as subsea satellites. The conventional distance and water depth mean these fields can be developed using existing technology.
The key to unlocking future developments will be making these technologies more cost-efficient.
Approximately 65% of the region's undiscovered resources are thought to lie in prospects undrilled. The remaining 35% are in potential prospects in a play that is not mature enough to be a goal for exploratory drilling.
A study of the 1,000 prospects that are registered in the NPD database shows that 65% lie in less than 400 m of water and are less than 50 km from existing infrastructure or land. This implies that the possibility of tying back possible discoveries to existing infrastructure is high. While the subsea tieback technology is mature, the challenge consists of developing the technology to be more cost-efficient. Subsea development of the remaining pros-pects relies on development of multiphase flow and subsea separation technology.
Many of the discoveries and prospects that can be developed with subsea solutions lie in the mature areas of the continental shelf, where sufficient infrastructure exists and the geological aspects are well known. The potential of making more finds is large, but not at the current level of exploration.
The recovery factor represents a challenge for completed subsea wells. A study performed by Statoil, Hydro, and the NPD shows that the recovery factor from subsea wells is 15-20% lower than from wells with direct platform access. There are several reasons for this. The accessibility to completed subsea wells is more difficult and represents a larger cost than wells drilled from a fixed installation. Even for minor jobs, a boat or mobile rig has to be used. The number of mobile units available for this work in the North Sea is limited. This can lead to lack of well maintenance, thus reducing the recovery from the well. A huge effort has been made in recent years to have mobile units available. In cases where the subsea wells are far from the processing unit, keeping necessary pressure high enough over time to maintain tail production can be difficult. It is also important to collect data from these wells to optimize reservoir management. This implies a technical challenge, but also a potential gain. The NPD is glad to see Statoil's goal of achieving an oil recovery factor of 55% from subsea-completed wells within 2008, Berge said.
Additional services for Devils Tower
Weatherford International will install the special alloy production tubing and accessories and provide drill pipe, rental tools, and nitrogen services on the Devils Tower field development project for Dominion Exploration & Production. Located in 5,610 ft of water, Devils Tower is a deepwater development about 150 mi southeast of New Orleans in Mississippi Canyon block 772. It is capable of producing 60,000 b/d of oil and 120 Mcf/d of gas net.
The field will be developed with the world's deepest truss spar and will initially support eight dry-tree surface completions. Dominion E&P owns 75% of the Devils Tower field, with partner Pioneer Natural Resources holding the remaining 25%.
Weatherford's Tubular Running Services group in Lafayette, Louisiana, will provide personnel and equipment for the tubing installation using Weatherford's dual completion tools with Micro-Grip non-marking technology. The tubing strings will consist of: 4.5-in. 13CR tubing, 5.5-in. VIT (vacuum insulated tubing), 4.5-in. by 2.375-in. "mud line" dual strings, and multiple electric/hydraulic control lines run simultaneously and attached to the tubing strings.
null
Weatherford's Houma, Louisiana, Rental Tool group will provide the drill pipe and associated rental tools, and the Lafayette, Louisiana, Pipeline & Specialty Services group will provide nitrogen services for pressuring buoyancy cans and production riser evacuation.
Weatherford has previously been awarded the production riser installation for this project. All risers will be installed using Weatherford's Stabberless System, a hazard-reducing means of running casing and tubing that Weatherford says reduces costs and increases safety.
First production is planned for the second quarter of this year, following installation of the steel catenary risers, commissioning of the export pipelines, and well completions.
Flowserve, Subsea 7 collaboration
Flowserve and Subsea 7 have entered into a collaboration agreement with the aim of exploiting the emerging subsea multiphase pumping and processing market. Flowserve and its subcontractor, Subsea 7, were recently awarded a contract by Total S.A. to lead a joint industry project venture for phase two of the MPSP 1500 project. This phase covers the qualification program. It was concluded as part of the JIP phase one study that the successful completion of the program would confirm the suitability of the Subsea 7/Flowserve Multiphase Pumping System package for installations in water depths to 1,500 m. In addition to Total, Statoil and BP Exploration also sponsor the JIP.
Combining Subsea 7's underwater capabilities with Flowserve's multiphase pumping experience will offer clients access to a reliable, cost effective, turnkey solution for both future deepwater and existing oil field developments, said John Smith, Subsea 7's chief executive officer.