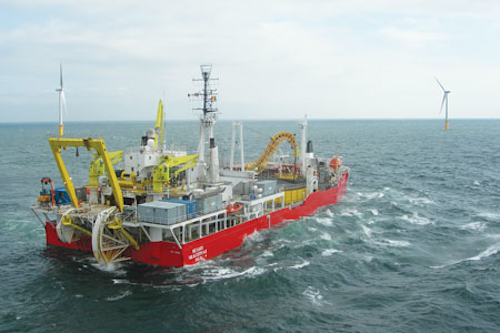 Nexans enhancing designs for next wave of projects
Jeremy Beckman
Editor, Europe
Despite the prevailing caution, some major new gas projects are going forward, particularly in the eastern Mediterranean, Caspian Sea, and offshore Norway. Some call for complex networks of interfield pipelines or long-distance subsea tiebacks, with associated heating requirements. One beneficiary is subsea umbilicals and power cables specialist Nexans, which has managed to sustain a steady offshore workload without entering a joint venture.
According to Marketing and Sales Director Ragnveld Graff, speaking in London recently, the Paris-based Nexans corporation began operating in the early 1990s, but the company's specialist subsea division in Norway won its first contract from Statoil for a field in the North Sea in 1985, and has since manufactured over 3,000 km (1,864 mi) of subsea cables for projects worldwide. The company's full range of subsea products comprises AC and DC power and control umbilicals, both static and dynamic; towed seismic cables; ROV umbilicals and tethers; workover cables; and environmental surveillance cables for mapping conditions prior to a development.
"Currently the power market is very attractive," Graff said, mainly due to Europe's rapidly expanding offshore renewable energy sector, while demand for oil and gas umbilicals is less strong. Profitability of subsea projects has become challenging, he added, with cashflow weak among the majors, "although oil and gas projects can still be optimized with new technology." The trend toward consolidation among contractors, and some offshore operators such as the newly formed Aker BP in Norway, is part of a general initiative by the industry to reduce costs by 30%, he added. "This affects us too, although we have secured a backlog of project work."
Nexans' factory in Halden on Norway's west coast mainly produces power cables and umbilicals - the company has two other manufacturing sites in Norway at Rognan and Langhus. The facilities at Halden include two vertical lay-up and two armoring machines, allowing the site to produce longer-length umbilicals. Unlike some of Nexans' competitors, he said, the company decided to perform welding in-house of steel tubes for its umbilicals. "This proved to be a strategically sound step, as we can choose from three to four suppliers of steel tubes whereas others buy their products from one company, supplied on reels." The company also employs in-house corrosion experts to analyze requirements for lead, copper, or different grades of steel in an offshore cable or umbilical.
One niche growth sector is direct electrical heating (DEH) systems, which Nexans has developed over the past 15 years to prevent hydrates build-up in gas export pipelines in waters below a certain depth. The DEH riser cable, which takes power from the platform to the seabed, is connected by an armored feeder cable (containing two conductors) to the pipeline and a strapped-on piggyback cable. The latter conducts power from steel in the pipeline in parallel with the sea water to the platform connection point. The systems are heated to the temperature required on the field, and feature cross-linked polyethylene (XLPE 320) insulated cables with power ranges ranging from 12-52 kV. Nexans has supplied 30 DEH systems for projects including BP's Shah Deniz offshore Azerbaijan and Chevron's Lianzi off Angola.
The company owns and operates its own DP-3 installation vesselC/S Nexans Skagerrak, which can carry up to 3,000 tons of cable on deck. "We have installed 20-30% of the world's electrical capacity with this and other vessels," Graff claimed, "and we also have two barges to transport our cable to the installation site, as was the case with Jack/St Malo in the Gulf of Mexico. In addition, we operate three Capjet [cable] trenching systems, one of which we have converted to a dredging unit. Another is undergoing conversion into a rock trencher to handle tough seabed/rock conditions. In a sandy seabed the vehicle can bury the cable 1-3 m [3.3-9.8 ft] deep. With rocky seabed conditions, burial to the diameter of the cable is sufficient."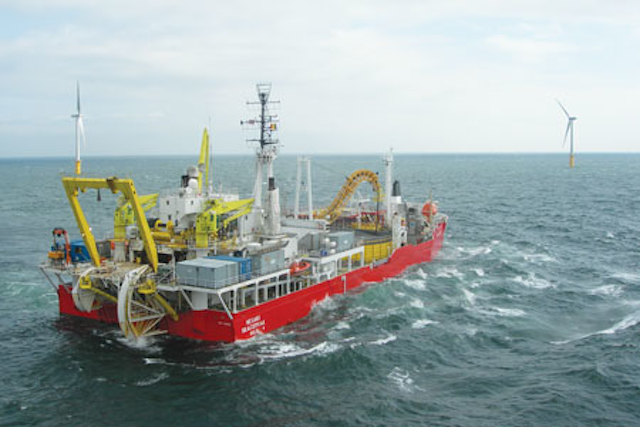 C/S Nexans Skagerrak. (Image courtesy Nexans)">
TheC/S Nexans Skagerrak. (Image courtesy Nexans)
Among the company's current offshore projects is an order placed by BP last September for around 100 km (62 mi) of static umbilicals and accessories for development of the Fayoum, Giza and Raven gas-condensate fields, 65 km (40.4 mi) and 85 km (53 mi) offshore northern Egypt, for the next phase of the West Nile Delta project. The umbilicals will be developed, manufactured, and tested at Halden while the electrical cables will be manufactured in Rognan. Delivery should be completed during 2018. Earlier last year, Nexans delivered 48 km (30 mi) of static umbilicals to BP for the West Delta Taurus Libra project.
The company's biggest current project encompasses various batches of umbilicals and DEH systems for the BP-operated Shah Deniz 2 gas-condensate development in the Azeri sector of the Caspian Sea, where deliveries will be phased during 2018, 2019, and 2020. "The umbilicals feature complex cross-sections," Graff said. "We have to supply them on drums, take them on barges to the Baltic Sea then transfer them to separate barges that can pass through Russia's Volga River system to the Caspian Sea. There are limitations when you can do this because of the climate and seasonal icing."
For Woodside Energy's Enfield oilfield development offshore Exmouth, Nexans' Norway plants are manufacturing a 32-km (20-mi) umbilical and accessories for contractor OneSubsea. Enfield involves the tieback to an existing FPSO of six subsea production and six water injection wells. OneSubsea is supplying the subsea pumps: previously Nexans supplied an integrated power umbilicals and termination items to the same client for the Julia field in the Gulf of Mexico.
This will be the company's first delivery to a project offshore Australia, and its first for Woodside. "We want to get a track record down there," Graff said. The consignment will include the company's SUTA-FLEX subsea umbilical termination assembly which it introduced at OTC 2015. This is an electro-hydraulic system that allows multiple wells to be controlled by a single umbilical through connecting various subsea control modules to the same communications, electrical and hydraulic supply lines.
The design is said to be based on standardized features that can fit easily within the parameters of the chosen lay-vessel's reel: it is compatible with a wide range of tensioners, allowing a wider range of installation vessels for the deployment, and can withstand pressures and water depths of up to 15,000 psi (1,034 bar) and 10,000 ft (3,048 m). It also accommodates hydraulic, electrical or fiber optic components, or any combination of the three. "The SUTA-FLEX is designed to fit a 9-m (29.5-ft) umbilical reel," Graff said. "It weighs 1½ to 4 tons, depending on the number of connections: the system can carry up to 28 electrical connections and 33 hydraulic connections."
Recently, the company delivered a new riser cable for a DEH system for Wintershall's Maria gas-condensate development in the Norwegian Sea. Maria's seabed template is tied back to the Statoil-operated Kristin platform. "The latter used to have two heated pipelines," Graff said, "but one is being taken out of use, so a new one was needed to connect to the platform. A lot of contractors are involved in this project, which created interface challenges."
Combining all the cables with bend restrictors in the same box was proved to be a major challenge, Graff said: Nexans engineers devised a prototype design specifically for this project. "By developing a more compact design we were able to reduce the cost by 20%, making it easier for the client to go ahead," he added. During 2014-16, Nexans also supplied umbilicals for Statoil at Gullfaks in the North Sea, Smørbukk Sør in the Norwegian Sea and the Snøhvit C02 project in the Barents Sea. "We developed standardization of each electrical and fiber optic element, standardized tubes and documentation with Statoil," he explained, resulting in lower equipment costs and faster delivery times. Downsizing subsea equipment could be another way of trimming project costs, Graff suggested, with clients perhaps considering alternative umbilicals or cables with two instead of three insulated copper elements (if safety permits), or umbilicals featuring one less steel tube.