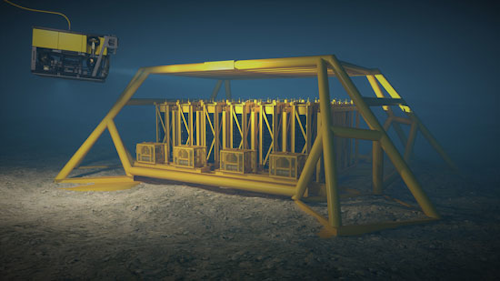 | | | |
| --- | --- | --- |
| | | Sarah Parker Musarra Houston |
Seatools has completed an R&D program for a subsea liquid storage technology, including a full-product qualification test program. This was a continuation of an earlier engineering study performed on behalf of Statoil Petroleum. The technology will now be applied at a pile installation frame operated by Seaway Heavy Lifting.
According to Seatools, the move toward seabed installations of (pressure-balanced) equipment such as pumps, compressors, and related power grids that can compromise switch gear and power transformers brings a need for reliable, long-term subsea storage of large volumes of liquids. The storage capability, in addition to compensating for hydrostatic pressure, must take into account oil volume fluctuations caused by temperature changes, or may have to accommodate control fluids.
Subsea storage of liquids is also relevant to large-volume subsea hydraulic systems with significant differential (oil) volumes caused by a large number of actuators, as is the case with the pile installation frame.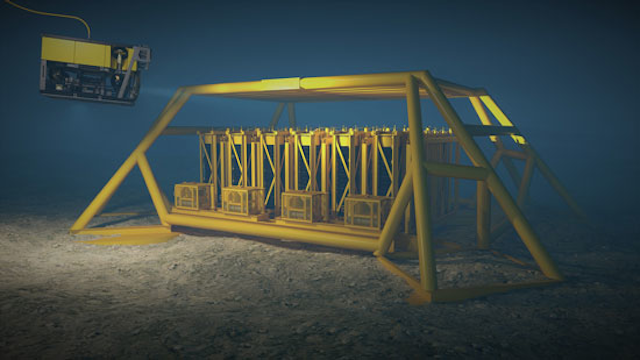 Seatools recently completed an R&D program for subsea liquid storage technology. The company said that move toward seabed installations of equipment such as pumps, compressors, and related power grids brings a need for long-term subsea storage. (Image courtesy Seatools)
One of the critical design concerns for a long-term storage reservoir is the reliability of the barrier between fluid and seawater. During Seatools' recent R&D program, the company conducted aging tests to provide a quantified prediction of the lifetime of the fluid barrier.
Other achievements were a comprehensive product qualification program on a full-scale version of the reservoir, an extensive analysis of the dynamic behavior of the compensator, and a study of the pressure compensation performance under varying conditions.
The earlier conceptual and feasibility study into local storage of control fluids in a subsea production control system for Statoil was designed to develop a storage system capable of providing continuous and reliable supply of control fluids over a lifetime of 20 years.
In addition, the team analyzed required controls and instrumentation, refilling strategies, and related economics. Further research is planned on the chemical compatibility of various fluids with the barrier material. Potential findings could widen the scope of application.
Genesis commissioned for India FEED
Reliance Industries has contracted TechnipFMC subsidiary Genesis for a deepwater front-end engineering and design study for the MJ gas/condensate field in block KG-DWN-98/3 in the Bay of Bengal. Reliance plans seven wells from two subsea drill centers tied back to an FPSO. Genesis will manage the work from its head office in London.
A 2015 resource evaluation from Deloitte put the best case estimate of gross unrisked contingent resources of 1.4 tcf, related to the Central (North), Northern, and Central (South) fault blocks.
Oceaneering develops ROV for Statoil
An Oceaneering International, Inc. subsidiary has been awarded a technology development contract by Statoil Petroleum AS for the development, manufacturing, testing, and mobilization of a self-contained, battery-powered work-class remotely operated vehicle (E-ROV) system deployed on the seabed.
The system will interface with Oceaneering's onshore Mission Support Center in Stavanger via a 4G mobile broadband signal transmitted from a buoy on the water's surface, without a surface vessel required onsite.
The company said it will use its eNovus work class ROV and new technology to supply the required battery power and communication links needed to support the project. Development, manufacturing, and pool testing will commence immediately at its workshop in Stavanger, Norway.
An offshore mobilization test of the system is scheduled for May 2017. During the test, the E-ROV system will be deployed and recovered from a Statoil-operated inspection, maintenance, and repair vessel at the Troll field in the North Sea. The system will perform specified subsea operations while Oceaneering maintains continuous control from the Mission Support Center.
BOURBON tapped for Gabon pipeline
Total Gabon has BOURBON contracted for offshore pipelay as part of the Hylia water injection project.
The scope covers engineering, procurement, construction, and installation of 25 km (15.5 mi) of 6-in. rigid pipeline using Zap-Lok technology. BOURBON is subcontracting Cortez Subsea for pipelay equipment and Wood Group for the pipeline design and pipelay engineering.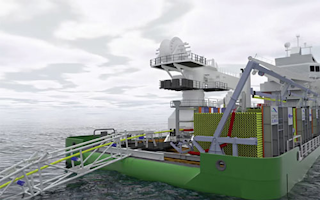 Shown here is a 3D rendering from Cortez Subsea of a BOURBON Evolution 800 series vessel with a pipelay spread. (Image courtesy BOURBON)
Operations are due to start in 2Q using a multi-purpose platform supply vessel from the Bourbon Evolution 800 series. In addition, BOURBON will provide ROV services to support the survey and an air diving team for spool and riser installation.
JDR umbilicals for Western Offshore
Cameron has awarded JDR a steel tube umbilical contract on behalf of ONGC for the Western Offshore project in India's Mumbai High region. The development involves subsea completion of 11 oil and gas wells at the Mumbai High, Bassein and Satellite, and Neelam/Heera facilities.
These wells are either at an infield location or on an extension of existing fields, including marginal pools that will be connected to the nearest host facility, all in water depths up to 100 m (328 ft).
The company's scope of supply includes project management, engineering, and manufacture of 11 umbilicals, with a combined length of more than 53 km (35 mi) subsea terminations and accessories.
The umbilicals will be manufactured using a helical assembly machine at the company's plant in Hartlepool, northeast England and are expected to be delivered this fall.