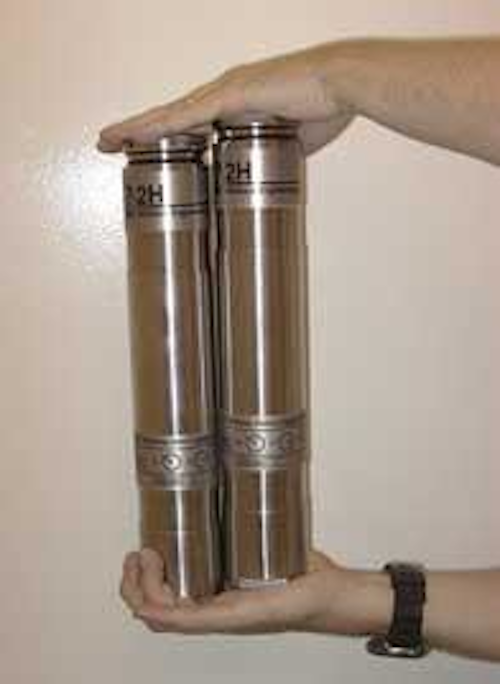 Jaime Kammerzell • Associate Editor
Standalone motion logger
2H has launched its standalone motion logger MK2 for integrity monitoring of dynamic structures, such as deepwater risers. It contains latest-generation accelerometers to capture structural response. The low power electronics and high memory capacity allow logging for extended periods up to 12 months. Despite its high specification, the unit is lightweight (3.5 kg) and compact with dimensions of 50-mm diameter by 300-mm length. According to the company, the small size of the logger allows easy installation and retrieval by ROVs. Data collected is downloaded into a computer to provide information for evaluating the integrity of dynamic structures. The loggers have already been deployed on a number of deepwater drilling risers with the data collected allowing improved understanding of complex vortex induced vibrations.
Oil saver for capillary tubing applications
Double-E Inc. has introduced the Cap King, a hydraulic pack-off designed for workover applications using capillary tubing. The Cap King offers hanging tubing, controlled well pressure, and trouble-free service to the emerging capillary tubing application. This tool is normally left on the well for long-term pressure control. The Cap King is constructed from heat-treated alloy steel with a corrosion-resistant CAD-plated surface finish. It is rated at 5,000 psi working pressure and closes on 1/4-in. and 3/8-in. tubing. The Cap King is available to meet all standard line sizes.
Thermal spray system
CCSI, a Bayou Co., has purchased a thermal spray system innovated by Power Spray Inc. and Aquatherm International, as well as all assets from two companies. Flame, electric arc, high velocity oxygen fuel, and plasma spray systems are available, enabling further responses to customer concerns regarding erosion, abrasion, high temperature impact, corrosion control, and cathodic protection. Trained CCSI spray teams will operate the Powerarc 1500, an electric arc spray system. According to the company, the high application rate will reduce labor costs to deliver an economic advantage. The system is an environmentally safer coating because metallizing produces zero volatile organic compounds, has no cure time, and eliminates toxic paint waste disposal. Metallizing provides maximum corrosion protection for steel, withstands high temperatures, and can last over 50 years.
Seeing below the sea bed
SRD, designers and manufacturers of sonar products for subsea applications, have developed a sub-bottom profiler, a transducer that is said to be able to penetrate up to 20 m below the seabed. It is a high-power, low-frequency transducer that operates over a wide frequency band with a beam width of 140° for optimum penetration of the seabed. The device is suitable for mounting on subsea frames and underwater vehicles, for deepwater use, or into the ship itself, where it operates through the steel plate of the hull.
Panoramic surveillance explosion proof TV camera
The DTR 100 Z ADF TV camera, designed and built by Hytec, is an Eex d II CT6 explosion-proof color TV camera, which offers an outside diameter of 120 mm and length of 265 mm, a 10x optical zoom, and a tilt/rotate viewing head. According to the manufacturer, for the applications of video surveillance in an explosive risk environment, the DTR 100 Z ADF obsoletes the traditional solution of an Ex camera mounted on an Ex pan/tilt unit, and offers volume and weight reduced by a factor of 10, elimination of the external cable linking the camera to the P/T unit, absence of any external movement, excellent tolerance to harsh environment, waterproof IP 68 – 5 bars, preset of zoom and focus (64 preset positions), and link to the control unit by a single umbilical cable.
Underwater chain testing
International Mooring Systems and ChainCo, divisions of The Craig Group, claim to have revolu-tionized chain testing. The Welaptega marine chain measurement system is a remote photogrammetric tool allowing operators of FPSOs and other permanently moored systems to conduct close-up visual inspections of chain sections while still in the water, the developers say. The Welaptega, through its ROV deployed tool, measures two aspects of chain dimensions for wear and tear.
GatorBack infill system
The Bayou Cos. have a new product developed by CCSI called the GatorBack Infill System. The new system is designed for quick cycle times. The GatorBack infill system uses a specially designed, removable mold and a special outer reinforcing wrap that becomes imbedded in the infill foam joint and will not peel off. The outer wrap is porous to allow quick saturation of the foam, and it does not shield the cathodic protection in the field joint area as with some existing infill systems. The foam is specifically designed for immersion service and does not contain chlorofluorocarbon or hydrochlorofluorocarbon blowing agents. The PSI-P450-80IS foam is formulated without any hydrocarbon solvent. The two-component system is mixed on a 1:1 ratio by volume and is readily pumped by standard plural component piston pumps.
Hydraulic torque wrench
The Pininfarina-XXI from Hytroc is a 360° tool and side-clearance equivalent to a socket that simplifies set up. The continuous rotation mechanism reduces tensioning time by up to 75% and bolt load becomes predictable, while ergonomics are enhanced to facilitate its use. The XXI is equipped with a Simultorc-switch.
Polymer for HP/HT water-based muds
Drilling Specialties Co., a wholly owned subsidiary of Chevron Phillips Chemical Co., has introduced synthetic polymer D-178 Plus for high-pressure, high-temperature (HP/HT) drilling, completion, and workover fluids. The D-178 Plus imparts stable HP/HT fluid loss control and viscosity to fluids that have exceeded the thermal stability limits of commonly used natural polymers such as polyanionic cellulose, carboxymethylcellulose, and starch. According to the company, test data demonstrates the utility of the polymer in muds formulated with seawater, sodium chloride brine, potassium chloride brine, and potassium formate brine. Depending on the system in which it is tested, the thermal stability limit of the D-178 polymer is 375-400° F. Field use allows polymers to be used with bottom hole temperature exceeding maximum laboratory temperature stability by 25-50° F.
MPI fittings save time in the field
Parker Instrumentation has expanded its rapid-assembly, compression tube fittings for pressures up to 15,000 psi. Half-in. sizes handle the high tensile, duplex, and super-duplex tubing for running down high pressure, deepwater wells. MPI tube fittings are based on the industry-standard compression assembly technique. This allows a fitting to be installed by tightening a nut, eliminating the coning and threading practices that are performed in the field when applying traditional medium-to-high pressure fittings. Using MPI fittings, instrumentation engineers working in deepwater exploration and production areas can assemble tubing systems in a fraction of the time previously required, according to Parker. They also avoid the need for specialized training in installing traditional high-pressure fittings, and the close attention to quality control procedures required during assembly.