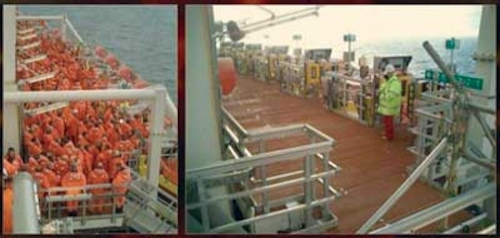 Gene Kliewer • Houston
EMAS AMC has completed installation of 38 km (23.6 mi) of umbilical for Shell in the Gulf of Mexico.
The 80 mm (≈ 3 in) electro-hydraulic umbilical connects Popeye field in Green Canyon block 116 to the Cougar platform in South Timablier block 300. Water depth at GC 116 is 616 m (2,021 ft) and 110 m (361 ft) at Cougar.
EMAS says this was the first project to use a new 150 metric ton flexible deployment system on theBOA Sub C. The system is designed to lay flexible piping and umbilicals in depths to 3,000 m (9,842 ft).
Fasttrack Visund on schedule
Statoil's first fasttrack project – Visund South – is moving as planned. The seabed template is undergoing installation at the field south of Gullfaks in the North Sea. The template was placed barged from Grenland Group's yard in Tønsberg last week.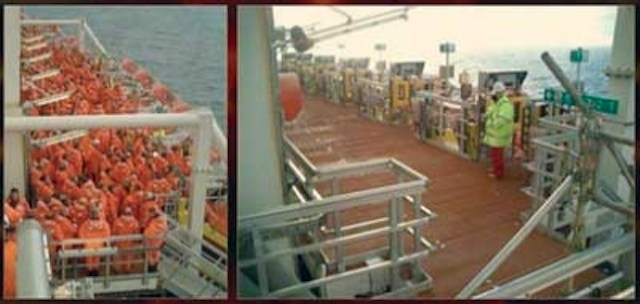 The Visund South seabed template at Grenland Group's yard in Tønsberg. (Photo: David Burke)
The template is the first to have been built from a standard catalogue for subsea equipment. This will form the basis for the continuing development and use of the standard catalogue in the fasttrack portfolio, says Statoil. Visund South is expected to come onstream in 2012.
"We've been working closely with the supplier industry to develop standard equipment for this part of our field development portfolio. This means that we can start to build equipment more quickly and develop smaller finds more efficiently," says Halfdan Knudsen, who heads up the fasttrack portfolio on the NCS.
It has taken less than a year to build the Visund South structure from the signing of the contract for subsea equipment with FMC.
"We submitted the plan for development and operation of Visund South in January. Four months later, we've built the first seabed template for the first fasttrack project. We've come a long way towards cutting the time from discovery to production in half," says Kjetel Digre, who is responsible for project implementation in Technology, Projects & Drilling.
The Visund South installation will be concurrent wtih that on the Marulk development, which Statoil is carrying out on behalf of operator Eni. This will mean increased efficiency and cost savings for both projects.
GE to supply HP/HT subsea production trees to Vietnam
GE Oil & Gas has contracted to supply high-pressure/high-temperature (HP/HT) equipment to Bien Dong Petroleum Operating Co., a subsidiary of the state-run Vietnam Oil and Gas Group (PetroVietnam), for the development of gas fields, offshore Vietnam.
Under the $30 million contract, GE will provide 16 sets of HP/HT surface wellheads and subsea production trees, along with associated equipment and services, to deploy in Phase I of the development in blocks 05.2 and 05.3 of the Hai Thach and Moc Tinh gas fields.
The high-tech equipment, with the capability to operate at 350 °F and 15,000 psi, is a first for Vietnam. The contract follows GE's recent agreement with Total Malaysia to supply ultra HP/HT equipment (450 °F and 15,000 psi).
Arctic subsea JIP in progress
An INTECSEA-lead joint industry project to address the delivery of strategically important subsea developments in remote and hostile environments – particularly in offshore arctic and cold-climate regions – is in progress.
The JIP partners foresee subsea processing requirements for both brownfield expansions and greenfield developments within the next decade.
Garry Mahoney, INTECSEA senior vice president business development and chief technology officer, advises the JIP aims to encourage the use of proven and evolving technologies from deepwater Gulf of Mexico, offshore Brazil, and northern North Sea to enhance production in arctic and subarctic waters, including offshore Eastern Canada.
Targeted benefits, says Ian Ball, INTECSEA project manager for the JIP, include improved feasibility in terms of initial cost and life-of-field investment.
One deliverable of the new JIP is a user-friendly, system-design database that consolidates objective and up-to-date component information, allowing operators to match their asset needs with the most appropriate conventional, enhanced and active subsea production technologies.
To address these and other frontier issues, the JIP will generate a database with an interface tool that allows operators and developers to screen and select from an array of active production technologies, including separation, boosting, compression, and direct electric heating systems, suitable for stranded and existing field developments.
The JIP is led out of INTECSEA's St. John's, Newfoundland and Labrador, Canada, office. INTECSEA personnel supporting the project include Ian Ball; Dr. Kalyana Janardhanan, group lead Subsea Active Production Technology; Richard Voight, executive engineer; Cody Moffitt, Subsea Discipline manager; and Julie Burke, Subsea engineer.
The JIP committee continues to consider additional participants. Interested parties should contact Ian Ball atian.ball@intecsea.com.
UofH opens subsea engineering certification program
The University of Houston has created a subsea engineering certificate program, the first of its kind in the United States, according to the school.
More than 24 students enrolled in the inaugural program course on flow assurance. Most students came to the program through either Cameron, FMC Technologies, or GE Oil & Gas, companies that have been advising the UH Cullen College of Engineering on development of the subsea engineering program.
"In addition to helping provide much-needed engineering talent for the state's petroleum industry and contributing to Texas' economic health, this program will be successful for another reason – it is the first post-graduate program of any kind in subsea engineering in the US," said Matthew Franchek, professor of mechanical engineering and director of subsea engineering.
The new program also dovetails into UH's petroleum engineering program, which recently established an undergraduate degree program in addition to its graduate curriculum.
For more information about the program, contact Janice Quiroz atjquiroz@uh.edu.
More Offshore Issue Articles
Offshore Articles Archives
View Oil and Gas Articles on PennEnergy.com