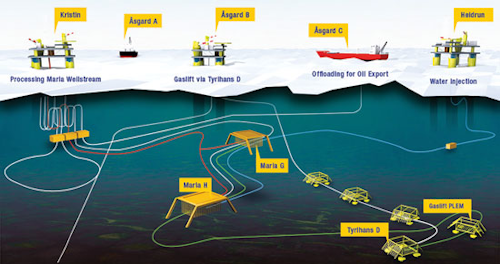 Jessica Tippee
Assistant Editor
Despite the market downturn, subsea tiebacks continue to provide one of the most economical means of developing deepwater fields. Douglas-Westwood's (DW) latest subsea hardware market forecast predicts expenditure of $94.3 billion between 2016 and 2020. This represents a 19% decline on the preceding five-year period. While reduced installation activity is expected in the short-term due to limited project sanctioning and falling subsea order backlogs, the analyst says the long-term fundamentals of the subsea hardware industry are strong, as they continue to benefit from continued increase in hydrocarbon demand, declining onshore and shallow water reserves, and technological improvements.
Research director and editor Steve Robertson said: "Despite the negativity caused by the prolonged low oil price, subsea hardware remain a critical option for future developments, as new reserves are discovered in remote and deepwater basins."
Despite concerns over deepwater project economics, subsea expenditure continues to trend toward deeper water, which accounts for 48% of total expenditure over the forecast period - an 8% increase compared with the previous forecast period.
From a supply-chain perspective, this point in the cycle is an opportunity to bring through new approaches and technology for deepwater developments to improve efficiency and lower cost. In the long run, DW said it remains of the view thatdeepwater will be a cost competitive source of world-class hydrocarbon reserves.
Sean Salter, vice president of Technology at Woodside, said: "The oil and gas industry needs to re-assess standalone host developments due to higher costs and look more closely at tieback opportunities. Subsea processing technologies enable long-distance tieback opportunities for remote and marginal fields. Cost reduction through simplification and standardization is key to ensuring application of these technologies."
As the industry ventures into deeper waters and harsher climates, the number of long-distance subsea tiebacks is expected to increase.
Deepwater Gulf of Mexico
Many operators are capitalizing on the low price environment by focusing on capital efficientsubsea tieback opportunities by leveraging existing infrastructure, especially in the Gulf of Mexico.
In April 2016, ExxonMobil started oil production from the Julia field in the ultra-deepwater Gulf of Mexico. Sanctioned in May 2013 with partner Statoil, the initial development phase encompasses a 15-mi (25-km) subsea tieback to the Chevron-operated Jack and St. Malo floating production platform. The $4-billion development includes six subsea wells, one six-slot manifold, two umbilicals, six jumpers, two flowlines with two steel catenary risers, two subsea pump modules, and topsides support equipment. According to ExxonMobil, the development includes the use of subsea pumps that have one of the deepest applications and highest design pressures in the industry to date.
Discovered in 2007, Julia is 265 mi (426 km) southwest of New Orleans in the Walker Ridge area in water depths of approximately 7,000 ft (2,134 m). The field's lifespan is estimated at up to 40 years, with an initial production rate of up to 34,000 b/d.
Late last year Noble Energy started up the Rio Grande development, which consists of the Big Bend and Dantzler fields. These are tied-back to SBM Offshore's Thunder Hawk DeepDraft semisubmersible located in 6,060 ft (1,847 m) of water. Big Bend is 18 mi (29 km) from the production platform in 7,200 ft (2,195 m) of water in Mississippi Canyon block 698, while Dantzler is 7 mi (11 km) away from the platform in 6,580 ft (2,006 m) of water in Mississippi Canyon block 782. By leveraging existing infrastructure, the operator was able to bring Big Bend and Dantzler onstream three years and two years from discovery, respectively. Gary W. Willingham, Noble Energy's executive vice president of operations, said: "Short cycle times to first production, strong well deliverability, and low production costs from our Gulf of Mexico projects deliver attractive returns even in today's environment."
In July, Noble Energy's Gunflint oil field entered production. Discovered in 2008 and sanctioned in 2013, Gunflint is a two-well, 23-mi (37-km) subsea tieback to the Gulfstar One FPS. Water depths range from 4,100-6,100 ft (1,250-1,859 ft). The spar-based FPS is moored 135 mi (217 km) southeast of New Orleans, in about 4,000 ft (1,219 m) of water. It has a capacity for 60,000 b/d of oil and 135 MMcf/d of gas.
Anadarko has identified 30 tieback opportunities in the Gulf including moving forward with Phase II of the Caesar/Tonga deepwater field development. Phase II is being developed as a subsea tieback to the Anadarko-operated Constitution spar in Green Canyon blocks 726 and 727. The new development is in about 5,000 ft (1,524 m) of water. First oil is anticipated by the end of 2017.
Recent project sanctions
While many deepwater projects have been delayed or canceled due to the low oil price, some major projects have received the greenlight by opting for subsea tiebacks.
Offshore Western Australia, Woodside Energy and Mitsui E&P Australia recently sanctioned the $1.9-billion Greater Enfield development. The project is targeting 69 MMboe from the Laverda Canyon, Norton over Laverda, and Cimatti oil accumulations, 37 mi (60 km) offshore Exmouth.
The Laverda area oil accumulations lie in a water depth of about 2,625 ft (800 m) and the Cimatti oil accumulation lies in a water depth of about 1,805 ft (550 m). All will be produced via a 19-mi (31-km) subsea tieback to the FPSO Ngujima-Yin serving the Vincent oil field. First oil is targeted for mid-2019.
Woodside CEO Peter Coleman said breakthroughs in technology and contracting collectively allowed the program to go forward. "We have achieved investment spend at the low end of our guidance range…," he added. "This allows us to accelerate the development of previously stranded resources."
Greater Enfield calls for six subsea production wells and six water injection wells. Production will be supported by subsea multi-phase booster pumps in the Laverda area and gas lift in the Cimatti area.
The operator has commissioned Aibel Pte Ltd. to perform modifications to the FPSONgujima-Yin's topsides, hull, and turret, along with installation of a new custom water flood module.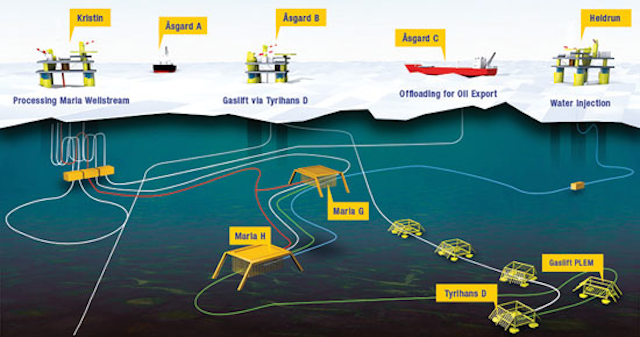 Maria is Wintershall's first operated development in Norway. (Image courtesy Wintershall)
Offshore Egypt, BP and partner DEA (Deutsche Erdoel AG) are developing the Giza/Fayoum, and Raven gas fields as deepwater long-distance tiebacks to shore. Giza/Fayoum will be tied-back to modified onshore Rosetta facilities and integrated with a new onshore plant for Raven. The subsea scheme is the second phase of the $12-billion West Nile Delta project, where field development will be in water depths of up to 2,625 ft (800 m). Subsea 7 has secured the EPCI contract for the infrastructure associated with 12 wells and includes 49.7 mi (80 km) of umbilicals, 137 mi (220 km) of pipelines, and installation of the export lines from the subsea location to the onshore Idku terminal. Offshore installation will be in two stages, starting in 2017 with the landfall and shallow-water pipelay. Stage 2, beginning in 2018, will involve installation of deepwater pipelines and execution of the SURF scope.
The partners have contracted OneSubsea to supply the subsea production systems including largebore subsea trees, manifold systems incorporating high-integrity pressure protection systems for the high-pressure Raven field, connection systems, and controls systems, along with project engineering, management, and testing. Production is expected to start in 2019.
In September 2015, Wintershall received approval by the Ministry of Petroleum and Energy for the plan for development and operation for the Maria development offshore Norway.
The Maria reservoir will be linked via a subsea tieback to the Kristin, Heidrun, and Åsgard B production platforms. The Maria well stream will go to the Kristin platform for processing while water supply for injection into the reservoir will come from the Heidrun platform, and lift gas will be provided from Åsgard B via the Tyrihans D field subsea template. Processed oil will be shipped to the Åsgard field for storage and offloading to shuttle tankers. Gas will be exported via the Åsgard Transport System to Kårstø.
Investments are estimated at $1.8 billion, including development drilling. Recoverable reserves on the field are estimated at 180 MMboe, the majority of which is oil. Startup is scheduled for end-2018, with the field likely to remain in production for 23 years.
The Maria field is located about 12 mi (20 km) east of the Kristin field and about 28 mi (45 km) south of the Heidrun field in the Halten Terrace in the Norwegian Sea.