Flexible engineering approach critical for subsea structure removal
Decommissioning is an emerging sector with opportunities continuing to accelerate, particularly in the North Sea.
Aug 11th, 2016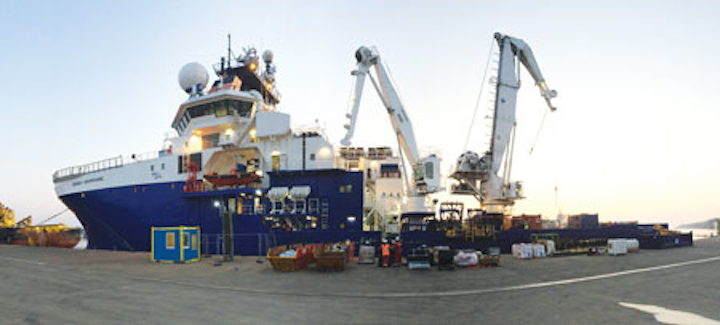 Marine growth, contamination can complicate cutting 
Alan Edwards
Bibby Offshore
Decommissioning is an emerging sector with opportunities continuing to accelerate, particularly in the North Sea.
Bibby Offshore, which has a 10-year decommissioning track record, was the first subsea vessel contractor to join the UK association Decom North Sea. Since 2009 the company has been engaged in at least one decommissioning project annually, with programs last year for Endeavour at the Renee/Rubie fields in the UK central North Sea and for Tullow at the Thames complex in the UK's southern gas basin. The company recovered material that included over 23 km (14.3 mi) of flexibles, over 17 km (10.6 mi) of umbilical, 14 km (8.7 mi) of flowline, 40-plus subsea structures, and over 1,100 concrete mats.
Decommissioning brings different challenges to traditional IRM or subsea construction, such as the need to land and secure large, complex-shaped, marine growth-covered subsea architecture - which may be contaminated with NORM (naturally occurring radioactive materials) and hydrocarbons - on the back deck of a moving vessel offshore. The sequencing of multiple lifts needs to be engineered to maximize the vessel's deck loading capacity, with the flexibility to allow for alternative sequences due to the impact of adverse weather on different lifts, or because of field access restrictions.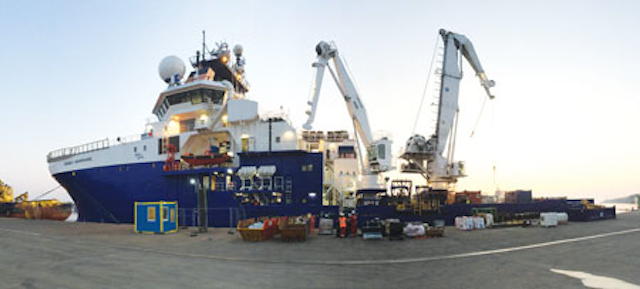 Bibby Sapphire in port during mobilization. (All photos courtesy Bibby Offshore)
Lift planning and associated rigging must take into account the difficulties associated with landing multiple items on a moving deck, yet at the same time allow for the unexpected. Items can frequently exceed their original lift weights because of excessive marine growth coverage, modification during their subsea lifespan, or excessive grouting and adhesion to the seabed. It is important, therefore, to assess the integrity of long submerged lifting points and, if necessary, devise alternative lifting solutions.
Bibby has had to cut large manifolds in half while they are still subsea to reduce the structures' weight in order to comply with crane capacity limits, and to accommodate the vessel's deck space restrictions. However, good planning can lead to an effective deck layout that maximizes use of space, thereby reducing the number of port calls required and the associated costs.
Another imperative is to be ready at all times for unplanned spills and the release of residual hydrocarbons which, if handled poorly, could have significant environmental impact. Bibby has equipped its vessels with bunding for containment along with spill kits and the means of cleaning and processing of the leaked residuals. In order to safely deal with any NORM contamination, the company has trained some of its vessel-based personnel as Radiation Protection Advisers (RPA), while its vessels are equipped with gas sensors and emergency breathing apparatus for crew members in case a gas release occurs, for instance, from flexible flowlines during recovery.
In addition, the company has relations and regular dialogue with supply chain partners and subcontractors to ensure the best equipment, techniques and solutions are available for whatever situations may arise.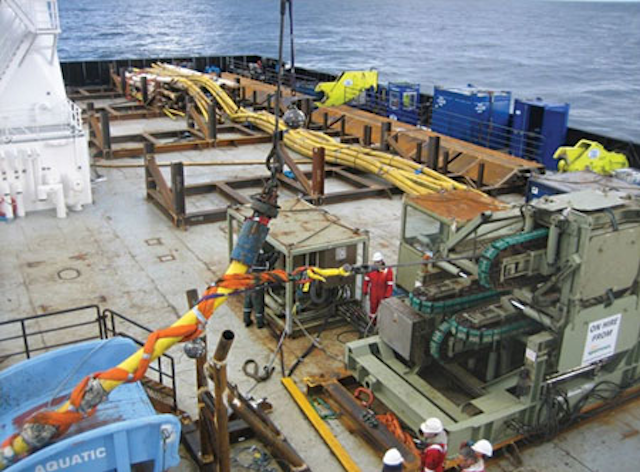 Flowline and umbilical recovery to back deck of vessel.
Shallow-draft disconnection
For one project last year, a prime requirement was the timely release of the FPSO from the oil field location. The program called for sinking and recovery of two mid-water arches; disconnection of nine risers and two umbilicals from beneath the FPSO turret; and cutting of nine mooring chains.
The only means of disconnection was to cut through the risers, umbilicals and mooring lines. However, the FPSO's draft had to remain shallow with the severed risers not exceeding a length of 2.8 m (9.2 ft) below the hull so that the vessel could transit to a berth on the River Tees in northeast England. The operation involved not only working directly beneath the vessel's hull at a very shallow depth in a highly congested area, but also cutting through numerous bend restrictor connectors in addition to the risers.
By working closely with service providers the company was able to deliver a tooling solution for cutting holes in and sinking the mid-water arches, and a diamond wire cutter, installed above and forward of one of the ROVs so that the cuts could be made at the shallowest possible level.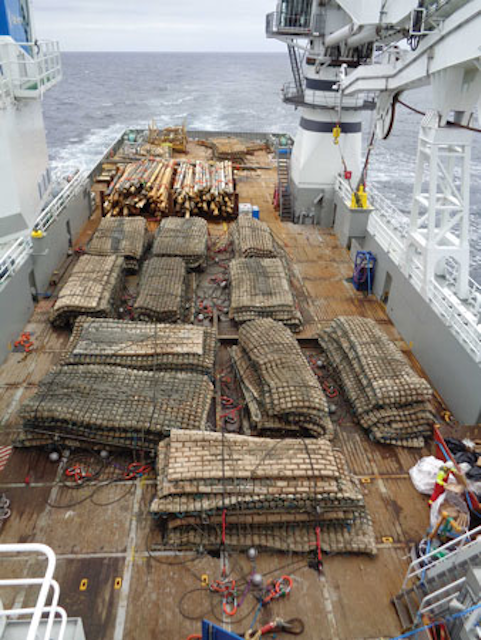 Bibby Sapphire.">
Mattresses on back deck ofBibby Sapphire.
So large and heavy was the cutter assembly that, had it been directly attached to the work-class ROV frame, the weight and position of the unit would have had a major impact on the ROV and the tether management system's center of gravity in air and on the associated wave loading. This would have rendered deployment and recovery impossible.
The solution was a specially designed interface frame that allowed the unit to be deployed independently by the vessel's crane. The ROV then docked with the cutter frame while subsea with a second work class ROV detaching the rigging. The system proved to be effective and all risers and umbilicals were severed within 2 m (6.6 ft) or less of the FPSO hull.
Although decommissioning is a growth market, there is also a need on all sides to contain costs. One approach may be greater collaboration with suppliers and clients to better integrate services and batch works for multiple campaigns involving, for instance, well abandonment - particularly for activity that does not require the services of a drilling rig. Reducing the level of interactions with different companies when completing a project would also save time.
Bibby has devised a vessel share arrangement under which clients can agree to a single linked campaign workscope that addresses each of their demands. Intoduced in February, Unlocking Subsea Productivity is designed to reduce costs associated with vessel mobilization periods and non-productive time, leading to an increase in overall work time. During decommissioning operations, if multiple operators have dive support vessel preparation work to carry out, these small scopes of work could be completed in a linked campaign.