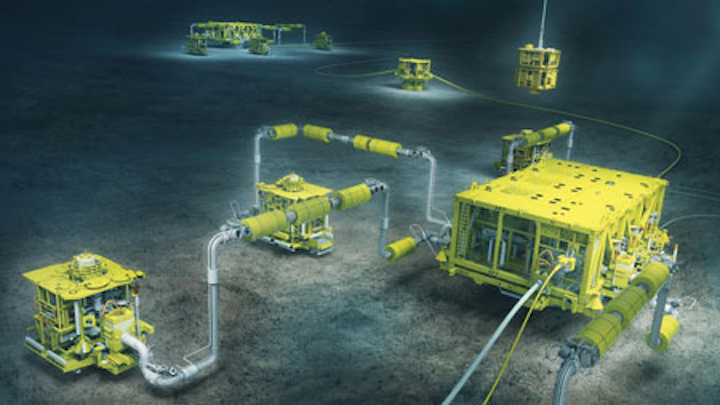 Sarah Parker Musarra • Houston
New subsea collaborations eye cost-efficient technology
This February, two major subsea collaborations were announced within days of each other, with the participating companies focusing on the development of subsea technology to lower costs in the current market.
Aker Solutions and Total signed a four-year technical collaboration agreement. A long-term master service agreement for new subsea projects between GE Oil & Gas and Statoil followed days thereafter.
According to Aker, its partnership with the French operator will focus on the further evolution of subsea processing and compression systems to boost cost-efficiency of deepwater gas production; development of electric subsea controls; and optimization of flow-measurement technologies. Further scope of the collaboration will be defined over the next months.
GE said its new agreement with Statoil, which forms the basis for potential new contracts for subsea equipment and services on new projects and field developments, will allow it to continue to support the operation's value creation in a low oil price environment. The contract is valid globally until 2025.
Both agreements are based on extended collaborations between the respective partners. GE Oil & Gas recently delivered subsea production system equipment for Statoil's Snøhvit gas field, and the two are working closely together in their Power Collaboration initiative, which aims to accelerate the development of sustainable cost-efficient energy solutions.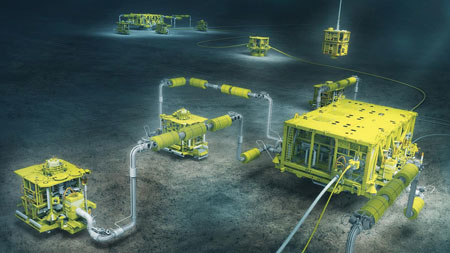 In March 2013, Total signed an $850-million letter of award with Aker Solutions for the Moho Nord project's subsea production system. (Image courtesy Aker Solutions)
Aker Solutions and Statoil have worked together on the Kaombo and Dalia developments offshore Angola and Moho Nord offshore Congo-Brazzaville. In addition, they have collaborated on subsea boosting solutions and subsea plant for deepwater application as part of Total's deep offshore research and development program.
Statoil continued to display its heavy focus on subsea investment, awarding a couple of other related contracts throughout the month.
Statoil also awarded Forsys Subsea, the joint venture between FMC Technologies and Technip, a subsea front-end engineering and design (FEED) study related to the subsea tieback of the Trestakk field in the Norwegian Sea to theÅsgard A FPSO. The scope of the contract covers all systems and related services from the wellhead to the Åsgard A riser hang-off, including umbilicals, riser, flowlines, and subsea production system, installed and made ready for operation.
A key focus will be on formulating an optimal technical and cost-efficient development solution, Forsys says, and providing a clear and well-defined basis for the development phase. It will execute the work from its regional office in Oslo, in cooperation with Technip and FMC Technologies in Norway.
Statoil also exercised a call-off under its original marine operations contract with Technip on Åsgard, contracting the company for intervention services on the project's subsea compression stations. The new contract extends use of the dedicated vessel to other IMR and construction work, for Asgard and other licenses held by Statoil offshore Norway.
Technip's center in Stavanger managed the program, which started in 2015 following completion of the initial installation of the subsea compression modules, and continues to mid-2018. TheNorth Sea Giant, which will handle the offshore work, will feature a purpose-built handling system for installation and recovery of heavy subsea compression modules (up to 400 tons) in adverse sea states (wave height: Hs 4.5 m/14.7 ft).
Analyst comments on Forsys Subsea
Evercore ISI's Oilfield Services, Equipment & Drilling group recently expressed some positive news for the subsea sector in a recent note on FMC Technologies and Forsys Subsea.
Senior Managing Director & Partner James West said the market "is underestimating the significant improvement in subsea opportunity as increasing amounts of equipment are moving to the seabed." He also noted that subsea orders should increase as the industry moves past 2016.
"[T]he Forsys Subsea alliance and JV is a game-changer for the deepwater development industry," he said.
He also had encouraging news following Forsys Subsea's most recent contract news, saying that the Trestakk FEED award demonstrates the attractiveness of the Forsys Subsea model to a variety of customers.
"Thanks to early engagement with the customer, Forsys was able to identify opportunities to simplify the project's field architecture and potentially incorporate some new integrated technology in the development scheme. The company will take over the planning, scheduling, and deliverables/installation with the aim of improving overall project economics," West continued.
He said, although difficult to predict, efforts by FMC Technologies and Forsys Subsea appeared to be helping to reduce the offshore development cost curve.
Rolls-Royce to deliver mooring system
Rolls-Royce has signed a £8 million ($11 million) contract to supply the mooring system for semisubmersible crane vessel,Sleipnir. The vessel will be built in Singapore by Sembcorp Marine for the Dutch company Heerema Offshore Services.
ForSleipnir, Rolls-Royce will deliver an equipment package for its specific operations, comprising a 12-point mooring system including electric driven winches, fairleads, wire sheaves, and also a control system.
Red Marine conducts high-pressure tests
Red Marine has completed qualification testing of a new vent valve for FMC Technologies. The valve, employed during workover operations, allows swift redistribution of high-pressure oil and gas within the landing string system for emergency riser disconnection. Red Marine's 12-week test program was designed to validate the performance of the vent valve against industry standards including ISO 10423 (API 6A). It included design and supply of the test assembly and its multi-pressure hydraulic control system.