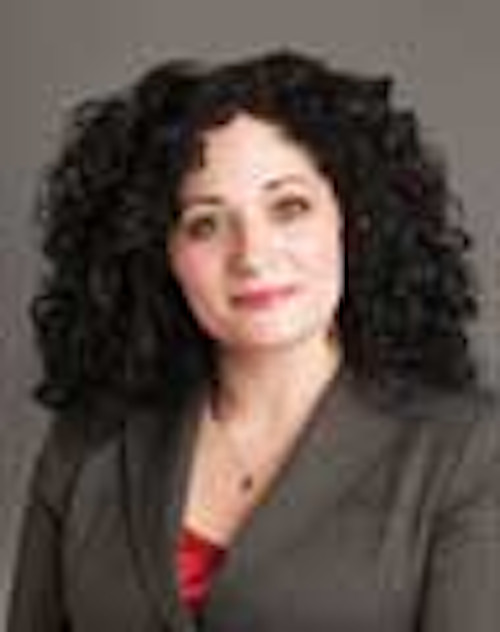 | | | |
| --- | --- | --- |
| | | Sarah Parker Musarra • Houston |
New partnerships, innovations at SSTB 2016
Talk of the recent $40/bbl oil was heard all around the exhibition floor at PennWell's Subsea Tieback (SSTB) Forum & Exhibition, held in San Antonio, Texas' Henry B. Gonzalez Convention Center March 22-24. The vibe in the exhibition hall, combined with the new technologies on display, made it seem like the industry - or at least thesubsea sector - was perhaps at least beginning to see a light at the end of the tunnel.
There were a number of new technologies, and news items, coming from the exhibition floor. DOF Subsea, SSTB's Silver Sponsor - Wednesday Networking Reception launched SeaState, a new subscription-based modular platform which integrates client data with data from the company's Ocean Observation Program, thereby enabling users to plan and monitor offshore operations in the most efficient way possible. Available data includes real time DOF Subsea glider observations, surface drifting buoy positions, 36-hour surface current forecasts, public domain ocean data, oil and gas field data, and user data (if desired). SeaState works on mobile and tablet devices as well as desktops, DOF Subsea technical experts explained. Custom alerts can be set up on mobile devices when, for example, a client's vessel arrives to the field; download the latest dataset from DOF Subsea's glider monitoring eddies approaching a field; and relay information to the project team on the vessel.
At the EMAS AMC booth, prior to the April 1 finalization of its EMAS CHIYODA Subsea joint venture, EMAS AMC COO Daniel Sack offered details on the partnership toOffshore.
Chiyoda Corp. and Ezra Group announced plans in August 2015 to enter as equal partners into a joint venture involving Ezra's subsea construction division EMAS AMC to expand each other's services.
Sack said that as one of the world's leading engineering, procurement, and construction (EPC) companies, Chiyoda Corp. had been considering entering the subsea construction market before proceeding with EMAS AMC. He explained that the five-year-old subsea division of Ezra Holdings Ltd. has managed to prove itself as a tier one subsea construction contractor in a relatively short period of time through successful jobs like the company recently completed projects for Noble Energy in the Gulf of Mexico, on which the operator presented at theSubsea Tieback Forum.
The Noble jobs were completed on time and on budget with the DP-3 ice-classed, ultra-deepwater multi-lay construction vesselLewek Constellation, with EMAS claiming several world records as a result, including the deployment of the heaviest reeled pipe-in-pipe system ever deployed in the world.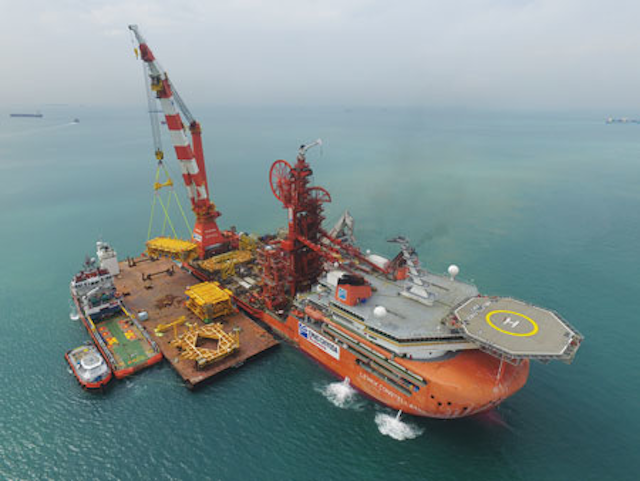 Lewek Constellation, shown loading manifolds for Woodside's Julimar project. The multi-lay construction vessel was outfitted with an updated logo to reflect the newly finalized EMAS CHIYODA Subsea joint venture (Image courtesy EMAS CHIYODA Subsea).">
Lewek Constellation, shown loading manifolds for Woodside's Julimar project. The multi-lay construction vessel was outfitted with an updated logo to reflect the newly finalized EMAS CHIYODA Subsea joint venture (Image courtesy EMAS CHIYODA Subsea).
He said that EMAS was one of the few companies that could offer rigid pipelay, mooring, and flexible/umbilical work in deepwater areas, with the latter component being a factor that especially attracted Chiyoda to EMAS.
Sack said that the EMAS CHIYODA Subsea JV will allow the company to benefit from Chiyoda's strong EPC background while simultaneously allowing Chiyoda to benefit from its subsea construction expertise. It will also allow EMAS to form a stronger presence in regions that Chiyoda, as one of the world's largest LNG players, maintains a strong presence, such as offshore Australia and East Africa.
In addition, he said that the financial backing will allow the company to participate in major projects as a tier one subsea construction and EPC provider. One of the joint venture's initial areas of focus will be FLNG technology, leveraging the respective strengths of both companies.
Currently, EMAS AMC is working offshore Australia on the Julimar project for operator Woodside, comprising the Julimar and Brunello fields. The Australian explorer said the two developments will connect to the Wheatstone platform and supply gas to its onshore plant. The Julimar project remains on target to achieve first production in 2H 2016.
Platinum Sponsor and SUT Workshop Sponsor Aker Solutions booth discussed with Offshore the company's 22-in. vertical connection system (VCS). The company worked with multiple operators and installers when it qualified the product in-house, an Aker Solutions official said.
The company said that industry demands associated with accessing fields in deeper waters; higher operating temperatures and pressures; have created challenges. These new connectors, which come in both horizontal and vertical systems, were designed to be lighter, easier to install, and aim to be more cost-effective, according to Aker Solutions.
The VCS was designed with large-scale gas and gas condensate plays in mind, as they drive up the size of the pipelines. Larger developments drive up the size of pipelines, and in turn, connectors and other associated products. The company said that key regions include East Africa or Asia/Pacific, but it was capable in operating in other areas.
SSTB 2016 was hosted by Ecopetrol America. FMC Technologies was the Diamond Sponsor and Aker Solutions was the Platinum Sponsor and SUT Workshop Sponsor.
OneSubsea boosting system commissioned
One of the major pieces of recent news in the subsea sector was the commissioning and startup of subsea boosting systems from Schlumberger's OneSubsea in the ultra-deepwater Gulf of Mexico.
Installed in about 7,000 ft (2,100 m) of water, the subsea boosting systems consist of three retrievable 3.0 MW single-phase pump modules, which are landed in their pump stations, along with the subsea controls and power distribution system. Located topsides are the associated pump control and instrumentation equipment with the variable speed drive and step-up transformer delivering power to the subsea equipment.
According to OneSubsea, the customer has stated that by reducing the back-pressure on the reservoir, the boosting pumps have the potential to improve the recovery factor by 10% to 30%. This translates to between 50 and 150 MMbbl of additional oil recovery.