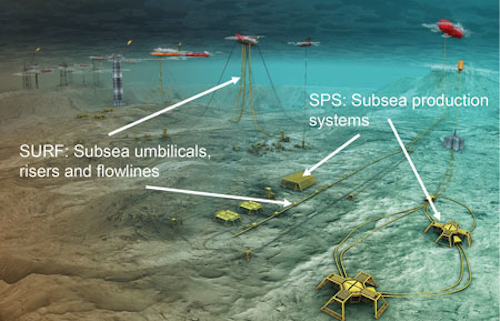 Jeremy Beckman
Editor, Europe
Subsea contractors are teaming up to help operators lift the current brake on deepwater activity. Over the last year, the list of those forming complementary alliances to tender for new contracts include OneSubsea and Subsea 7; GE and McDermott; Aker and Saipem; and Technip/FMC Technologies, under the Forsys Subsea joint venture. All share the same ultimate goal of cutting costs in order to move more projects forward.
Forsys Subsea, officially launched last June, combines FMC's strengths in subsea production and processing systems (SPS) with Technip's capabilities in engineering and installation of subsea umbilicals, riser, and flowline systems (SURF). The duo's stated aims are to simplify seabed architecture, reduce the complexity of conventional subsea equipment interfaces, accelerate time to first oil or gas, and maximize well performance and sustainable peak production.
All this can be achieved, they claim, through various measures that include earlier involvement in the concept selection phase of front-end engineering and design (FEED), where the ability to influence cost is greatest; integrated life-of-field (LOF) well surveillance, monitoring, and data interpretation; and joint research and development into technological innovations that help decrease costs and improve efficiency.
According to Forsys' CEO Rasmus Sunde, speaking at a recent briefing in London, "Our alliance aims to improve returns by re-shaping the way subsea fields are set up and monitored for life. Every operator has stranded assets, for economic reasons."
Historically, Sunde said, the two companies have worked independently for clients, each doing its own front-end work. "Now we are looking at how we can drive interfaces and optimize the design of the SURF and the SPS…and integrate the two more efficiently than has been done in the past. Why has this not been done before? There is no crisp answer, but the time is clearly now. It's a value proposition, all about cost.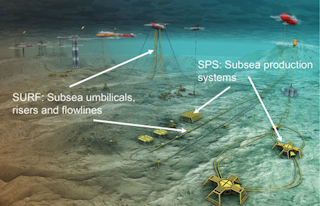 The alliance looks to provide comprehensive subsea production solutions. (Image courtesy Forsys Subsea)
"The costs of subsea hardware have tripled since 1981, and so have the delivery times. This was an issue when the oil price was $100/bbl, and now the situation is clearly not sustainable for developing deepwater projects." Numerous factors have conspired to push up prices, he suggested, such as reservoir complexity; the need to produce from deeper, high-pressure/high-temperature reservoirs; not enough emphasis on standardization, with each supplier mandated to produce tailor-made equipment; and inefficiency. "The supply industry has a history of many projects that end up being not delivered to requirements," he said.
Technip and FMC decided they could address these issues better together than individually, he added. Prior to formalizing the alliance, they had examined the potential of various projects they had executed independently, analyzing alternative actions they might have taken "to get a better slice of the pie."
"Both companies share the same values," Sunde pointed out, "with hardly any conflict of interest, and no cultural clash. There are over 300 people now working for Forsys Subsea, half from Technip and half from FMC. Our headquarters are in London, and we also have seven operating sites - but our specialists in FEED and LOF can cover all customers worldwide that potentially have stranded assets, and which need to do something new to move them forward."
The recent subsea collaborations do not mean that the entire offshore industry will suddenly embrace the EPCI approach, Sunde cautioned. "Technip and FMC will continue do the same things as before, but increasingly Forsys will take on the front-end work, particularly to promote the two parents' technologies." This process, he later explained, could involve integration in certain contexts of the duo's "game-changing" technologies, such as subsea processing and heated flowlines. Clients too are keen on joint development of technologies, he said, as this helps them achieve cost synergies.
The alliance's modus operandum involves Forsys taking the lead from day one of a contract award for a new development, for field design, delivery, and LOF planning. Following start-up Forsys comes in again, devising further LOF measures for flow assurance, production enhancement, asset integrity, and predictive monitoring - all of which Technip and FMC will eventually execute.
Historically, managing the SPS-SURF interface has been one of the offshore operator's greatest challenges, Sunde said, "with both parties [the respective subsea contractors] set up to optimize their own scope, as opposed to optimizing the project." Under the new model, Technip and FMC alliance would act as one company taking on the interface risks between the two sets of subsea equipment during installation (traditionally the client's scope). This should lead to better managed subsea equipment installations, he suggested, lessening the likelihood of problems arising such as late delivery of a manifold, or damage during offshore installation.