Novel subsea configuration set to free stranded gas offshore west of Shetland
Located 140 km (86 mi) northwest of the Shetland Islands, the Laggan-Tormore development on the UK Atlantic Frontier has suffered several delays, pushing its start-up date back almost a year-and-a-half from operator Total E&P UK Ltd.'s original estimation.
Feb 5th, 2016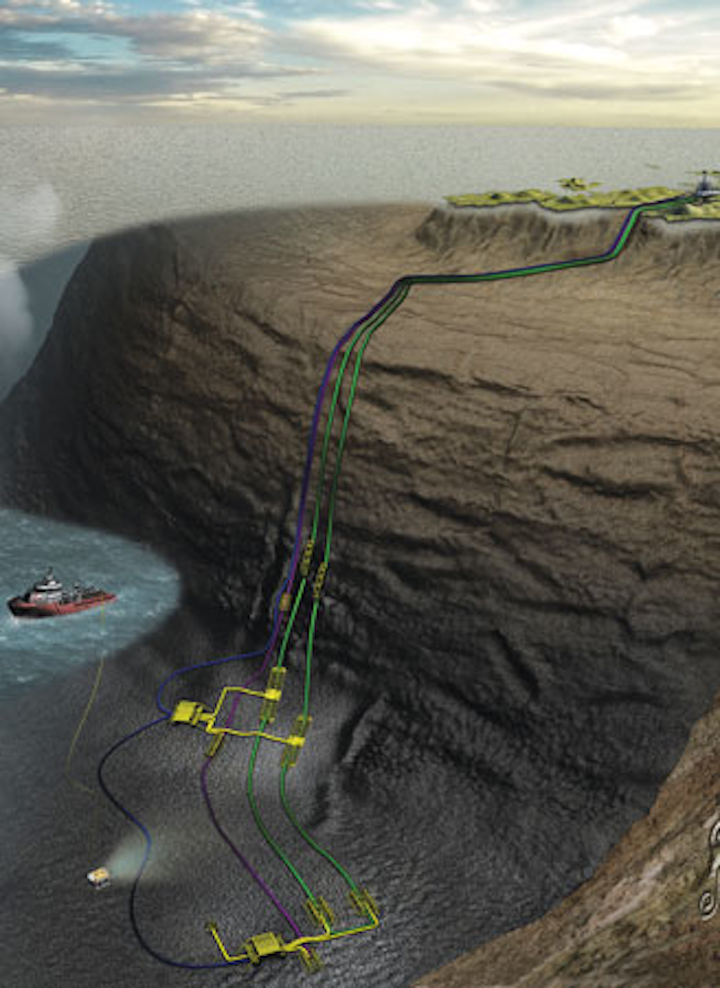 Sarah Parker Musarra
Editor
Located 140 km (86 mi) northwest of the Shetland Islands, the Laggan-Tormore development on the UK Atlantic Frontier has suffered several delays, pushing its start-up date back almost a year-and-a-half from operator Total E&P UK Ltd.'s original estimation. Originally, Total set first production for 2014, but after the project missed two more start-up dates in 2015, according to the UK Department of Energy and Climate Change (DECC), first production for Laggan-Tormore has once again been pushed back to 1Q 2016.
However, the project has changed a great deal since the first bit was sunk in Laggan's reservoirs about 30 years ago. Only through relatively new technology and techniques, including a long-distance subsea tieback, could Total enable its commercial viability.
Sanctioned in March 2010 by DECC, the Laggan-Tormore project represented Total's largest on the UK continental shelf.
The overall subsea development consists of a long-distance tieback, in water depths averaging 600 m (2,100 ft), connecting the two fields' wells to the new Shetland gas processing terminal. Both Laggan and Tormore have identical six-slot manifolds. The infrastructure is comprised of two parallel 18-in., 141-km flowlines, that will transfer gas from the subsea production system to the Shetland gas plant in Sullom Voe at a peak capacity of 665 MMcf/d. The project facilities also called for 8-in. monoethylene glycol (MEG) and 2-in. service pipelines and control umbilicals.
From the gas terminal, the processed gas will be exported through a new 30-in., 225-km export pipeline to the UK Frigg pipeline system in the North Sea.
A joint venture between Ode and Doris carried out basic engineering for subsea production facilities, flowlines, umbilicals, the onshore gas treatment plant and export pipeline. Corus, contracted by Total in March 2010 constructed the pipelines.
Corus said when it was awarded the contract that it would produce more than 150,000 metric tons of pipeline. In turn, it took Allseas two years and three of its vessels to install: Solitaire, Audacia, and Calamity Jane. Offshore pipelay commenced in 1Q 2011 when Allseas began to install the parallel 18-in. lines. The 30-in. export pipeline and the umbilical followed in 2012.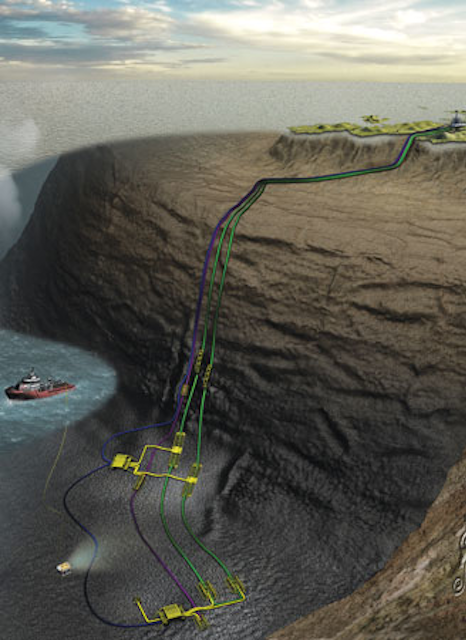 A schematic rendering of the Laggan-Tormore subsea development showing the sharp drop in water depth, from 120 m to 600 m. (Image courtesy Total E&P UK)
Subsea 7 was contracted for SURF work, tasked with engineering, fabricating, and installing the piggy-backed service pipelines; control umbilicals, tie-ins and other subsea structures. The fields are powered and controlled from the Shetland Gas Plant through a main 127-km umbilical to Laggan as well as an infield umbilical between Laggan and Tormore. The main umbilical had to be laid in one piece, as the working water depth was too deep for divers to access.
Even the cage used to lower a work-class ROV to the starting location was susceptible to the strong current. In order to keep the currents from forcing the system off-station, Total worked with Oceaneering to qualify a new method of lowering the ROV cage using the ROV's stationkeeping thrusters to overcome drift.
FMC Technologies supplied the subsea production system, including the manufacturing of two six-slot manifolds; nine subsea trees, eight wellheads, 12 multiphase meters, 10 subsea control modules and the associated control systems. All subsea equipment was installed and commissioned using only ROVs. Since the extreme weather conditions might render inspection, maintenance, and repair operations impossible for about six months in a year, a condition performance monitoring system (CPMS) was specifically developed for Laggan-Tormore. Through the CPMS, onshore operators at the Shetland Gas Plant are able to monitor the system's performance and possibly identify issues before they occur. Total said that it was the first time the technology was deployed subsea on a production system.
As the Laggan-Tormore infrastructure is intended to contribute to the exportation of the so-called stranded gas of west of Shetland, the facilities are designed to accommodate gas from third parties wishing to access the system for transportation and/or processing.
Due to its extremely harsh conditions and marginal field reserves, Laggan was not deemed commercial when first discovered first by Shell in 1986. Water temperatures at the wellhead barely inch over freezing at 1°C; heavy swells are experienced six months a year; and subsea currents race up the UK continental shelf.
Total acquired the license for the Laggan field in 1995's 16th North Sea Licensing Round, and in 1996, drilled well 206/1-3, about 4 km (2 mi) southwest of the initial well. Laggan did not think the find merited a commercial case at that time.
In 2004, under the 22nd Licensing Round, Total secured the additional acreage that would lead to the Tormore discovery in 2007. Located about 16 km away from Laggan, Tormore was discovered by exploration well 205/5a-1.
Only with this second discovery did Total decide to move forward in commercializing the Laggan-Tormore development to establish a new production hub in the area. The French operator estimated reserves at more than 1 tcf.
At the time of this writing, DECC lists first production as occurring 1Q 2016. Total reportedly started flaring at the end of December 2015.