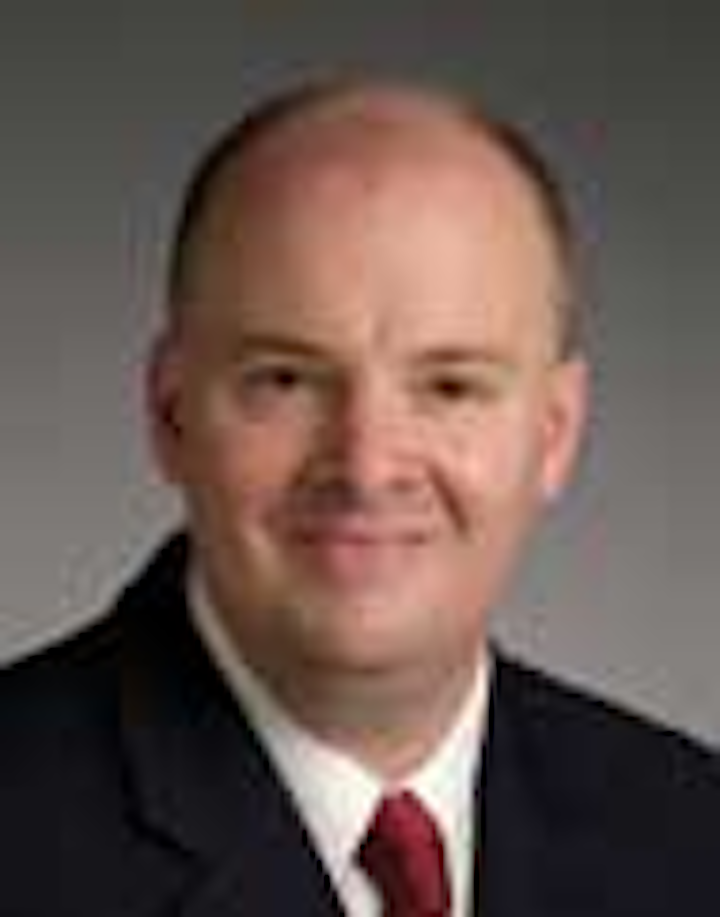 | | | |
| --- | --- | --- |
| | | Bruce Beaubouef • Houston |
New JIP focuses on subsea processing standardization
A DNV GL-led joint industry project (JIP) to standardize subsea processing systems is under way with industry partners Petrobras, Shell, Statoil, and Woodside.
Subsea development projects have been under substantial pressure due to cost inflation and the low oil price, prompting a need to simplify the industry's approach, DNV GL said. The JIP is seeking additional collaborators for the project to drive standardization, beginning with subsea pumping, to ensure benefits throughout the subsea supply chain.
The JIP, "Subsea Processing-Standardization of Subsea Pumping," seeks to deepen industry knowledge and encourage progress in subsea pumping developments by examining the potential for standardization in subsea processing, beginning with subsea pumping.
DNV GL says that standardization still allows for flexibility to custom-make facilities at a system level through standard functional descriptions and specifications. However, it also increases predictability in the value chain, thus lowering transaction costs and improving the speed of implementation, while still allowing freedom to innovate and to employ new technology.
Graham Henley, vice president Projects - Upstream Operated and JV, Shell Projects & Technology said: "Subsea boosting systems provide the ability to increase recoverable reserves and further increase economic viability of a project by optimizing production. For complex systems such as subsea pumping to be successfully and more widely deployed, overall system costs need to be significantly reduced. Alignment of operators and system suppliers through this standardization initiative can make a significant contribution in achieving this cost reduction goal."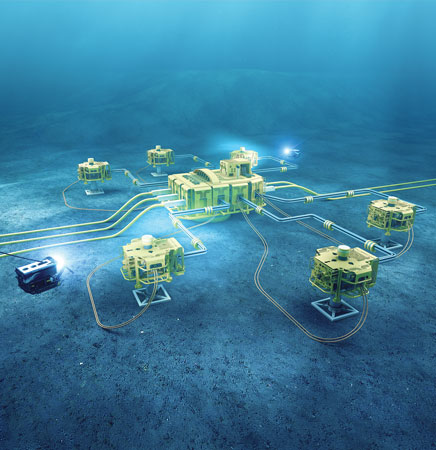 The DNV GL-led JIP is looking to advance standardization of subsea processing systems, beginning with subsea pumping. (Image courtesy DNV GL)
Sean Salter, vice president of Technology at Woodside, said: "The oil and gas industry needs to re-assess stand-alone host developments due to higher costs and look more closely at tieback opportunities. Subsea processing technologies enable long distance tieback opportunities for remote and marginal fields. Cost reduction through simplification and standardization is key to ensuring application of these technologies."
DNV GL is calling for collaborators within the oil and gas supply industry to suggest additional areas which they believe could benefit from standardization and to input into the creation of this important new industry standard.
The JIP will initially focus on subsea pumping in two phases. The first is to establish a focus for the study by developing a functional description for subsea pumping and specific targets for possible standardization. The second is to share industry knowledge and create best practice guidance through the creation of a recommended practice for industry-wide use.
The JIP participants will contribute their own standardization studies and initiatives previously performed as well as current and future portfolio requirements, ideas on minimal industry specification and methodology for maturing technology gaps.
"Taking the time to think long term, and consider the best way to drive progress and best practice in subsea processing, will also help us address pressing issues in the current downturn" said Kjell Eriksson, regional manager for Norway, DNV GL - Oil & Gas. "Industry collaboration, through JIPs such as these, drives efficiency at a collective level, raising the bar for all operators, sharing knowledge and experience, and creating trust and certainty by establishing new or consolidating existing standards and practices."
Oceaneering debuts new ROV
The newest addition to Oceaneering's fleet, the magnum-class eNovus ROVs, are currently being built in-house at the company's Morgan City facility. The design will include capabilities seen in the Nexxus ROV, such as remote piloting and automated control technology.
Also incorporated will be a new automated Cartesian Manipulator control system that enables it to function in an XYZ plane. This vehicle maintains work class manipulator capabilities via a dedicated hydraulic circuit.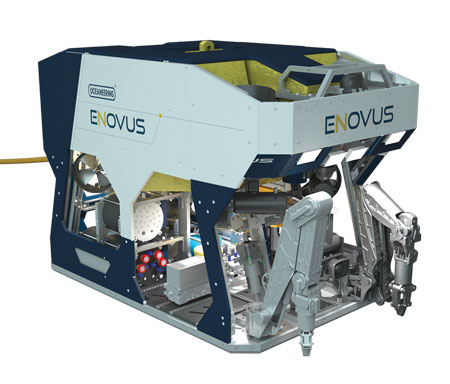 The newest addition to Oceaneering's fleet, the magnum-class eNovus ROVs, will include remote piloting and automated control technology capabilities. (Rendering of the new eNovus ROV courtesy Oceaneering)
By featuring a hydraulic system for conventional tooling operations, Oceaneering said that the eNovus will provide a cleaner and more efficient approach to subsea operations. Furthermore, the company believes that greater reliability will be achieved with more precise automated control and enhanced diagnostics.
Kevin Kerins, senior vice president, Underwater Vehicle Technologies, said: "The newly advanced ROV will also serve as the basis for a future hybrid between the autonomous underwater vehicle and ROVs." The designs will be complete in 2Q 2016, Kerins added.
OneSubsea wins contract
OneSubsea reports that it has been awarded a contract from BP Exploration (Delta) Ltd., and partner DEA (Deutsche Erdoel AG), to supply subsea production systems for the West Nile Delta Giza/Fayoum and Raven fields, situated offshore Egypt.
Giza/Fayoum will be tied-back to modified onshore Rosetta facilities and integrated with a new onshore plant for Raven.
The scope of supply for the long-distance gas fields includes largebore subsea trees, manifold systems incorporating high-integrity pressure protection systems (HIPPS) for the high-pressure Raven field, connection systems, and controls systems, along with project engineering, management and testing. The booking was recognized in 4Q 2015.
Mike Garding, CEO of OneSubsea, said: "BP continues to be successful in driving its standardization philosophy, and this is the third award to OneSubsea that will utilize the jointly-developed large-bore tree already being deployed to other BP projects. OneSubsea continues to support BP in its West Nile Delta development goals."