Subsea well asset management comes of age
Subsea well operations are at once an established form of asset support as well as a developing technology and service line.
Oct 14th, 2016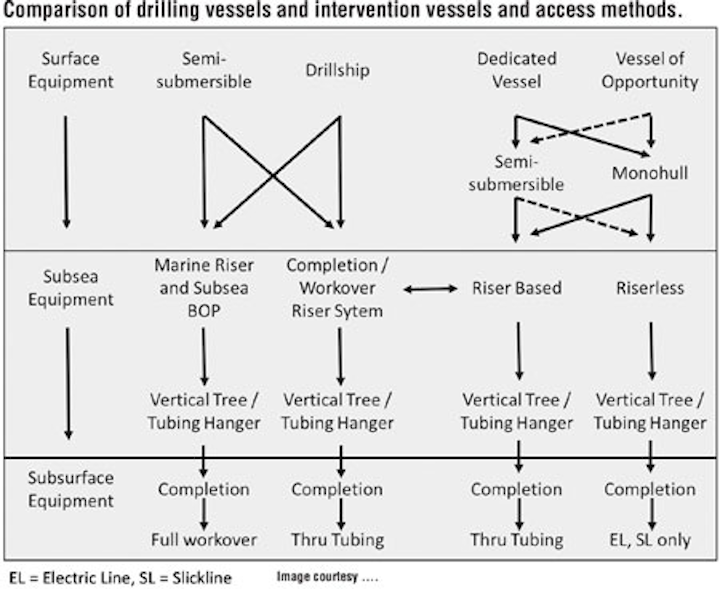 New technologies will be key for future operations
Colin Johnston
SeaNation LLC
Subsea well operations are at once an established form of asset support as well as a developing technology and service line. Key challenges in this niche are, like most oilfield operations in the current environment, rooted in economics. Well management forsubsea assets performed by dedicated vessels are increasingly claiming greater efficiency than drilling rigs for well intervention operations.
Those same vessels, however, routinely operate at a discount to drilling rigs, and this raises several questions: Why, when something offers to be quicker and more efficient, is it not possible to charge a premium? Additionally, why would an operator still choose a drilling rig over a purpose-built vessel for subsea well asset management? Looking to the future, how can specialist vessels, new intervention systems, and established drilling rigs better supply what is needed for the expected increasing intensity of subsea well operations and asset management?
These questions will be addressed here, along with some guidance on how best to approach subsea well management.
Historical perspective
Firstly, to place the subsea well operations niche in context, a quick historical perspective is offered. The originalStenaSeawell, now a Helix Well Ops vessel, was the kickoff for the non-rig based subsea well intervention industry. In 1989, the Seawell was equipped with a Camco subsea lubricator and commenced operations in the North Sea assisting with subsea well intervention requirements.
Similar to today, in a market of post-boom conditions awaiting a return to viable oil prices, theSeawell struggled for acceptance and supplemented operations with construction activity. What became apparent, however, was the appeal of campaign-based operations, shared mob/demob, and reliability of repeat operations. Eventually established as a trusted means of re-entering subsea wells, particularly during weather conditions that prevented drilling rig operations, the Seawell – unencumbered with riser operations – had cornered and established a new niche market.
A great bookend to this story is that theSeawell now has a new lease on life. After undergoing a major upgrade, and equipped with a new subsea lubricator system, it is expected to continue supporting subsea well assets in the North Sea for years to come. As a testimony to both the entrepreneurial approach to the burgeoning North Sea subsea industry and the enduring success of subsea specialist services, the Seawell is undergoing a late life resurgence.
Away from the North Sea, the Gulf of Mexico deepwater development pace picked up in the early to mid-1990s, some years after theSeawell had commenced operations, and in water depths only previously encountered in Brazil. The Brazilian market had taken the lead in deepwater developments and subsea well operations. Custom-designed field hardware, including completion/workover riser systems, was deployed from drilling rigs. Eventually, the subsea well numbers and overall operational demand justified dedicated and modified semisubmersible vessels of which the Amethyst was proving most adept for subsea well operations. This has continued to be the approach in Brazil until recently with the impending delivery of three dedicated vessels, two monohull and one semisubmersible design, reflecting the focus and need for specific subsea well operations.
The scale of activity and subsequent demand in the Gulf of Mexico saw key subsea knowledge transferred in from the North Sea. The GoM deepwater challenge was taken up by drilling contractors and addressed through newer build rigs and improved DP-based capability enabling operations in areas that were previously out of mooring depth. The subsea well intervention requirements were further down the project path since they were considered a mid-life requirement for subsea field operations for the most part.
One of the key operations, which in hindsight was the spark for subsea well operations in the GoM, was a decommissioning project rather than a production-related intervention project. A floating platform and multi-well field at the end of life used the modified dive support vessel,Uncle John, equipped with a 150-metric ton (165-ton) derrick to perform, via an intervention riser system, the well abandonment activity and subsequent clearance of the field in 1998. Cal Dive, later to become part of Helix, saw the benefits of such operations and, on the back of the success of this work, kicked off the design and build of the Q4000. The subsea well operations marketplace as we recognize it today had finally begun, some 10 years after the Seawell had made the first steps into this environment.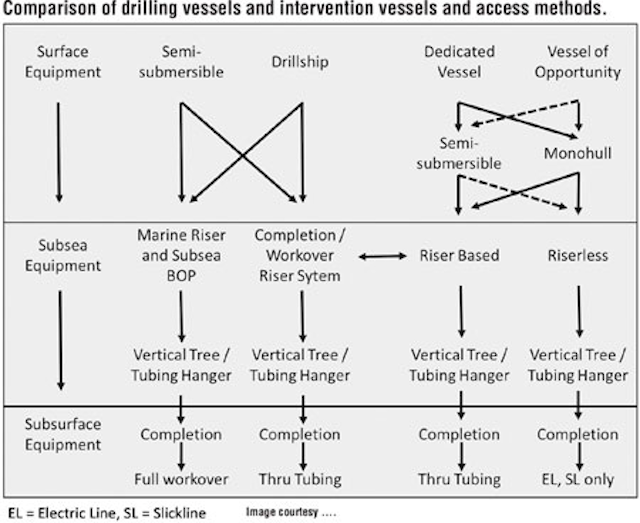 Current environment
With the history lesson over, let's look at the current and future market and how best to address the needs and requirements of operators, service companies, vessel owners and technology providers. In context, the closest analogy, and in fact the forerunner of subsea well operations is the drilling operations environment. The two basic approaches are: comparison between subsea well operations and drilling operations; and since drilling rigs can conduct subsea well operations, comparison between subsea well operations and drilling rigs in subsea well operations mode.
The drilling rig role in subsea well operations is two-fold: first as a means of running the completion and workover riser system for original vertical tree completion and installation operations; and secondly, with the advent of horizontal trees, for running a subsea test tree to access the tubing hanger, again as part of the subsea completion operations. Both methods of operation can be applied for production related intervention operations and in this mode a drilling rig is fully capable of carrying out the full functional role for all subsea well operations requirements.
The role of dedicated vessels and vessels of opportunity is in relation to deployment of stand-alone systems, which both replicated completion workover riser systems as well as provided well access via subsea lubricator systems. TheSeawell, for example, operates typically in a subsea lubricator role, while the Q4000 or the Aker Seafarer operate in an intervention riser system mode. This constitutes the two main modes of dedicated subsea well operations methods: riserless or riser based. It should be noted that there has been one occasion of running a riserless system from a semisubmersible vessel, in this case a drilling rig, but it is not a common occurrence currently.
The foundation for the niche operations of dedicated systems and vessels for subsea well access is a function of their efficiency. Drilling rigs, traditionally the workhorse for any form of offshore operations, are at their most efficient when drilling an intermediate hole as part of the well construction process. Prior to that, e.g. top hole drilling, and post-intermediate operations (e.g. completion activity and intervention), the drilling rig is not operating at its most efficient level. This offers up opportunities, as a function of scale of application, for very specific designed access vessels and systems which can offer improved operational efficiency.
As the subsea population has increased with a peak in tree orders in 2013, it is estimated that almost 5,000 subsea wells will be older than five years by 2018, on a global basis. Despite the slowdown in recent years, the level of subsea tree orders is estimated to remain robust over the coming years.
The potential utilization for dedicated vessels and systems has also increased given the subsea population growth, such that business cases are justified. The general rule of thumb, which varies across operators, is typically estimated at 1–2 days/well/year for intervention requirements, which is itself driven by the overall subsea well age and population.
The requirement from operators to ensure that drilling programs are not interrupted by production-related issues for subsea wells and the availability of long term contracts from operators provides the incentive for commitment to vessels and systems from the major service providers in this niche. Of course, the current market environment has put the brakes on this approach and, similar to the challenges of drilling contractors, there is now an excess of dedicated vessels for subsea well operations. The excess currently includes the drilling rigs themselves as they look to improve utilization by taking on scopes of work, such as intervention, that they would normally forgo in favor of longer- term, more lucrative, drilling contracts.
Thus, the current marketplace is somewhat crowded with options. But taking a look in detail at the methods employed for subsea well operations should shed some light, and provide a path forwards for the needs of both suppliers and end users.
Regional operations
As the subsea well operations arena has matured so that both riserless and riser-based operations are considered, on a global basis, to be acceptable well access operations, it should be noted that there are regional vagaries which reflect the nature of specific offshore and deepwater operating arenas. The North Sea is the home of riserless activity as a function of relatively shallow water depth; tough operating conditions in the winter months; and smaller, older subsea well infrastructure with less tangible issues such as wellhead fatigue impacting what type of operation can be carried out.
The Gulf of Mexico, on the other hand, has been the preserve of riser-based intervention operations. Historically, theUncle John and the Q4000, as the initial vessels in the Gulf, have both been riser-based vessels and therefore dictated the market somewhat. But issues such as well access, due to prevalence of horizontal trees, and concern over plug pulling along with sand control issues led to a preference for riser based access over riserless operations.
In general, it can be stated that these concerns are somewhat overblown, since historically the ability to retrieve plugs from horizontal trees has not been overly problematic. But the ready access to coiled tubing (CT) during operations, as provided by riser-based intervention, has been a boon in preventing the need to cease operations as a result of access/circulation capabilities.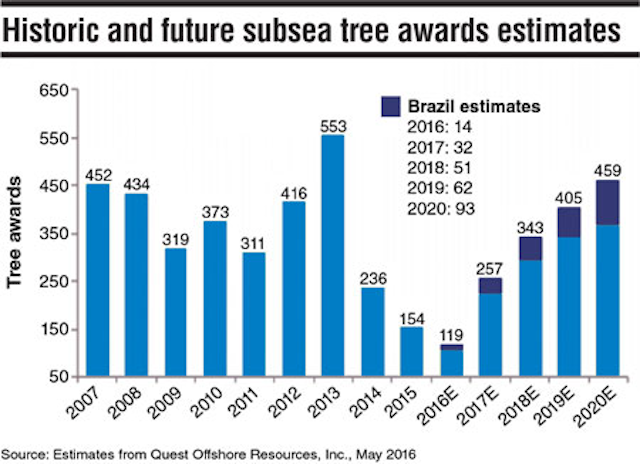 The environment offshore Brazil, similar to the Gulf of Mexico in terms of benign conditions, has historically been riser-based for subsea well access. There have been instances of technology developments with open water wireline access and also open water completion operations. For standard subsea asset support operations, however, riser-based operations remain the key. Three new vessels, all with riser-based intervention systems, are due to operate in Brazil in a staggered deployment starting in 2016. Handling and operations of unique field support equipment is one of the key customized aspects of those vessels for seabed pumping support and maintenance among other intervention and maintenance workscopes.
West Africa, another key operating area for subsea well operations, has seen both riserless and riser-based operations. Angola had the first long-term contract in place for a riser-based intervention vessel, but teething problems and operational issues led to the early termination of this contract and a resumption of rig-based intervention. Elsewhere offshore West Africa, riserless operational campaigns have been conducted with repeated success.
Technology developments
The maturing of the subsea well operations marketplace – whether through vessels, systems, or more independently, downhole technology – results in increased acceptance of, and reliance upon, this non-rig based approach for subsea assets, whether riser based or riserless.
Further, the development and acceptance is still at a stage where this method of operation is considered an alternative choice rather than a first choice. This is a key differentiator in the process of technology maturation. The indication of maturity is when the available methods for well intervention are selected automatically rather than the result of constant comparison with drilling rigs. Key signals to look for as the market matures are developments such as using riserless methods regularly for diagnostic operations as a pre-cursor to planning intervention campaigns from riser-based intervention vessels.
Additionally, the implementation of the long awaited API 17G RP for intervention systems will see significant steps taken toward standardization and therefore present a clearer picture for manufacturers, service providers, and end-users in terms of specific equipment details. It will also help operators and developers to readily compare one method of access with another.
Surface
The vessels themselves are of course one critical piece of the overall supply system for subsea well operations. Developments in the vessel design and handling systems on board are helping to improve acceptance and increasing operational efficiency. The North Sea/Gulf of Mexico differences in approach saw, as described above, theSeawell with guideline technology and compensation systems to assist deployment and operations. The initial vessels in the Gulf of Mexico saw the Uncle John with a passive compensation system usurped by the Q4000 with an active heave system for deployment and riser tension. But in terms of handling, the use of a coiled tubing lift frame remained the mainstay, a legacy of conducting well intervention from drilling rigs, which was itself a development from the early days of the North Sea operations.
TheAker Seafarer, a monohull riser-based vessel, is the first step change in improving handling and operations for subsea well operations. Its deck-skidding systems eliminate crane operations, apart from loading/unloading equipment.
In addition, an active heave compensation system that links personnel access to the well service equipment enables compensated access to the upper riser, and eliminates man riding requirements during operations. Future vessels in the form of Helix's vessels for Brazil see this approach maintained with significant lift frame structures incorporating a "walk to work" bridge system to promote personnel access to the upper riser and well service equipment. It is likely that this approach will be considered normal in the future, in terms of minimizing the risk of how personnel interface with the equipment. Ultimately, developments to eliminate personnel access requirements entirely will be part of the next generation of intervention vessels.
For vessel design preferences in general, the demand for semisubmersible-based designs is likely to be replaced by the preference for monohull designs. The development of theUncle John, leading to the Q4000 and further development via the Q5000, the Etesco IX/BT 4000, and the yet-to-be-delivered Q7000 all show the changing demands of the operations with increasing automation, minimizing personnel interface, and elimination of crane operations as much as possible.
The preference for lower build cost and improved time to delivery may see semisubmersible design being replaced by monohull design for future intervention vessels. Additionally, the advantage of transit speed further enhances the preference for monohull design options along with a more "off the shelf" option from vessel designers and associated shipyards for construction of a monohull vessel.
One continuing challenge is the level of equipment to be incorporated into any subsea well operations vessel. More capability leads to higher build cost but more versatility in the marketplace, with the challenge being to maintain a cost and efficiency advantage versus drilling rigs. If the options are too close in capability, the drilling rig will win out due to being the established choice.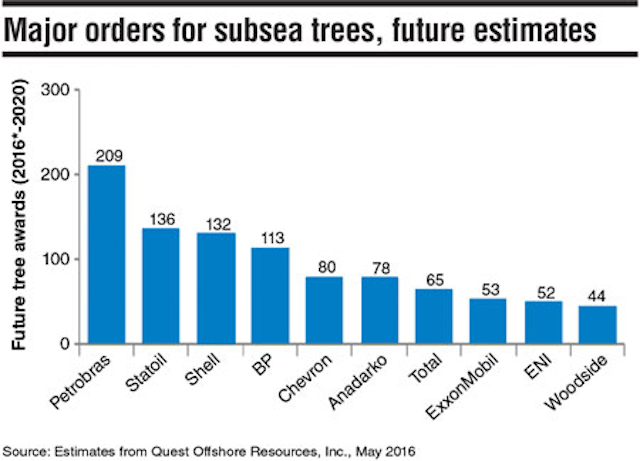 Subsea
The subsea aspect of both riser and riserless systems reflects the changing environment of subsea asset development. Increased requirements to meet regulatory demands post-Macondo have an impact on the well control aspect of systems configuration. Increased operational demands in the form of 15K and 20K pressure rating, along with increasing water depth requirements, are all affecting the future design and build of systems. Increasingly, the systems are beginning to fill a role as both dedicated, i.e. permanently mounted with an intervention vessel; and independent, i.e. available for deployment from intervention vessels and drilling rigs for maximum availability.
Future system designs and features will combine technology developments such as smooth OD electric line that eases the dynamic seal requirements and enables deeper water access. Variations in the hydraulic control systems with seabed mounted HPUs, improvements in acoustic-based operations, and increased ROV capability will all impact how future systems are designed and operated with a view to reduced equipment footprint. Such changes lead to improved operations as a result of greater flexibility and increased operability.
Valve technology is continuously being developed, with innovations to conventional ram technology seeing gate valve and ball valve technology applied for well control in the form of shearing and sealing capabilities to meet demands. Anticipated changes from API and ISO (as well as regulatory agencies) are specific requirements covering repeated shearing and slurry flow resistance capability, for example. Flexibility for inclusion of different technologies in different valve roles across extremes, such as safety head applications, as well as simple open-bore sealing capability, will continue to be developed and incorporated into the subsea systems overall.
Key client demands currently include the ability to enable full bore well access for decommissioning of subsea wells, which should see increased subsea equipment size from the current typical 7 in. up to 18¾-in., with associated equipment manipulation capability for handling of tubing hanger during well plug and abandonment (P&A) operations. Such development may lead to similar equipment with a different application. Accepted handling methods of tubing hanger and associated equipment may lead to open water upper completion operations. Such advancement would see greater utilization of intervention vessels and remove the time consuming upper completion handling from the drilling rig. Advantages would be reduced time pressure for operators to complete and clean up the well for example.
Finally, one of the most keenly anticipated developments is open water CT. Specifically this refers to CT being deployed from a vessel, without riser, and into the well for intervention operations via a subsea injector head. The potential for this development would see increased watch circles during operations, and therefore less weather-related downtime; as well as the possibility of conducting CT operations from smaller intervention vessels, since there would be no requirement for a riser during standard operations. Vessel handling systems and hook load capabilities would be reduced. Island Offshore, Baker Hughes, and BlueOcean are some of the existing providers looking at development of this technology.
Subsurface
Downhole technologies are one of the areas that are not necessarily unique to subsea well operations. Once below the wellhead the requirements of in-well technology is generally the same whether for subsea wells or platform wells. The key area of development however is in the decommissioning applications. Here improved downhole techniques can enable full well P&A activities from well intervention vessels and systems without the need for drilling rig operations. Examples of development areas are improved plug placement and improved plug materials as well as verification capabilities. The challenges in assessing the final well condition to ensure acceptability for the cessation of operations requires multiple casing string visibility for cement bond logs. All of these development areas are being worked to deliver such capabilities. Upon acceptance, increased utilization of vessels and riser and riserless systems for full well P&A will occur and corresponding decommissioning costs should reduce.
From a production perspective the requirement for seabed based pumping capability is continuing to develop and along similar lines the accessibility of downhole pumping capability is a key development for improving subsea asset production efficiencies. The ability to change out downhole pumps via an intervention system and associated vessel would be a step change in applicable field operating costs when compared with current full workover requirements. A combination of downhole pumping technology and associated intervention system handling development will provide the ability to reduce subsea well enhanced production costs.
Future opportunities
Contractual opportunities are currently based around either long-term commitments, campaign approach, or simple call off. Long-term commitments are enabled when operators have a sufficient subsea asset base from which to justify vessel and system utilization. Added to that is the availability of intervention system access capability which can be valued as a function of subsea asset production management. For a campaign approach, the reduction in mob/demob is attractive for a fixed scope along with the benefits of repeat operations in a batch form and the efficiencies that are delivered.
Finally, call off work is generally the area where efficiency gains are capitialized the least and costs reflect one-time mob/demob costs. The optimum compromise is a combination of pre-planning for anticipated subsea well requirements and improved assessment of the application of vessels and systems across the asset base. For example, field development requirements in the form of top hole drilling, subsea construction activities including tree installation. Once on production, the operations requirements are broad in the form of subsea stimulation and intervention as well as late life issues such as well decommissioning and infrastructure removal.
This life-of-field approach is key to optimum utilization of vessels and systems. It can be supplemented through asset ownership such as intervention systems either individually or collectively by operators in order to secure access and improve operability via vessel flexibility such as intervention vessels or drilling rigs.
The efficiency of subsea well operations should continue to improve, based around vessel design and surface equipment handling operations. The key to subsea well operations is the ability to rig up and rig down as quickly as possible. In-hole operations are limited in their optimization as a result of the vagaries of well issues and the operational program and operator-mandated procedures, for example. The efficiency of mob/demob is a combination of maximum transit speed available coupled with improved handling and optimum automation of operations.
Current and future vessel designs are capitalizing on this approach but the economic environment is proving challenging for developments coming to fruition due to an oversupply of assets based upon current utilization.
A combination of efficiency of operations and contractual opportunities can be leveraged to improve overall operations and project cost. Application of modified lump sum contracting applied to those operations in full control of the service companies, e.g. the rig up and rig down operations, combines minimum project risk exposure with maximum margin capitalization. Ultimately the holy grail would be, via full industry participation, the ability to apply data analytics across the board for subsea well operations.
Such an opportunity would enable assessment of best-in-class operations as well as determination of key problem areas of operations. The outcome would be in depth knowledge of the risk profile of a given subsea well operation as a function of location, water depth, tree type, pressure regime and in-hole scope of work. Consequently, the ability to provide a lump sum approach for low risk profile operations could be within reach. Such an outcome would shift the acceptance of subsea well operations up the maturity curve to one of standard practice, particularly for the applications discussed above.
The future for subsea well operations is robust based upon the increasing age and number of global subsea wells. Development of key technologies such as open water coiled tubing and through tubing pumping offer methods for both increased application as well as reducing subsea asset operating costs. The key for future benefits for all involved is relentless pursuit of efficiency, coupled with project cost, rather than focusing on day rate comparison. Improved operational management will see this come to the fore, and subsea well operations will become a routine method for owners of subsea assets for years to come.