GULF OF MEXICO
Shell says it has been working to capture oil released in the deepwater Gulf of Mexico after a damaged subsea flowine that runs from its Glider field began leaking in mid-May.
Jun 8th, 2016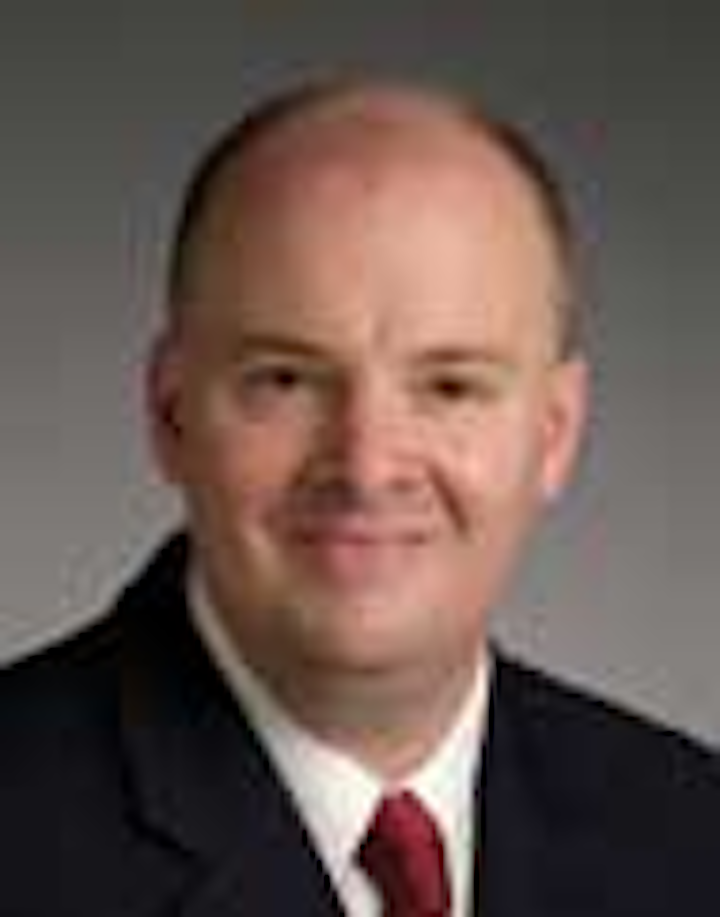 | | | |
| --- | --- | --- |
| | | Bruce Beaubouef Houston |
Shell responds to oil leak from subsea flowline
Shell says it has been working to capture oil released in the deepwater Gulf of Mexico after a damaged subsea flowine that runs from its Glider field began leaking in mid-May. The Glider field lies 165 mi (265 km) south-southwest of New Orleans in around 3,400 ft (1,036 m) of water. The company reported that some 2,100 bbl had been released into the Gulf in the wake of the leak.
Working with the US Coast Guard (USCG), Shell says that it has recovered approximately 2,012 bbls of an oil-water mixture to date. No injuries were reported and no personnel were evacuated; and Shell says that, so far, it has not found any wildlife affected by the spill.
The leak was first recognized on May 12, when a Shell helicopter observed and reported an oil sheen at the Glider field near the Brutus TLP, located around 97 mi (156 km) south of Port Fourchon, Louisiana. The sheen stretched 13 miles by two miles, according to the initial report.
The next day, Shell began working with the US Bureau of Safety and Environmental Enforcement (BSEE) and the USCG to contain the spill, and said that it had consequently shut-in all wells that flowed to Brutus.
Shell officials were quick to point out that there had been no drilling activities at Brutus, and that this was not a well control incident. The company said that the oil had been released from a segment of a subsea flowline, and that it was seeking to determine the exact cause of the release by inspecting the subsea equipment and flowlines in the Glider field.
Shell also said that it made all appropriate regulatory notifications and mobilized response vessels, including aircraft, in the wake of the release.
At the Glider development, production from four wells located in Green Canyon block 248 had moved through a subsea manifold to Shell's Brutus TLP, located in Green Canyon block 158 in 2,900 ft (884 m) water. Brutus originally entered production in 2001.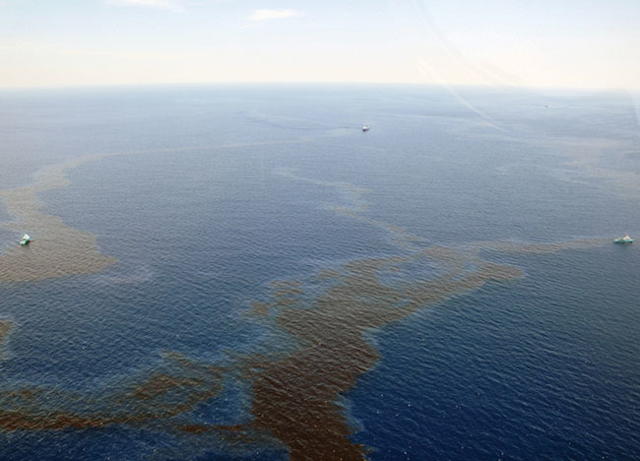 Vessels conduct skimming operations, May 14, 2016, in response to an estimated 88,200 gallons of crude oil discharged from a segment of flowline at the Glider field approximately 90 miles south of Timbalier Island, Louisiana. (Photo courtesy US Coast Guard)
According to BSEE, a member of its personnel conducted an overflight inspection; additionally, Coast Guard Aviation Training Center Mobile HC-144 aircrew launched to conduct an overflight assessment of the spill.
BSEE announced that it would lead the incident investigation and that the Coast Guard would lead in monitoring response efforts. A few days later, BSEE Gulf of Mexico Regional Director Lars Herbst formally established an investigative panel to identify the causes and any contributing issues that led to the oil release.
The seven-member panel, comprised of BSEE engineers, inspectors, and investigators, will make recommendations in its final report on how to strengthen existing safety and environmental management systems, and identify any reforms to existing regulations that may be needed. The focus of these recommendations is to prevent a similar incident from occurring, the regulator noted.
Shell provided an update on May 16 which said that the sheen had maintained "a westerly trajectory with no shoreline impacts anticipated at this time." Shell also announced that production from the nearby Brutus field had resumed, but that Glider and other subsea tieback fields remained shut-in.
The joint response mobilized more than 150 people, five on-water recovery vessels for skimming, and aerial assets to respond to the sheen. Shell and the USCG ultimately recovered approximately 2,012 bbls (more than 84,000 gallons) of an oil-water mixture. One vessel will remain in the area to assess potential environmental impacts from the release. There have been no reported impacts to the coastline or fisheries.
An ROV inspection confirmed the flowline as the source of the release, and that segment of the line has been isolated, Shell reported. The BSEE has since approved Shell's plans to remove and secure the damaged segment of the subsea flow line at Glider, and work is underway.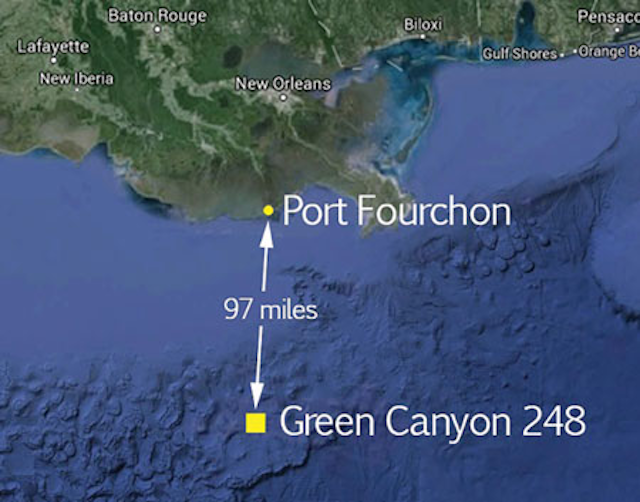 Shell's Glider field is located near the Brutus TLP in Green Canyon block 248, some 97 mi (156 km) south of Port Fourchon, Louisiana. (Map courtesy US BSEE)
The agency led the investigation of the incident, and the BSEE said that it had an inspector onboard the recovery vessel to observe the recovery operations. There were no reported injuries throughout the response.
By May 17, Shell and the USCG announced that they had agreed to halt skimming operations used in the cleanup because they were no longer finding recoverable oil.
The spill itself was characterized as being "on the low side" for volume of oil lost - a "relatively minor spill," according to Eric Smith, a professor at Tulane University and associate director of the Tulane Energy Institute in the A.B. Freeman School of Business in New Orleans. Smith was quoted in a report published in the Lafayette, Louisiana-based Daily Advertiser.
The rupture occurred in what Smith said was likely an insulated 6-in. pipe along a pipeline fairly new in the Gulf of Mexico, which has some 31,000 mi of pipe, some more than six decades old.
Smith said that some of the light, sweet crude oil found in the Gulf will evaporate in the sun; some oil will also be consumed by bacteria.
Oily water collected by skimming will probably be separated into oil and water components, with the water returned to the Gulf. How much oil was recovered will be determined through the oil and water collection and separating process.