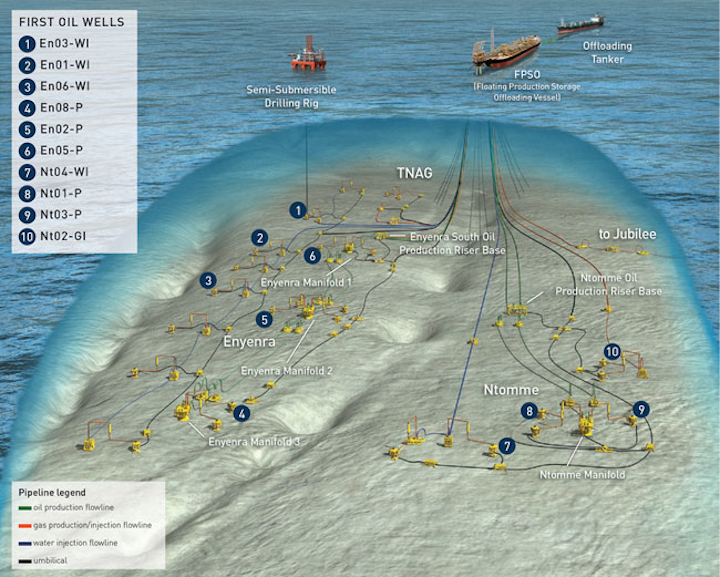 All parties committed to maximized local content
Jeremy Beckman
Editor, Europe
TEN is Ghana's second majordeepwater development, 20 km (12.4 mi) west of the Jubilee field in the Deepwater Tano block. Operator Tullow Oil started production this August on schedule 39 months after Ghana's government sanctioned the project. Aside from opening new offshore infrastructure in an emerging area of West Africa, the development was notable for the high level of local manufacturing and engineering content.
In March 2009, the semisubmersibleEirik Raude drilled the initial Tweneboa field discovery well, and further drilling over the next three years in water depths of 1,000-2,000 m (3,281-6,562 ft) led to discovery and appraisal of the Enyenra and Ntomme structures that with Tweneboa form the acronym TEN. In November 2012, Tullow and its partners submitted a plan for the reservoirs that called for drilling and completion of 24 development wells connected via subsea infrastructure to an FPSO moored in 1,425 m (4,675 ft) of water. Approval in May 2013 cleared the way for Tullow to issue most of the major contracts.
MODEC, which supplied the floater for Jubilee, won the contract to supply and then operate TEN's FPSO under an initial 10-year charter. The Tokyo-based contractor commissioned Sembcorp Marine's Jurong Shipyard in Singapore to convert the double-hulled VLCC Centennial J into the 350-m (1,148-ft) long, 56-m (184-ft) wide, 64-m (210-ft) high FPSO with an external turret mooring system, and a projected service life of 20 years. In September 2015, the completed vessel was named FPSOProf. John Evans Atta Mills after the late Ghanaian president who oversaw first oil from Jubilee.
The vessel, which can accommodate up to 120 personnel, is equipped to process 80,000 b/d of oil, 170 MMcf/d of gas, and 65,000 b/d of produced water, with 1.7 MMbbl oil storage capacity. Total weight of the topsides is 18,000 metric tons (19,841 tons). The 17 modules and pipe racks were built by ABB/WASCO and GPS in Batam, Indonesia; Aibel in Thailand; and Dynamac, Emerson in Singapore and Malaysia. Keppel and JSL in Singapore provided respectively the turret, flare tower and helideck. Thirty Ghanaian nationals worked on the conversion program with MODEC in Singapore. The finished FPSO sailed to Ghana this January, reaching the field location where the turret mooring system was secured to the seafloor via nine suction piles - 21-m (69-ft) high steel cylinders manufactured at the new Sekondi fabrication yard in Ghana - and subsequently connected to the subsea infrastructure.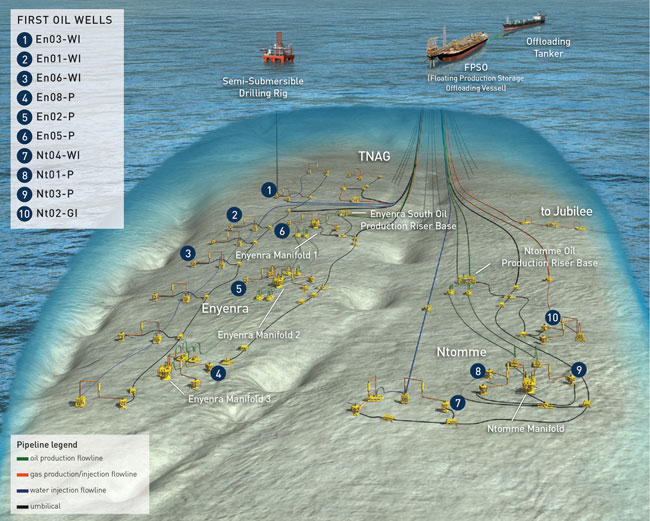 Schematic showing the TEN FPSO connected to subsea production facilities. (Images courtesy Tullow Oil)
Tullow awarded the T7 (Technip/Subsea 7) consortium two contracts with a combined value of around $1.23 billion for the subsea, risers, umbilicals, and flowlines (SURF) package, with Wood Group Kenny designated to provide SURF engineering services through to the start of production, supported by Ghanaian subsea engineering specialist Hydra Offshore. According to Tullow, Hydra's involvement exposed it to best practices applied by the international oil and gas industry.
Technip's scope comprised engineering, fabrication, and installation of nine flexible risers, three flexible flowlines, and 12 flexible spools; 33 km (20.5 mi) of water injection and gas injection rigid flowlines; 63 km (39 mi) of static and dynamic umbilicals; and engineering, pre-fabrication, final assembly, and installation of 10 well rigid jumpers and supply of a further six pre-fabricated rigid jumpers. The company's operating center in Paris managed the program, with its northern European plants at Le Trait and Evanton manufacturing the flexible pipes and rigid flowlines.
Subsea 7's responsibilities included engineering, procurement, fabrication, transport, and installation of 36 km (22 mi) of pipe-on-pipe flowlines, flowline termination structures and structure foundation piles; and transport and installation of manifolds, riser bases and flying leads. The company also established a fabrication yard at the Ghanaian port of Takoradi, where Belmet 7 - a joint venture between Belmet Ghana and Subsea 7 - fabricated the TEN gas export manifold, comprising a series of valves, pipes, and connectors. Its purpose is to connect the TEN and Jubilee gas export pipelines' to GNPC's onshore network, with the gas heading to the Atuabo processing plant in western Ghana. This was the first structure of its type to be built in Ghana: the full scope comprised manufacture of the 14 x 9 x 4-m (46 x 29.5 x 13-ft) manifold and its anchor pile and a 16-m (52.5-ft) tall, 6-m (19.7-ft) dia. cylinder that anchors the manifold to the seafloor. At peak, this activity employed 90 staff, 90% of which were Ghanaians.
The subsea installation campaign started in July 2015 and finished a year later. Initially theSeven Borealis andSimar Esperança operated on the fields, installing the three Enyenra manifolds, one Ntomme manifold, and the Enyenra and Ntomme oil production riser bases. At the same time, various vessels completed installation of the flowlines. In November 2015 the umbilicals connecting the FPSO to the subsea equipment arrived in Ghana. The Viking Neptun installed the first 10 in January with theDeep Pioneer installing the remainder this April. Technip's Deep Energy installed all the risers by July.
Prof. John Evans Atta Mills.">
The completed FPSOProf. John Evans Atta Mills.
FMC Technologies won the $340-million order to supply the subsea production systems, comprising 40-ton trees, manifolds, subsea controls, and systems integration. The company had been operating in Ghana since 2008 and undertook assembly and testing of the first Ghanaian-built subsea trees at a purpose-built 6,000-sq m (64,583-sq ft) site at its support base in Takoradi. The last of the subsea trees should be delivered next March: the wells feature smart completions that allow Tullow to monitor and control individual reservoir zones.
The semisubWest Leohad pre-drilled 11 wells when water injection got under way in August, followed shortly afterwards by first oil. The full-field development, due to be completed in mid-2018 when the Tweneboa gas field comes onstream, will require 24 wells - a mixture of producers, gas and water injectors (seawater is treated and injected into the reservoirs to maintain reservoir pressure). However, the scheduled completion of drilling will depend on a ruling, expected late next year, by the International Tribunal of the Law of the Sea concerning a maritime boundary dispute between Côte d'Ivoire and Ghana. The area affected includes the TEN reservoirs.
By early November, production had climbed to 50,000 b/d of oil, with the first offtake of 650,000 bbl completed to a shuttle tanker in October: during the plateau period, one cargo of 1 MMbbl should leave the FPSO each fortnight. All oil production, gas compression, and water injection systems should be commissioned and fully operational before year-end.
In its development plan, Tullow and its partners Anadarko, Kosmos Energy, GNPC, and PetroSa included commitments to create opportunities where possible to gain experience and develop skills as integral members of the project team. From the start of the project, 52 Ghanaians from GNPC, the Petroleum Commission of Ghana, and Tullow Ghana spent time on secondment with the TEN project team in London, Houston, Singapore, and Ghana, in roles ranging from subsea engineer to FPSO commissioning engineer and project manager. And of the trainees that worked with MODEC in Singapore, 10 were members of the crew that sailed on the vessel from Signapore. Many others, Tullow said, will be part of the team that operates the FPSO.
Tullow expected a final capex cost of just under $4 billion, within budget, and aims to recover 300 MMboe of resources during TEN's lifespan.