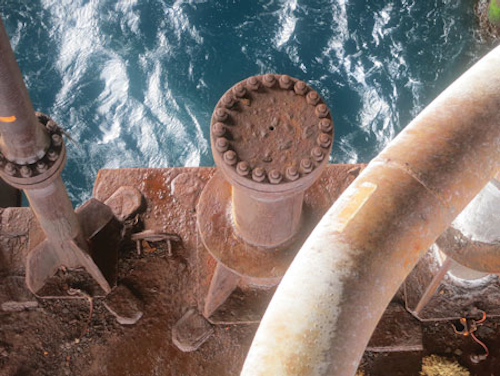 Stuart Lawson
AISUS Offshore
Engineers working on the initial wave of UK offshore field developments from the late 1960s onwards had to make do with pen, paper, drawing boards, slide rules, and limited computer availability to calculate stresses, fatigue life, wave, and weather effects on platforms.
Nevertheless, the resultant designs proved extremely robust, with high factors of safety. These early platforms and infrastructure originally had a 25-year design life, but in some cases have operated for more than 40 years, with further years of service in prospect. However, the full potential of these aging assets can only be realized if they are adequately inspected, assessed, and maintained.
The first-generation platforms, and most since, were designed with future expansion and enhancements in mind, and therefore included many spare risers to cope with future process requirements. In the North Sea and other regions entering the life extension phase, these unused risers can be decades old, with most having received minimal maintenance or routine inspections during their lifetime. This is now changing. As operators look to increase or sustain production via field extension work or associated tiebacks, the need to establish the condition of the spare risers is becoming more pressing.
Risers extend from the topsides, through the splash zone, to the seafloor. It is extremely challenging to fully examine risers externally due to the different conditions the system passes through and any marine growth that may be present on the riser. For topsides inspection, a rope access team would normally be required, while a remotely operated vehicle (ROV) or divers would be needed to complete a subsea inspection.
An internal study can be a more effective way of fully understanding the condition of the riser, as the full length can be inspected with no obstacles to overcome when full bore access is provided.
If the riser has been capped and has been sitting dormant since installation, it may still be in a useable condition. However, even capped, other factors come into play in different geographic locations, with temperatures in warmer regions for example providing greater internal humidity to the riser and potentially more corrosion than colder climates.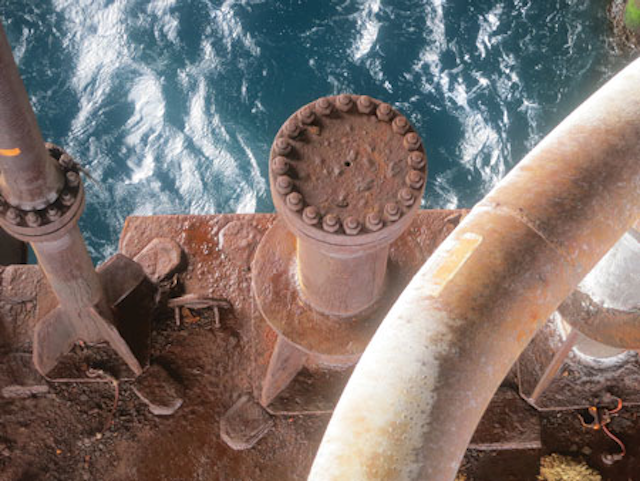 Flanged tops of the inspected riser. (Photo courtesy AISUS Offshore)
Deploying a camera is the first step in performing an internal study. The initial inspection identifies the as-found condition of the riser and allows assessment of the levels of marine growth, areas of corrosion, and any blockages encountered. The result of the visual inspection often dictates what follows: Some operators may be satisfied with confirming no signs of blockages, damage, or substantial corrosion, and will therefore use the riser, typically for an umbilical pull-through, without any further examination.
For a recent campaign in the UK North Sea, AISUS Offshore was called in after an ROV had recorded four rectangular cut-outs in a 508-mm (20-in.), 35-year-old riser that had been unused for several years. The reason for the holes was not known and the blind flange at the riser termination was also not in place.
This was one of two risers under consideration to protect an umbilical which would have run internally along its length. Initial camera footage revealed significant marine growth that had reduced the riser's internal diameter from 483 mm (around 19-in.) to roughly 350 mm (13.5-in.) in places.
Normally the use of high-pressure (HP) water jetting will remove marine growth and scale build-up, clearing the riser wall. In this case, after several HP passes were made, the bulk of the build-up had been eliminated with only minimal marine growth remaining at the cut-outs. After cleaning, a further detailed internal visual inspection was conducted to build a comprehensive picture of the riser's condition followed by ultrasonic corrosion mapping and, lastly, ultrasonic inspection.
The purpose of ultrasonic inspection is to measure wall thickness loss and to pinpoint the location of defects, corrosion hotspots, or other degradation mechanisms. It can also help determine whether wall loss is external or internal. For this campaign, ultrasonic wall thickness mapping was applied over the full length at 10-by-10-mm mapping resolution. A general wall loss of 1-2 mm was observed throughout the length of the riser with pit depths ranging from 2-4 mm. The minimum wall thickness recorded was 8.5 mm, attributed to the observed pitting, the nominal thickness being 12.7 mm.
In the case of thisNorth Sea riser, no further significant damage was recorded beyond the pre-identified holes, although pitting was observed where the parent material had been exposed. The information provided on the riser's condition assisted the client in determining how to proceed with the project, and whether the riser would be adequate for protecting the umbilical to be run along its length.
This exercise shows that establishing the condition of unused capacity on aging offshore platforms is an essential component of prolonging these facilities' future service.
About the author
Stuart Lawson, managing director and co-founder of AISUS Offshore, has over 10 years' experience in delivering remote inspection solutions to the global oil and gas industry. He has a degree in Artificial Intelligence & Robotics from the Robert Gordon University, Aberdeen. From 2007 to 2012, he held positions at iicorr Ltd. and Stork, progressing from graduate engineer to senior inspection engineer and latterly senior inspection coordinator.