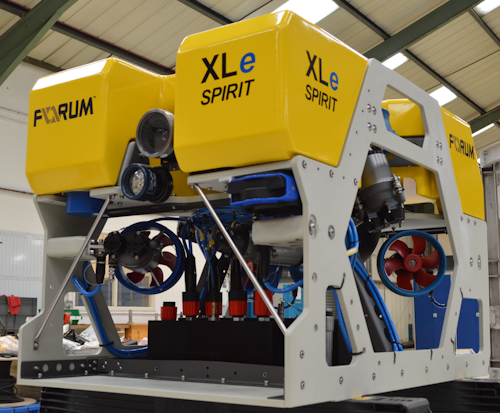 (Courtesy Forum Subsea Technologies)
TechnipFMC wins two iEPCI contracts
Woodside Energy and Shell have both awarded TechnipFMC integrated engineering, procurement, construction, and installation contracts.
The company will design, manufacture, deliver and install the subsea production system, flexible flowlines and umbilicals for Woodside's Pyxis and Xena gas fields offshore northwest Australia.
This is the first call-off contract under a recently executed five-year EPCI frame agreement between the two companies, which targets collaborative development of projects for Woodside through early engagement and use of TechnipFMC integrated solutions.
For Shell's Perdido Phase 2 development in the Gulf of Mexico, the contract covers the delivery and installation of subsea equipment, including flexible flowlines, flexible jumpers, steel flying leads, electrical flying leads, and will use the Subsea 2.0 in-line compact manifold.
In addition, LLOG Exploration Offshore L.L.C. has ordered subsea trees from TechnipFMC for the Shenandoah project in deepwater of the Gulf of Mexico. This is the first material equipment order for the Shenandoah project and is said to be the first of its kind for subsea trees designed for pressures up to 20,000 psi.
Forum's latest ROV completes sea trials
Forum Subsea Technologies has completed seas trials in Norway of its newest ROV, the XLe Spirit. This is the smallest in a new range electric observation-class ROVs, but with sufficient power to perform subsea maintenance and repair tasks.
In partnership with Innova, Forum tested the vehicle in a fjord in a water depth of 500 m (1,640 ft), confirming standard and ancillary equipment capabilities, including cameras, lights, altimeters, and sonars.
The XLe Spirit has an optional electric or hydraulic five-function manipulator arm. Its self-regulating power feature is said to compensate for tether losses, ensuring a constant and stable power delivery to the vehicle, regardless of tether length.
Other features said to maximize stability for use as a sensor platform, include regulated propulsion power and various auto-functions for positioning and flying.
Blue Ocean Monitoring adds to AUV fleet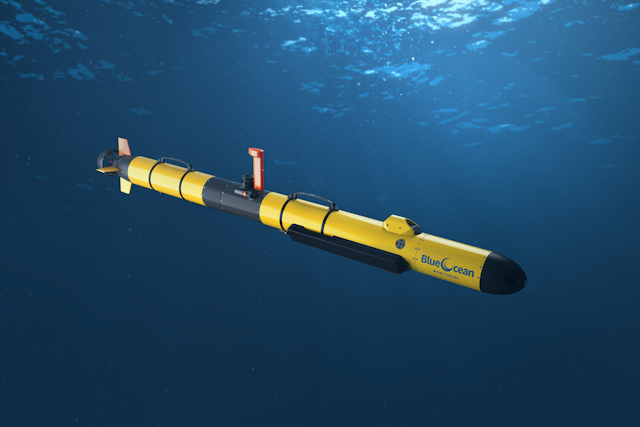 The Iver3 AUV can operate in water depths up to 200 m.(Courtesy Blue Ocean Monitoring)

Blue Ocean Monitoring Ltd. has purchased a new L3Harris Technologies Iver3 autonomous underwater vehicle (AUV) to support its global survey operations. The AUV is said to be one of the smallest and lightest on the market, allowing for single-user deployment from small work vessels or directly from shore. It can operate in water depths up to 200 m (656 ft).
The Iver3 AUV is equipped with an EdgeTech 2205B sonar which combines side-scan sonar with an interferometric phase differencing bathymetry system, which provides a wider swath in shallow water compared to multibeam echo sounders, the company said. It is also said to be the only interferometric system on the market that produces bathymetry data with no nadir gap, furthering the efficacy of these systems for shallow water and low altitude coverage.
Simon Illingworth, managing director of Blue Ocean Monitoring, said: "We have immediate requirements for subsea pipeline inspection surveys, shallow water bathymetry surveys and benthic habitat monitoring; however, there are many other applications we are currently exploring.
"The AUV has open system architecture and a modular payload which allows us to be flexible, but it also gives us the opportunity to integrate and test emerging sensor technologies easily as they become available."
Three North Sea pipelines feature polymer lining connectors
Swagelining has completed the first installations of its LinerBridge connector technology, all in the North Sea. Initially the company installed the polymer lining connectors in pipeline bundles for an Equinor-operated project. This was followed by reeled tie-ins for Wintershall Dea's Nova water injection pipeline in the Norwegian sector, and a third application for Ithaca Energy's Cook field in the UK central North Sea.
According to Swagelining, LinerBridge is an alternative to conventional corrosion resistant alloy (CRA) connectors that is designed to form a strong and fully integrated polymer barrier within the pipeline.
Managing director Liam Macintyre said: "Not only does [it] reduce the cost of today's reel-lay flowline and towed pipeline bundle projects, [it] is also the enabler in expanding the application of polymer lining's cost-effective corrosion protection to other offshore pipeline systems such as deepwater flowlines, dynamic service risers, and S and J-lay installation methods."
Connectors are needed to join sections of polymer lined pipeline together to form the overall pipeline length and to terminate the pipeline. In the case of LinerBridge, the connectors are manufactured from the same material as the liner, and contain no CRA materials, dispensing with the need for CRA welding.
Electrofusion welding technology adapted from the onshore gas industry is said to provide a continuous polymer corrosion barrier end-to-end for the pipeline system, allowing standard carbon steel welding procedures to be adopted for pipeline tie-ins. •