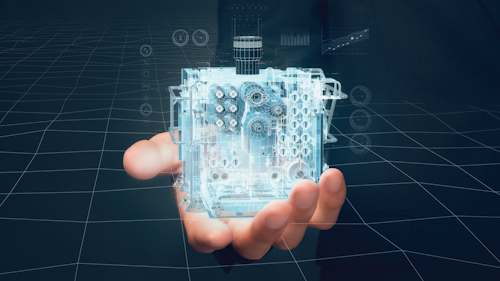 (Courtesy Aker Solutions)
Digital solutions aim to improve subsea projects  
Aker Solutions has launched Intelligent Subsea, an offering designed to accelerate field development and maximize performance.
According to the company, with its digital tools, the time it takes to generate optimal subsea field layouts can be cut by 75% and the cost of field development capex can be halved. Accelerated field development is achieved by combining the company's modular, optimized, and configurable subsea equipment with automated design which can reduce engineering hours by up to 70%.
Intelligent Subsea addresses the current and future needs of subsea production by combining three core value propositions:
• Adopting an integrated approach to field design where both the subsea and topsides systems are optimized, and concepts can be rapidly developed with the aid of advanced digital tools
• Standardized and digitally-enabled products that can be rapidly configured to customers' needs and are delivered with accelerated timelines - reducing the time to first production
• Maximized life of field performance with enhanced recovery and extend field life enabled by condition monitoring, predictive maintenance, and simplified system enhancement as the field matures.
CEO Luis Araujo said: "Digitalization of our work process and new applications are transforming field design, radically accelerating development and delivering actionable insight to maximize performance through the life of a field. Our system thinking and intelligent solutions are a revolution in subsea developments. Intelligent Subsea is enhancing recovery, saving cost, and increasing value through life of field."
Nova subsea structures installed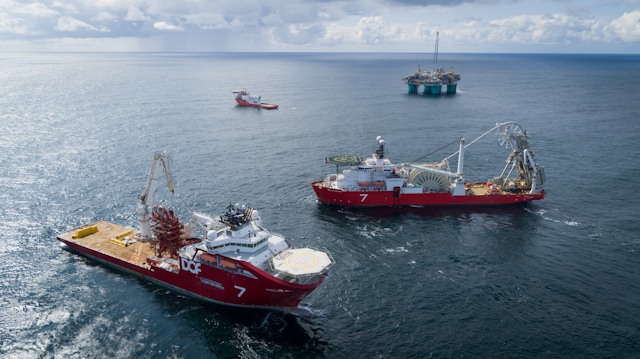 Subsea 7 vessels Seven Oceans and Skandi Acergy at the Nova field in the Norwegian North Sea.(Photo courtesy Wintershall Dea, Rolf Skjong)

Subsea 7 recently completed installation of the subsea pipelines and umbilicals for Wintershall Dea's Nova project in the Norwegian North Sea. Initially the contractor placed two templates on the seabed this May in a water depth of 370 m (1,214 ft), before using the Seven Oceans vessel to lay 65 km (40 mi) of pipelines and the Skandi Acergy to install 20 km (12.4 mi) of control umbilicals.
Subsea 7 fabricated the pipelines while Aker Solutions supplied the umbilicals and tie-in systems. These will connect the Nova field to the nearby Gjøa platform, which will process and export the hydrocarbons, and provide injection water and lift gas for pressure support. First production is expected in 2021.
TechnipFMC to split
The TechnipFMC plc board of directors has approved a plan to separate the group into two independent, publicly traded companies.
RemainCo, an integrated technology and services provider, will focus on energy development. SpinCo, an engineering and construction player, will seek to capitalize on the global energy transition.
The company claimed the separation would improve flexibility and growth opportunities.
The transaction will likely be structured as a spin-off of TechnipFMC's Onshore/Offshore segment and headquartered in Paris. Pending approvals, the separation should be completed during the first half of 2020.
Two years ago, Technip and FMC Technologies merged to form what was claimed to be the world's sole fully-integrated subsea service provider.
RemainCo, headquartered in Houston with around 22,000 employees, will focus on integrated production solutions adapting TechnipFMC's integrated model in subsea to surface technologies. Doug Pferdehirt will be chairman and CEO, with Maryann Mannen as executive vice president and CFO.
Rystad Energy's head of oilfield service research Audun Martinsen said: "This move shows that TechnipFMC is a forward-thinking company with the ability to shape the business environment it operates in.
"The successful integration of FMC Technologies into the Technip organization in 2017 was impressive in its own right, creating a leading subsea entity on the global stage. Then to turn around two years later and manifest the value creation by splitting the company in two is truly remarkable."
According to the consultant, TechnipFMC's subsea division is now the market leader with $4.4 billion in revenues. Its success has largely been built on integrated contracts, which enable it to deliver entire subsea field development projects to oil and gas companies. Today integrated contracts comprise around 60% of new field developments, Rystad added.
"The potential savings from integrated projects are sizeable for E&P companies and have been a big reason why larger operators tend to prefer this model on major projects," Martinsen said. "Subsea developments will be the main focus for RemainCo, which means that more resources, R&D, and management attention can be devoted to accelerating this trend forward." •