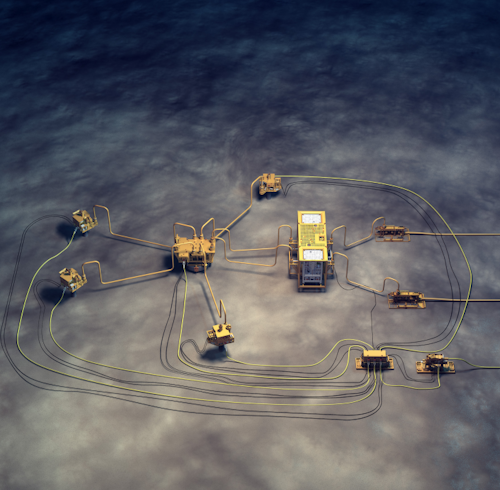 (Courtesy Schlumberger)
OneSubsea, Chevron sign long-term deal
Chevron U.S.A. Inc. has awarded OneSubsea, a Schlumberger company a 20-year subsea equipment and services master contract for projects in the Gulf of Mexico.
According to the company, combining this master contract with a preapproved catalog of standard subsea equipment will enable Chevron to decrease operating costs in its subsea projects.
Equipment in the catalog includes multiphase boosting systems and flowmeters, subsea production trees, manifolds, controls and connections systems. The company said it will also provide technologies that can withstand up to 20,000 psi (1,379 bar) for Chevron's high-pressure/high-temperature projects.
Don Sweet, president, OneSubsea, said: "We look forward to continuing our technology collaboration with Chevron to optimize project efficiency and reduce cycle times in its future Gulf of Mexico subsea projects, from concept through life-of-field services."
Sabertooth AUV passes docking tests in Sweden 
Saab Seaeye is claiming a world first after connecting an autonomous vehicle to an Equinor subsea docking station (SDS) to recharge its batteries and download data.
Various offshore industry representatives from Saipem, Oceaneering, IKM Subsea, Eelume, Ocean Power Technologies Modus, ROVOP, and DeepOcean witnessed the operation at Lake Vättern in Sweden to dock the Sabertooth to the SDS.
From the docking station the vehicle was sent on various autonomous transits to perform mock inspection tasks, also returning to the station for recharging and video data download.
Blue Logic produced the docking station, which included the company's inductive power and data connectors. While docked the vehicle was charged and data uploaded and downloaded via the connectors.
Sonardyne's BlueComm free-space optical modem facilitated live video and vehicle control, with much of the demonstration run with pre-programmed autonomous route plans.
The BlueComm system-enabled motion controls allowed operators to move the vehicle from an automatically held position by set amounts using a touchscreen user interface.
Other highlights included mating of a TMT electric torque tool to a valve panel, with control and video relayed via the BlueComm system; and an underwater simultaneous localization and mapping, allowing a pilot to 'see' the environment as a 3D map in real time while flying around.
By leaving a 'snail trail' the system is said to determine precise vehicle positioning relative to the map and provide station-keeping and augmented navigation functions. As the 3D point cloud generated by the system has a resolution of one millimeter, precise measurement of the size and position of objects is possible, Saab Seaeye added.
The company claims the Sabertooth is the only hovering autonomous system that can operate in both AUV and ROV modes and handle connections in both the horizontal and vertical plane, and the sole vehicle currently capable of undertaking long-term residency in hard to access locations.
MAN joins Jansz-Io compression study
MAN Energy Solutions will support the front-end engineering design (FEED) study for subsea compression for Chevron's Jansz-Io field development offshore Western Australia. The contractor will work with Aker Solutions on the program.
Jansz-Io, part of the Gorgon project, will be the first gas field outside Norway to employ subsea compression technology. It is located around 200 km (124 mi) off northwest Australia in a water depth of around 1,350 m (4,429 ft).
MAN's scope covers the technology of the subsea compressors, which will be used to maintain output as reservoir pressure drops over time.
Subsea compression is designed to boost recovery of gas at lower cost and occupy a smaller footprint than conventional compressor systems typically installed on platforms.
Gorgon's existing subsea infrastructure will be used to transport the gas from Jansz-Io to the project's three onshore LNG processing trains. The project also comprises a domestic natural gas plant.
MAN's technology has been proven on Equinor's Åsgard gas field in the Norwegian Sea. Last December, the subsea compressors completed 50,000 hours of virtually uninterrupted operation.•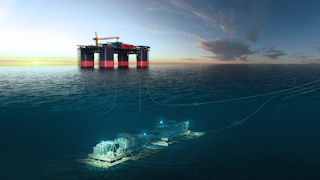 Jansz-Io, part of the Gorgon project offshore Australia, will be the first gas field outside Norway to employ subsea compression technology.(Courtesy Chevron)