Subsea Systems
Jul 1st, 2019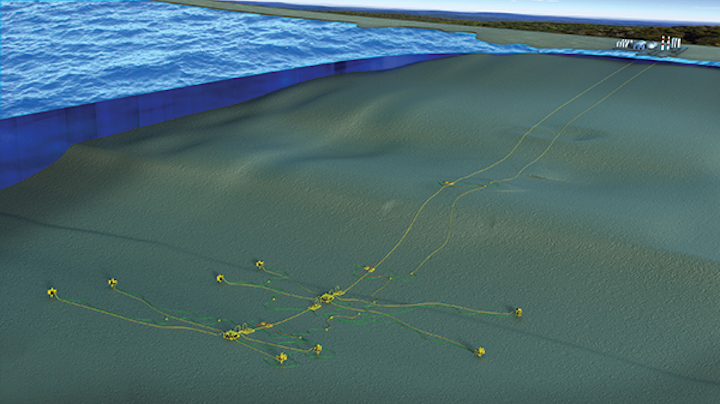 Anadarko lets subsea contracts for Mozambique LNG project
After taking the final investment decision for the Mozambique LNG project in late June, Anadarko Petroleum Corp. awarded several subsea contracts. This will be the country's first onshore LNG development, initially consisting of two LNG trains with total nameplate capacity of 12.88 MTPA to support the development of the Golfinho/Atum fields located entirely within Offshore Area 1.
TechnipFMC received a more than $1-billion EPCI contract for the subsea hardware system. The company will execute the offshore installation scope with consortium partner Van Oord, and in co-operation with Allseas, which it recently agreed to jointly pursue deepwater projects suited to the assets, products, and capabilities of the two companies. Van Oord will execute the shallow offshore installation scope while TechnipFMC is responsible for the deepwater scope. 
In addition, FMC Technologies Inc. will provide subsea hardware in support of well construction and the EPCI scope.
Arnaud Pieton, president Subsea at TechnipFMC, said the company would apply its integrated model (iEPCI) for the program.
Oceaneering International Inc. was commissioned to supply umbilicals, distribution hardware, and aftermarket services. The multiple lengths of onshore and subsea steel tube control umbilicals will total about 115 mi (185 km) in length. The distribution hardware includes umbilical termination assemblies, hydraulic and chemical distribution units, electrical distribution units, flying leads, junction plates, ROV flyable large-bore connectors, and aftermarket services in support of installation. 
Manufacture of the umbilicals and distribution hardware is scheduled to occur at the Oceaneering facilities in Panama City, Florida, and Houston; and is expected to start in 3Q 2019 and be completed in 3Q 2021. 
OGTC provides more funding for subsea liquid removal system
The Oil & Gas Technology Centre (OGTC) has funded Worley's INTECSEA consultancy for prototype testing of its Pseudo Dry Gas (PDG) liquid removal system. The technology is designed to make more long-distance subsea tiebacks commercially viable. By reducing back pressure in the pipeline, PDG is said to eliminate the need for topsides and costly compression.
Current prototype testing is based on a techno-economic concept study completed in March, also funded through the OGTC. The study suggested the system could provide an additional $10 billion in revenue over alternatives for application in a known stranded gas basin, north of the Shetland Islands.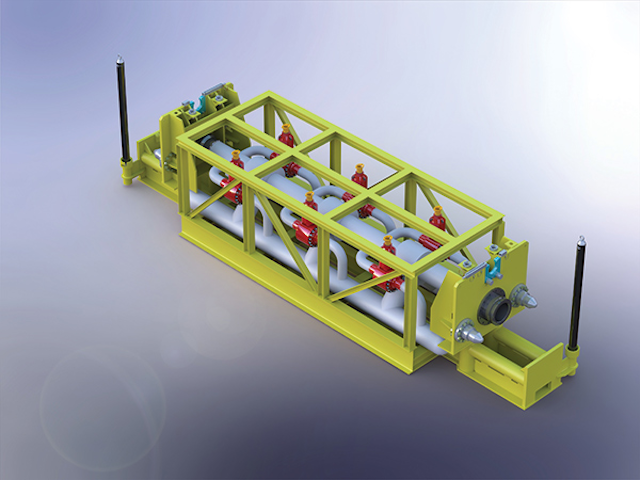 Cranfield University will test the in-pipeline liquid removal unit at its flow loop facilities north of London. (Courtesy INTECSEA)
It also showed that PDG could reduce upstream carbon dioxide by 65-80%.
An additional application studied under the original OGTC scope was gas disposal for small oil pool developments. Results are said to indicate a stand-alone economic case with further benefits for normally unmanned offshore facilities, due to the removal of high maintenance topsides gas processing equipment.
A 6-in. scaled prototype of the in-pipeline liquid removal unit will be tested over a six-month period at Cranfield University's flow loop facilities north of London. It will simulate flow conditions typically encountered in a gas/gas condensate subsea tieback system to demonstrate the liquid removal efficiencies.
Lee Thomas, INTECSEA's engineering lead for PDG technology, said: "The solution is elegantly simple; it uses multiple passive liquid removal units and a liquid disposal pipeline connected to proven standardized pumps."
Graeme Rogerson, marginal developments project manager for the OGTC, added: "The search will soon begin for an operator willing to undertake a pilot project of an integrated unit. An ideal pilot would be maintaining gas production from an existing tieback post-water breakthrough in a mono ethylene glycol-constrained environment. This would create a significant value impact, with a minimal downside. Given the range of applications for this technology across a broad spectrum and the positive underlying economics, the project team is hopeful an operator will step forward."
McDermott wins Sepia Phase 1 subsea scope
Petrobras has awarded McDermott International an EPCI subsea contract for the first-phase Sepia field development in the presalt Santos basin, 174 mi (280 km) offshore Rio de Janeiro state.
The project scope includes detailed engineering, surveys, supply, installation and pre-commissioning of rigid pipelines, jumpers, buoyance modules, strakes and riser monitoring systems for seven-riser wells (three producers and four injectors) which will be connected to FPSO Carioca.
McDermott's Rio de Janeiro office will manage the program, with support from the Houston operation. The company plans to use five vessels for the installation in water depths of up to 7,021 ft (2,140 m).
Phase 1 calls for a 15-well Sepia field development in block BM-S24, with first oil slated for 2021. •