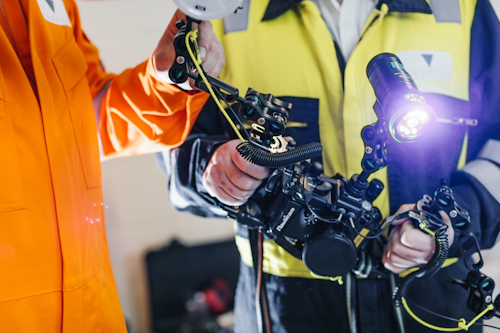 Viewport3
Offshore staff
ABERDEEN, UK – Viewport3 has completed a subsea scanning program for N-Sea on various facilities in the North Sea.
The purpose was to facilitate 3D scanning of mooring links, providing data to assist clamp and cofferdam design.
Viewport3's photogrammetry technique provided sub-millimetric data in less than half the time an operation of this type would typically take, the company claimed.
An onboard review of the point-cloud data assisted early analysis and provided confirmation that the capture was complete.
Chris Harvey, a director and co-founder of the company, said: "We take home sub-millimetric data that our customers can rely on.
"It's a crucial point – the accuracy of the point-cloud data that we collect will ensure that the design of the custom clamp precisely matches the intended geometry. As this will eliminate the need for the clamp to be re-worked on site, vessel days will be reduced, potentially generating savings running into seven figures.
"The simplicity of our capture process will also save time during the project – we can begin scanning as soon as we enter the water, and integrate readily into existing work-flows, minimizing disruption and risk."
Viewport3 provides underwater 3D scanning and 'reverse engineering' services, using ROV or diver-mounted cameras to compile technical grade point-cloud data for operators and marine contractors.
05/30/2019
3D scanning of a mooring link.Viewport3