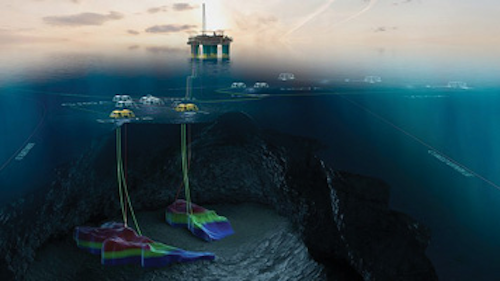 (Courtesy Neptune Energy)
TechnipFMC, Neptune form alliance
Neptune Energy has entered into a global alliance agreement with TechnipFMC for delivering subsea projects. The alliance agreement has been signed for an initial five-year term with options for further extensions. It covers the full project lifecycle from early concept work, through engineering, procurement, delivery of subsea production systems, and installation of subsea equipment and infrastructure, and continues into life of field support.
The first developments to be executed under this contract model are the Duva and Gjøa P1 projects in the Norwegian North Sea. Both fields will be developed as fasttrack subsea tiebacks to the Neptune-operated Gjøa semisubmersible platform.
TechnipFMC has secured an integrated EPCI contract covering the subsea equipment from the wellheads to the riser hang-off at Gjøa. This includes subsea templates, xmas trees, manifolds, production and gas lift pipelines, umbilicals, subsea structures and control systems. The engineering and fabrication works have started, and the first template is expected to be installed on the Duva field in 3Q 2019. Most of the installation scope will be in 2020 with first oil targeted for 4Q 2020.
Chevron selects subsea compression
for Jansz-Io gas
Chevron has awarded Aker Solutions a master contract to support delivery of a subsea compression system for the Jansz-Io gas field, 200 km (124 mi) offshore the northwest coast of Western Australia.
The first service order under the master contract is for front-end engineering and design (FEED) of a subsea compression station to boost gas recovery. The FEED scope will also cover an unmanned power and control floating platform and field system engineering services. The field control station will send power from the shore to the subsea compression station. 
According to the company, a subsea compression system should help Chevron recover the gas more cost-effectively and with a smaller environmental footprint than a conventional semisubmersible compressor solution.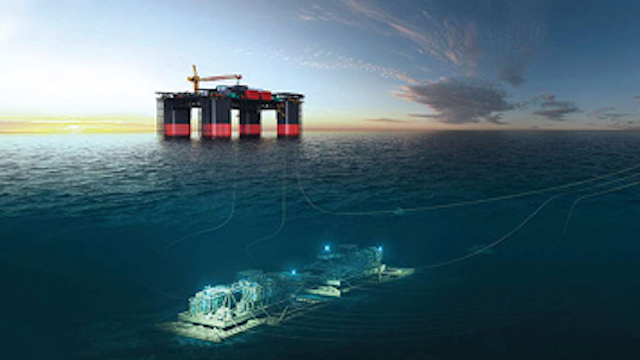 A subsea compression system is expected to help Chevron recover the Jansz-Io gas more cost-effectively.(Courtesy Aker Solutions)
In 2015, the company delivered the world's first subsea compression system for Equinor's Åsgard field in the Norwegian Sea. 
CEO Luis Araujo said: "Aker Solutions has worked closely with its partners MAN Energy Solutions and ABB to reduce the size and cost of the compression system… Australia will be the first place outside of Norway to use the subsea compression technology."
Compression should help maintain plateau gas output over time as reservoir pressure declines. Placing compressors on the seafloor, close to the wellheads, improves recovery rates and reduces capital and operating costs, the company said.
Jansz-Io, in water depths of about 1,350 m (4,429 ft), is part of the Chevron-operated Gorgon project.
Three Forum ROVs heading to Brazil
DOF Subsea has contracted Forum Subsea Technologies to supply three of its Perry XLX-C work-class ROVs for deployment from support vessels on recently awarded projects offshore Brazil.
The compact 2,000-m (6,562-ft) rated 150-HP XLX-C vehicles, which are coupled with Dynacon launch and recovery systems, are said to be the first of their kind to be delivered to the market.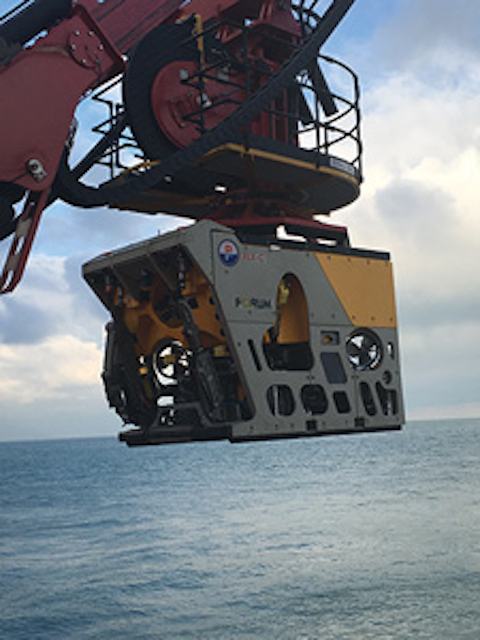 The Perry XLX-C ROV is powered by a 150-HP main and auxiliary hydraulic system.(Courtesy Forum Energy Technologies)
The systems were manufactured at Forum's UK facility at Kirkbymoorside in Yorkshire.
In addition, Forum has launched the latest version of its VMAX simulator to integrate with its electric ROVs (eROV). The XLe Spirit was the first eROV launched last year, and the company has now added it to its choice of vehicles within the simulator. The new light-weight and ergonomically designed eROV Hand Controller console can also be interfaced to the system.
The VMAX software is a 3D ROV simulation system which is predominantly used for the training and evaluation of ROV pilots. It can also be used by subsea engineering teams for modeling and verification of procedures involving intervention tasks for subsea equipment. The system is said to provide a variety of ROV scenarios designed to test pilots' skills such as tether management, manipulator control and tooling operation within realistic operational conditions.