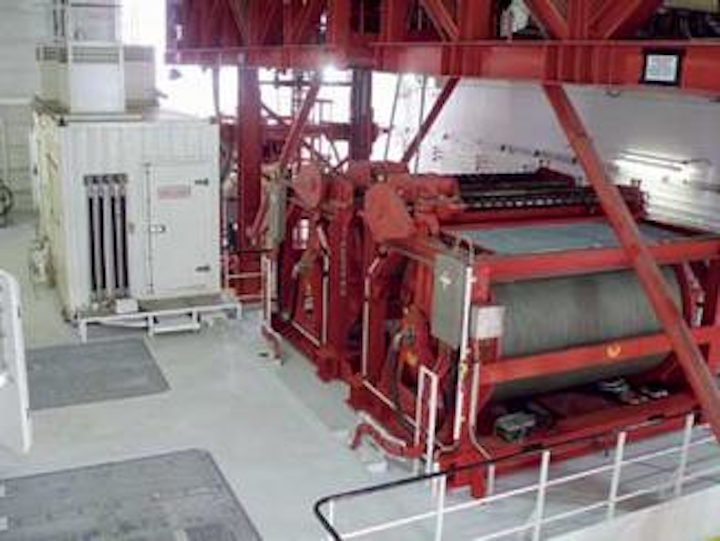 Hägglunds Drives has supplied power/control equipment to two of Subsea 7's newbuild construction vessels.
TheSeven Seas and Seven Oceans are both equipped with two permanently installed side-launching work-class ROVs rated for 3,000 m (9,842 ft) water depth. The ROVs act as the ship's eyes and arms, enabling the operations crew to both see and perform tasks at the seabed. Each ROV is connected to the mother ship by an umbilical through which power, communication, and control takes place.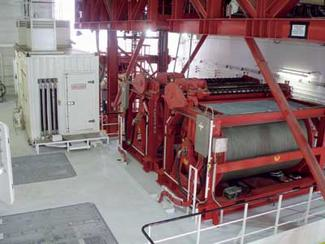 Hägglunds Drives' latest delivery to Subsea 7 includes power units, starters, and controls housed in a soundproof container.
Click here to enlarge image
Maintaining the correct tension on the umbilical is achieved by the Hägglunds Drives systems in combination with winches provided by Lebus International. Lebus supplied the winches direct to Subsea 7.
Hägglunds UK operation supplied a containerized power unit, starters, and controls. The delivery also included Viking motors with band brake assemblies, manufactured at the company's headquarters at Mellansel in Sweden. The Viking motors have a very high torque efficiency which assures the necessary tension on the ROV umbilicals.
The power units, starters and controls are housed in a specially designed, soundproof 20-ft (6.1-m) container, according to Hägglunds Marine & Offshore Sales Manager Lee Hinchcliffe. This includes two 275 kW (369 hp) closed-loop pump sets and two 55 kW (74 hp) open-loop pump sets, a 1,200-liter (317-gallon) oil reservoir constructed in stainless steel, seawater cooling, and a health monitoring system to give warning of any impending malfunction.
The container houses all necessary equipment for operating the two ROV systems on each vessel. The power units can be set up and put through extensive factory testing before installation on the vessel, saving time and money in on-board testing and commissioning.
Lebus is also a long-standing user of Hägglunds Drives' motors, brakes and valve blocks on its wide range of winches. The two companies have cooperated on contracts for Subsea 7 previously in 2006, when Lebus and SMD Hydrovision supplied five ROV systems to the subsea contractor.
For the latest deliveries Subsea 7 drew up the detailed design specifications, including comprehensive design of the starters and controls. The two new vessels both have deepwater capability.Seven Seas is a pipelay and construction vessel primarily intended for installing flexible pipelines, while Seven Oceans is designed for rigid pipelay.
For more information contact Lee Hinchcliffe, Hägglunds Drives UK. Tel +44 1924 244 619, fax +46 1924 890 111,Lee.Hinchcliffe@uk.hagglunds.com, www.hagglunds.com