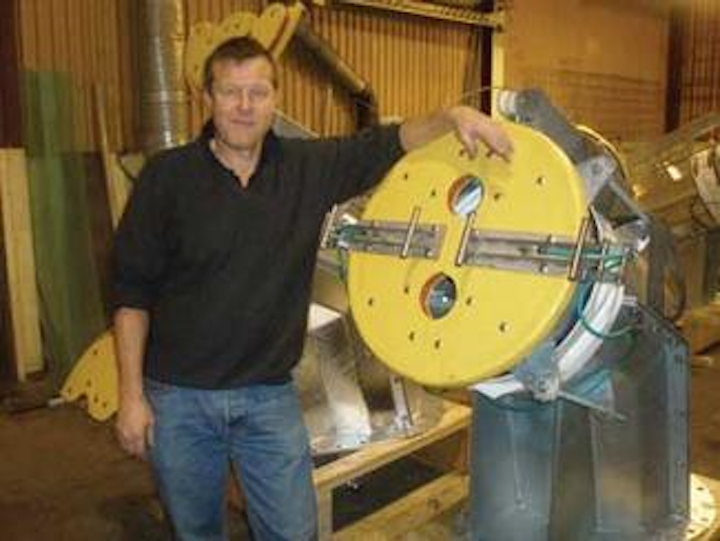 MoorLink has delivered its chain locker closure device to Samsung Heavy Industries in Korea for use on Exmar's newOPTI-EX semisubmersible production platform. The 12 units will handle 107 mm (4.21 in.) studless chain, and have been classified by ABS.
This is MoorLink's second delivery of the patented closure device, which ensures a weather-tight seal of the opening through which the mooring chain exits the locker. The first was made to BP'sThunder Horse production and drilling semi, which has 152 mm (5.98 in.) chain.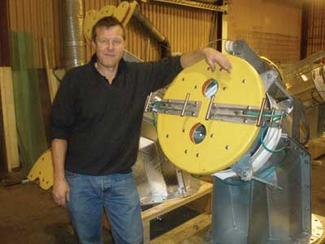 MoorLink's technical manager, Morten Gundersen, with one of the chain locker closure devices supplied to Exmar'sOPTI-EX floating production platform.
Click here to enlarge image
However, theOPTI-EX devices are much larger than those for Thunder Horse, according to technical manager Morten Gundersen. Each device weighs about 400 kg (882 lb), compared with 250 kg (551 lb) for the Thunder Horse version. This is due to the chain guide arrangement, which is incorporated in the design and is specially developed to suit the individual winch/hawse pipe arrangements on each floater.
On theOPTI-EX devices, the angle through which the chain deviates as it passes over the turn-down sheave of the winch jack is also much greater, so the chain guide has to be much bigger.
The chain guides are fitted with polyurethane linings. The chain slides over this wear-resistant material, thereby avoiding any steel-to-steel contact with the guide. The lining is laminated on a soft steel backing and is easy to replace when worn.
One special feature of the closure device is that the parts come in two halves, so it can be fitted with the chain already in place. This makes the offshore mooring line installation easier and faster.
According to Gundersen, the device has been type-tested by the US Coast Guard and approved by ABS, and is the first user-friendly product for large-size chain to achieve full compliance with US regulations, which require a weather-tight seal of the chain locker. For this reason it has been well received by both operators and the authorities, which have had to grant exemptions at times because of the lack of a suitable product.
For more information contact Morten Gundersen, MoorLink. Tel +46 31 721 3800, fax +46 31 708 7900,morten@moorlink.se, www.moorlink.com