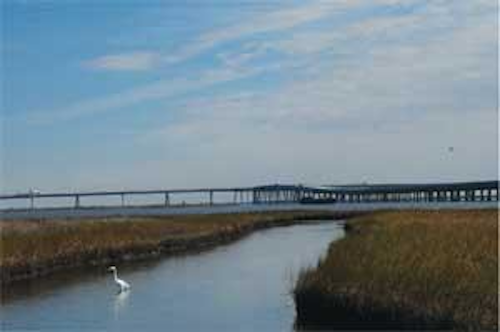 Emissaries of two prominent alliances in Lafourche Parish are trying to get the ear of Washington, but for entirely different reasons.
While the LA 1 Coalition lobbies for a share of the US economic stimulus package to complete construction of the elevated highway, the South Lafourche Levee District is merely trying to convince the federal government that it, indeed, exists. In what threatens to cause financial hardships to local residents and businesses alike, the Federal Emergency Management Agency (FEMA) says it intends to decertify the nearly 50-mi (80-km) levee that in 40 years has never sustained a breach, despite being slammed by some of the most active and powerful hurricane seasons on record.
In the meantime, LA 1 Coalition Executive Director Henri Boulet says his group had been seeking up to $360 million from the near trillion-dollar stimulus package President Barack Obama recently signed into law, but that request has since been pulled off the table. As the coalition looks elsewhere than the federal government, Boulet says the federal stimulus financing would have gone a long way to help ensure that the main stretch of the nearly $1.6-billion 47-mi (76-km) infrastructure improvement project now under way was completed by 2012 as planned. The federal funds would have been earmarked specifically to complete the elevated eight-mile stretch north of Leeville to the Golden Meadow town limits.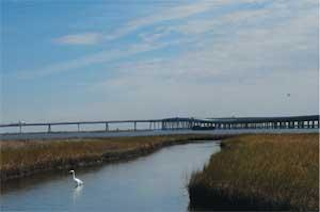 Construction is well under way on the new LA 1 elevated roadway.
Click here to enlarge image
A major sticking point was the complicated appropriation formula that has states receiving a percentage of the total monies allocated for national transportation improvements. Boulet's coalition pushed the Louisiana congressional delegation to encourage the federal government to dedicate the full $80 billion proposed earlier for nationwide highway projects. That way, he says, the four-phase LA1 project has a better chance of landing its full requested amount than if it was forced to try to get a large share of a smaller pie.
However, the final stimulus package earmarks $27.5 billion nationally in highways funding to be disbursed through the US Department of Transportation (DOT) Surface Transportation Formula. That translates into $308 million for Louisiana highways and complicating it even further, the package requires $109 million of highway monies be spent on transportation projects in urban areas.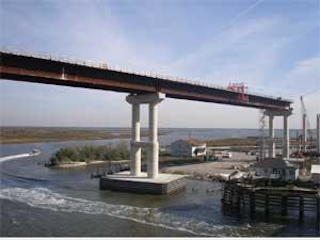 The footing of the Leeville Overpass is engineered specially to resist collisions and strong tide flows.
Click here to enlarge image
"Because under state law the Louisiana Department of Transportation must have the full $360 million identified for the LA 1 Project's Phase II in order to put the project out to public bid, consequently, the LA 1 Project has been taken out of consideration for this smaller-than-anticipated pot of money. Even if we received the entire state allocation, it's simply not enough to do the project," Boulet says.
He points out, however, that the coalition has an alternative federal route for the necessary funding. The funding option, he says, is linked directly to the highway's federal designation as a "High Priority Corridor," because of its strategic importance to the nation's energy security. In addition, the US Department of Homeland Security and the Minerals Management Service (MMS) has named LA 1 a "Critical Asset" and "Focal Point for OCS Activity," respectively.
"Our hope is that in a much smaller stimulus transportation program, another $1.5 billion from the DOT Secretary is available for him to disburse at his discretion under a competitive grant program that provides no state can get more than $300 million and that must be intended for projects of national significance, which he is supposed to distribute equitably between rural and urban communities. We are in talks with the state Department of Transportation to allow the LA 1 Project to be Louisiana's sole application to this program, because we do not think there is a more significant project to the country's economy than the LA 1 Project is at this time," he says.
As the only overland access to Port Fourchon, which is directly responsible for some 18% of the nation's energy supply, no one disputes the need to replace the time-worn and flood-prone roadway. Owing to the billions of federal funds generated in OCS royalty revenue, the US Congress in 2001 made Louisiana 1 a "High Priority Corridor" – one of only 44 highways in the nation to be so-designated. More recently, a Minerals Management Service (MMS)-authorized study revealed that only 2% of this "High Priority Corridor" was not in need of improvement. The federal agency also estimated that ever-increasing deepwater activity will spur a 60% increase in traffic along the rapidly deteriorating highway, compared to a national traffic growth rate that averages 5% a year.
"It's been made pretty clear that if this highway gets washed out because of a storm, it will have a negative economic impact on the entire country," Boulet says.
He added the project also has a leg-up in that the full Environmental Impact Statement has been completed and acquisition of remaining right-of-ways is well under way.
In addition, not only is LA 1 widely recognized as "America's Energy Corridor," it provides the only hurricane evacuation route out of Port Fourchon. The existing sea-level highway repeatedly is closed to traffic even during less severe weather. The ramifications are magnified during a hurricane, which Gary Ellis, for one, will be the first to affirm.
The general manager of Gulf Offshore Logistics (GOL), the newest company to set up shop in Port Fourchon, says the service and supply facility had just begun operations in August 2008 when Category Two Hurricane Gustov pummeled south Louisiana. "Highway One was closed so we all had to stay here. We desperately need that new highway," he says.
While the coalition awaits word on federal stimulus funding, construction is well under way, thanks to a combination of local and state funds. The coalition will celebrate a major milestone later this year with completion of the 4.4-mi (7.1-km) overpass toll way over Bayou Lafourche at Leeville. A major component of this phase of the project is replacing the 40-year-old and often inoperative Leeville lift bridge with a fixed-level overpass that features a 72-ft (22-m) clearance. Closed often by high tidal flows and collisions, the existing Leeville bridge has long been cited as the weakest line in the LA 1 network.
"Based on the future traffic estimates we've seen, we estimate the tolls will allow us to retire all our (highway construction) bonds within 30 years," Boulet says.
He says the phased construction approach allows portions of the project to be constructed as funding is made available. In addition, the roadway is designed to facilitate "end-on" construction methods to help protect sensitive wetlands and marshes wherever possible. Boulet added that concrete from the soon-to-be-disbanded Leeville bridge also will be crushed and used for wetlands restoration.
FEMA decertification 'ironic'
Meanwhile, Windell Curole, general manager of the South Lafourche Levee District, says he is cautiously optimistic FEMA will rethink its decertification of the levee, which would decree new residents and businesses build as high as 14 ft (4 m) above sea level. Currently, construction in the levee district is authorized at elevations of 2½ ft to 4 ft above sea level. The ring levee protects the towns of Golden Meadow, Larose, and Galliano, key support centers for South Louisiana's offshore energy production.
The problem arose when FEMA adopted new standards that increased the strength of 100-year storms for national flood insurance purposes. "We're trying to work with FEMA. We're reviewing the flood elevation models and probabilities, but there's a lot of leeway in judgment and assumptions when you're doing modeling. What they've done is take a few observations and default to models, but you need experts to interpret those," Curole says.
Curole says the threatened decertification is ironic, considering the levee is the only one south of Intercoastal that has never breached even in the face of the massive storms that have hit the coast in recent years. He added the importance of both the levee and the new LA 1 to the energy security of the area and nation cannot be understated.
"This is a working coast. We don't have any condos or beaches and we have some of the lowest unemployment rates in the country. The farmer in Iowa may never visit South Louisiana, but he'll definitely feel the effects if fuel from here is cut off," he says.
---

New LA 1 construction timeline
Phase 1A: Construction of two-lane elevated highway south of Leeville to LA 3090 at Port Fourchon (6.8 mi).
Completion target: 2011
Phase 1B & 1C: Construction of a fixed-span, high-level, two-lane overpass over Bayou Lafourche at Leeville, and associated interchanges and toll booths (4.4 mi).
Completion target: 2009
Phase 2: Highway widening and upgrades from Port Fourchon to Grand Isle (8 mi)
Construction of a two-lane elevated highway from Golden Meadow to Leeville (8.3 mi).
Completion target: 2012
Phase 3: Construction of a four-lane, at-grade highway from Larose to US Highway 90 (19.5 mi).
Completion target: 2017
Phase 4: Construction of an additional two lanes of elevated highway from Golden Meadow to Port
Fourchon, including the Leeville Overpass, and upgrades to LA 1 from Fourchon to Grand Isle. (17 mi)
Completion target: 2017